Should you buy pet insurance or "self insure" your pet?
Veterinary costs are soaring, but many pet insurance policies provide a poor level of cover, says Ruth Jackson-Kirby.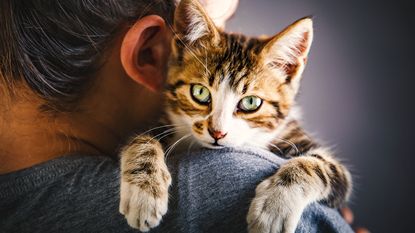 (Image credit: © Pavlina Popovska/Getty Images)
Owning a pet is an expensive business. The price of vet and other pet services rose by 17% between 2015 and 2020, according to the Daily Mail. One of the largest possible outgoings is medical treatment – advances in veterinary science mean a whole host of illnesses that would have resulted in a pet being put down years ago can now be treated, at a cost.
This has led more of us to insure our pets so that we don't have to find the money to pay vets' bills ourselves. But pet insurance isn't cheap and premiums are rising far faster than inflation. So deciding whether it's best to take out a policy or "self-insure" by putting aside money for possible expenses isn't straightforward.
Beware the small print
The principle of pet insurance, as with most insurance, is that you pay regular premiums and your pet's medical expenses will be covered if they become ill or injured. The fundamental problem is that policies are often riddled with limitations and exclusions. Most put a limit on how much they will pay out per illness or injury, so even if you've paid a small fortune in premiums, you could still find yourself footing the bill for veterinary treatment after a certain time period or cost limit.
Subscribe to MoneyWeek
Subscribe to MoneyWeek today and get your first six magazine issues absolutely FREE
Get 6 issues free
Sign up to Money Morning
Don't miss the latest investment and personal finances news, market analysis, plus money-saving tips with our free twice-daily newsletter
Don't miss the latest investment and personal finances news, market analysis, plus money-saving tips with our free twice-daily newsletter
You also have to pay an excess every time you claim. This has steadily increased over the years, so you can expect to pay the first £100 or £125 of every claim. On top of the excess, once your pet is deemed to be old – a mere eight years old for dogs and cats with many insurance firms – you also have to pay a proportion of each claim. This can mean you are paying as much as 20% of the claim plus the excess.
Finally, once you've made a claim for an ongoing condition you can't switch insurer as existing conditions are nearly always excluded from new policies. That can leave you trapped with your current provider, paying steadily rising premiums.
All these limitations make the fact that premiums have risen by double the rate of inflation even more irksome. The average annual pet insurance premium is £271, according to the Association of British Insurers. This rises as your pet ages, to a whopping £888 for an 11-year-old dog, according to NimbleFins, a personal-finance research and analysis website.
The cost of self-insurance
You can avoid those huge premiums if you self-insure. This may well be the best option on average, but don't underestimate how much you could have to pay if you are unlucky enough to have a seriously sick or injured pet. Make sure that you are in a position where you can pay a large bill in an emergency. The average claim is now for £800 and some injuries can be far more expensive. A dog's dislocated kneecap can cost around £4,000.
You'd need to set aside £80 a month for four years to amass a £4,000 reserve against emergencies, and one accident could empty your account. However, if you never need to dip into your emergency account, after 15 years you could have £15,500. Even if you only saved the average monthly premium of £22.50, you would have £4,370.
If you take out insurance, look for the best deal, taking account of all limitations, not just price. Compare the pay-out limits to get as much cover as possible and get a lifetime policy. These will pay out up to a set amount each year. That amount resets after 12 months, so you should never hit a point where you are paying all the vet's bills despite having insurance.
Ruth Jackson-Kirby is a freelance personal finance journalist with 17 years' experience, writing about everything from savings and credit cards to pensions, property and pet insurance.
Ruth started her career at MoneyWeek after graduating with an MA from the University of St Andrews, and she continues to contribute regular articles to our personal finance section. After leaving MoneyWeek she went on to become deputy editor of Moneywise before becoming a freelance journalist.
Ruth writes regularly for national publications including The Sunday Times, The Times, The Mail on Sunday and Good Housekeeping among many other titles both online and offline.