Cold calls on financial deals to be banned under Government plans
Prime Minister Rishi Sunak will extend powers to target cold calling and text scams. Here's what you need to know.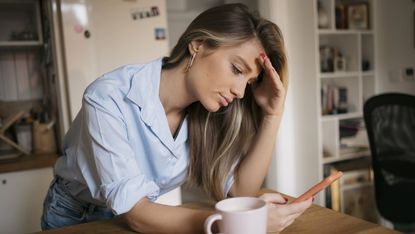 (Image credit: © Getty images)
Cold calls which cheat people out of their money by tricking them into buying fake investments are to be banned under government plans.
Prime Minister Rishi Sunak says the move is needed to "prevent fraudsters from infiltrating their way into people's lives in the first place."
Fraud costs society an estimated £6.8bn a year, according to the government.
Subscribe to MoneyWeek
Subscribe to MoneyWeek today and get your first six magazine issues absolutely FREE
Get 6 issues free
Sign up to Money Morning
Don't miss the latest investment and personal finances news, market analysis, plus money-saving tips with our free twice-daily newsletter
Don't miss the latest investment and personal finances news, market analysis, plus money-saving tips with our free twice-daily newsletter
Sunak said: "Scammers devastate lives and livelihoods, preying on people's fears to cheat them out of their money. To clamp down on these crimes, we have to prevent fraudsters from infiltrating their way into people's lives in the first place.
"That's why we're stopping scams at source by taking away the routes used to target victims, keeping people safe and shielding them from the criminals responsible."
Once in force, people receiving a call offering them products, such as sham crypto currency schemes or types of insurance, will know that it must be a scam, helping to stop people falling victim to fraudsters trying to dupe them.
It comes amid research showing significant numbers of people are willing to take more investment risk to make money amid the cost of living crisis that is leaving them vulnerable to scammers.
How will the Government's ban on cold calling work?
Currently, the ban on cold calls relating to pension products aims to make anyone receiving such a call confident enough to hang up and report the scammer.
And now the aim is to extend this ban to cover cold calls selling any financial product. For example, common scams, which appear to be from trusted services or brands, include texts claiming to be from the Royal Mail which seek to rearrange a delivery, or from a bank, instructing someone to transfer their money.
The proposals will also ban so-called SIM farms, electronic boxes made up of bundles of SIM cards, so these devices are not used by scammers to rapidly send fraudulent messages simultaneously to thousands of people. The government will also review the use of mass texting services to keep these technologies out of the hands of criminals.
It also plans to work with Ofcom to use new technology to further clamp down on number "spoofing", so fraudsters cannot impersonate legitimate UK phone numbers.
Banks will also be allowed to delay payments from being processed for longer to allow for suspect payments to be investigated.
To make it easier for victims to report fraud and rebuild confidence that cases are being dealt with properly, a new National Fraud Squad, replacing the current Action Fraud service, will be up and running within the year and will take an intelligence-led approach with 400 new specialist investigators. It will provide a simpler route for reporting fraud online, with reduced waiting times and an online portal to allow victims to get timely updates on the progress of their case.
A new anti-fraud champion, Anthony Browne MP, has been appointed. He said: "The tech sector, phone companies and financial services firms must take responsibility for protecting their users by stopping fraud happening in the first place, and work together to design out fraud.
"We can use the technologies fraudsters are exploiting against them to stop them in their tracks, and I will work with industry to make sure that happens."
Tom Selby, head of retirement policy at AJ Bell, who campaigned extensively for a pensions cold calling ban which came to pass in 2019. He thinks more needs to be done.
"For this cold-calling crackdown to work we need two things: tightly worded legislation, to ensure nefarious contacts are specifically targeted, and a legitimate threat of enforcement where someone breaks the new rules. The plans also need to go hand-in-hand with greater responsibility being taken by internet giants like Google for paid-for scam adverts, something which the Online Safety Bill can hopefully bring into UK legislation.
Who is affected by cold calling?
Up to 41 million adults in the UK were targeted by suspicious calls and texts last summer, according to Ofcom research.
Older people are often particularly vulnerable to cold calls and text scams. This is because they are typically at home during the day, sometimes live alone, use their landlines and often have some disposable income.
Over 65s with savings in excess of £10,000, for example, are three and a half times as likely to fall victim to investment fraud, according to the Financial Conduct Authority (FCA).
What cold calls do I need to look out for?
Romance scams, cost of living payments scams, BT scam emails - fraudsters turn their hand to it all to get you to part with your life savings.
Scammers will often be articulate and appear financially knowledgeable. They have credible websites and materials that can be hard to distinguish from the real thing.
Here are some recent scams to look out for:
1. Spray insulation scams
Homeowners are being told that the insulation they currently have in their home is either faulty or soon to become illegal. They are then sold an alternative 'spray-in' insulation, often for thousands of pounds. These scammers usually find victims using databases of people aged 70 and over and lists of properties that have already had spray foam insulation installed. Scammers call or visit (under the guise of expert surveyors) to talk homeowners into signing contracts for unnecessary work that is then carried out within days to avoid victims changing their minds.
2. Equity release
A boom in equity release - over-55s have unlocked a record £6.2bn in 2022 - has resulted in scammers trying to steal large amounts of money from older homeowners via equity release scams. In these cases, scammers play a longer game as it typically takes a lengthy period to convince someone to release cash from their property.
3. Passport scams
With passport workers on strike, the CTSI is warning that scammers are using text messages to trick victims into thinking they can pay extra to speed up their passport application. Typically victims lose cash but also share personal information that can be sold on. Remember, no paid third-party service will get your passport to you quicker.
How to beat the scammers - stop being polite
Be suspicious of cold callers and never pay by bank transfer.
If you're rung up out of the blue about an investment opportunity, the best thing you can do is hang up - that's the advice of the FCA.
Spin conversations by asking cold callers for their name, number and who they work for or telling them you will personally deal with whatever the issue is.
If you're happy to be less polite, you could say: "There's someone at the door, I'll just let them in" and leave them hanging - or start speaking another language or sing Bee Gees' 'Jive Talkin'.
Contact your bank or building society if you think your details have been compromised, call the police if you have transferred money and report the issue to Action Fraud on 0300 123 2040.
Katie Binns is an award-winning journalist, and former Sunday Times writer where she spent 10 years covering news, culture, travel, personal finance and celebrity interviews. She has also written for the Times, Telegraph, i paper and Woman and Home magazine.
Her investigative work on financial abuse has examined the response of banks, the Financial Ombudsman and the child maintenance service to victims, and resulted in a number of debt and mortgage prisoners being set free.