Nationwide issues scam warning after rise in willingness to take more investment risk
Latest research shows significant numbers of people are willing to take more investment risk to make money amid the cost of living crisis - leaving them vulnerable to scammers.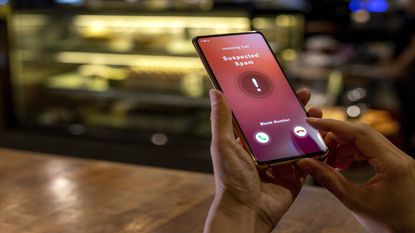 (Image credit: © Getty Images)
A rise in the number of people willing to make risky investment decisions has led Nationwide Building Society to issue a warning over scammers promising too-good-to-be-true returns.
Around one in 12 (8%) people would be willing to immediately agree to an investment "opportunity" if it promised to double their money in a year, according to the survey.
Overall, just over six in 10 (61%) people said they would agree to an investment promising to double their money in a year, with some of this group saying they would carry out research online or wait for paperwork to arrive before making the investment.
Subscribe to MoneyWeek
Subscribe to MoneyWeek today and get your first six magazine issues absolutely FREE
Get 6 issues free
Sign up to Money Morning
Don't miss the latest investment and personal finances news, market analysis, plus money-saving tips with our free twice-daily newsletter
Don't miss the latest investment and personal finances news, market analysis, plus money-saving tips with our free twice-daily newsletter
Almost one in ten would use Facebook, Instagram and TikTok to find information on potential investments - but even fewer (8%) said they would finalise the transaction without carrying out any research.
Meanwhile, younger investors are particularly at risk from such scams: fraud among 25 to 34-year-olds accounted for 16% of investment scam cases reported to Nationwide in 2022 - an increase from 12% in 2021.
But older savers - those aged 65 and above - are becoming more savvy to the risks of fraudulent investments, the data suggests. This age group accounted for a quarter (25%) of the total number of investment scams reported in 2022, down from 35%.
The average loss to an investment scam is just under £5,000, according to Nationwide's data.
Nationwide is urging any members who are concerned or doubtful about an investment opportunity to use its scam checker service, which is available in branch or by calling a freephone number (0800 030 4057).
What are the warning signs of an investment scam?
Nationwide Building Society has warned that scams are getting more sophisticated, with some fraudsters impersonating financial advisers online to con unsuspecting investors.
Criminals can produce brochures or websites which may appear very professional and they can also clone the websites of legitimate firms to give the impression of being from a trusted brand.
Scammers are also putting additional measures in place to ensure customers commit to the deception over the long term. Criminals are more commonly paying false dividends to make victims believe their investment is growing, Nationwide said, leading to it taking months or even years before people realise they have fallen victim to a scam.
While investment scams are continually evolving, there are a number of core signs that should be red flags for investors.
Unexpected contact: While in the past scammers may have cold-called at your front door, social media and other online forms of communication are increasingly common today. Be aware of accepting message requests from people you don't know, and be critical of any kind of post or message that promotes an investment opportunity.

Time pressure: Scammers might offer a bonus or discount if you invest before a set date, or they might tell you the offer is only available for a short period. These are both tactics to get you to hand over your money without having the time to think critically about what you have been told. It also prevents you from discussing it with a professional, such as a financial advisor.

Social proof: The fraudster may share fake reviews, showing how satisfied other clients are with the opportunity. They might claim other clients have invested or want access to the deal in an attempt to increase the pressure on you to agree to sign up.

Unrealistic returns: Fraudsters often promise tempting returns that sound too good to be true - for example, much better interest rates than elsewhere. Jim Winters, director of economic crime at Nationwide Building Society said: "To make their investment stand out, the returns are often higher than on real investments, so if it looks too good to be true, it
probably is."

False authority: They might use convincing documents and websites, claim to be regulated and speak with authority on investment products.

Flattery: They may try to build a friendship with you to lull you into a false sense of security.
How to protect yourself from investment scams
To avoid being caught out by a scam, follow these rules.
Check that the firm is authorised by the Financial Conduct Authority (FCA): This can be done by using the register on the FCA website. It is important to note that FCA rules typically only apply to mainstream products, with some niche areas remaining unregulated. This includes things like land overseas, storage and wine.
Check that it isn't a 'cloned company': Fraudsters can pretend to be a genuine firm. Check for any other websites under the same name.

Make sure you use contact details taken from the FCA's register: Do not use the details given to you directly from the company, or by the person who contacted you.

Make use of your banks' resources. Nationwide Building Society members who are doubtful about an investment opportunity can use the Scam Checker Service, which is available in branch or by calling a 24/7 freephone number (0800 030 4057). It affords customers a degree of protection if the payment goes ahead and the member is subsequently scammed. Unless Nationwide told the member not to proceed, they will be fully reimbursed.

Visit the FCA's ScamSmart website. The ScamSmart site allows you to check whether similar reports have been made about the investment opportunity. The site also includes an up-to-date list of firms running scams or operating without authorisation.
Tom is a journalist and writer with an interest in sustainability, economic policy and pensions, looking into how personal finances can be used to make a positive impact.

He graduated from Goldsmiths, University of London, with a BA in journalism before moving to a financial content agency.
His work has appeared in titles Investment Week and Money Marketing, as well as social media copy for Reuters and Bloomberg in addition to corporate content for financial giants including Mercer, State Street Global Advisors and the PLSA. He has also written for the Financial Times Group.
When not working out of the Future's Cardiff office, Tom can be found exploring the hills and coasts of South Wales but is sometimes east of the border supporting Bristol Rovers.