Why you should probably set up a lasting power of attorney
You will need someone to run your affairs if you become incapable of doing so yourself – that's where a lasting power of attorney comes in.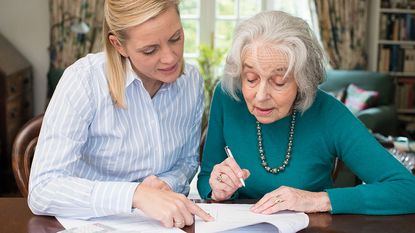 (Image credit: Getty Images/iStockphoto)
When it comes to planning for later life most of us focus on our pensions and whether we have saved enough for luxury holidays. But what happens if you become incapable of making or communicating your own decisions?
More and more of us are making plans for what happens if we lose our mental faculties in later life. A lasting power of attorney (LPA) gives a friend or loved one the power to manage our affairs when we no longer can. In 2018 over 800,000 LPAs were set up in England and Wales. That is triple the figure for 2013.
Every three minutes somebody in the UK develops dementia, so getting an LPA in place should be on everyone's to-do list.
Subscribe to MoneyWeek
Subscribe to MoneyWeek today and get your first six magazine issues absolutely FREE
Get 6 issues free
Sign up to Money Morning
Don't miss the latest investment and personal finances news, market analysis, plus money-saving tips with our free twice-daily newsletter
Don't miss the latest investment and personal finances news, market analysis, plus money-saving tips with our free twice-daily newsletter
If you lose your mental capacity and you don't have an LPA, then your family would have to apply through court to manage your affairs. "Those who don't have an LPA risk causing extra stress and expense for their family and friends, while their own wishes about their finances or health might not be taken into consideration," Robin Bailey, an adviser at financial planner Chase de Vere, told The Times.
There are two types of LPA: one for health and one for financial affairs. You can choose whether you want one or both of them, but it makes sense to arrange both at the same time. The financial LPA will cover managing bank accounts, paying bills and collecting benefits.
A health LPA allows someone to make decisions about your medical care and when and where you should go into care.
Setting up an LPA is straightforward. You can do it yourself online for £82. But if your affairs are complicated you may want to use a solicitor. In that case, you can expect to spend around £500-£700 for one, or £1,000 for two, according to The Times.
Picking a person to adminster your lasting power of attorney
The most difficult part of an LPA is deciding who will be your attorney: the person who will make decisions for you. It is important that your potential attorney understands the big responsibility they are taking on and what will be expected of them.
"Too many people who take on the role of attorney never take advice about what they can do and what they cannot do," Kelly Greig, partner at law firm Irwin Mitchell, told the Financial Times.
"Everyone should take advice when they start acting for the person who has appointed them; the estate will pay for it." Once you've filled in and signed the forms you need to register the LPA application with the Office of the Public Guardian. This can be done before or after someone loses mental capacity. It can take up to four months; do it straight away and you can be confident that the LPA is ready to use.
Ruth Jackson-Kirby is a freelance personal finance journalist with 17 years' experience, writing about everything from savings and credit cards to pensions, property and pet insurance.
Ruth started her career at MoneyWeek after graduating with an MA from the University of St Andrews, and she continues to contribute regular articles to our personal finance section. After leaving MoneyWeek she went on to become deputy editor of Moneywise before becoming a freelance journalist.
Ruth writes regularly for national publications including The Sunday Times, The Times, The Mail on Sunday and Good Housekeeping among many other titles both online and offline.