How Big Tech was humbled Down Under
An Australian law forcing tech companies to share their profits with news organisations is a crucial test of the evolving power relations between governments, the media and big tech, says Simon Wilson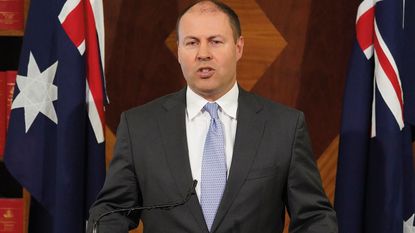 (Image credit: © STEFAN POSTLES/EPA-EFE/Shutterstock)
What's the background?
Following a near three-year inquiry by Australia's competition authority, in July its government published a new draft law that aims to redress the power imbalance between the US digital media giants and traditional news publishers. The aim of the proposed News Media Bargaining Code, which is now going through Parliament, is to get the likes of Facebook and Google to pay a small cut of revenues to news publishers whose stories help drive online traffic, but whose industries and business models have been savaged by the rise of online media. Under the code, Facebook and Google (in the first instance) will be obliged to negotiate commercial deals with news outlets (individually or collectively), or face terms imposed by arbitration. The tech giants will face fines of up to £5.6m (A$10m) for breaking agreements. They also have to give news outlets notice of changes to search algorithms affecting them, and share their use of consumer data taken from news content.
Why is this so significant?
Because it's a world-first attempt to make Facebook and Google directly subsidise ailing legacy media businesses, by making the tech giants pay for linking to news content. As such, it's a crucial test of the evolving power relations between governments, media firms and big tech. The tech giants say they don't make revenues from news; rather they benefit news groups by driving traffic to them. Facebook, for example, says only 4% of its traffic is to news content (though this still amounted to 5.1 billion reader click-throughs to Australian news websites last year). From the point of view of big tech, any attempt to make it pay for links undermines the very essence of the internet, which would end up fractured and collapsing amid a pile of litigation. As Facebook's Australia boss William Easton put it, the draft law "fundamentally misunderstands" its relationship with publishers – and "seeks to penalise Facebook for content it didn't take or ask for".
What's the counter argument?
That we are way past the point where big tech can get away with libertarian arguments to underpin its monopolistic practices and abuses of power. For example, it is obviously disingenuous for social-media companies to claim that they boost, rather than get a free ride from, publishers. In reality, the relationship is symbiotic. Facebook and Google derive value from enhancing their content with news links, while scooping up the lion's share of advertising revenue. A search engine that doesn't offer news content can scarcely claim to be comprehensive. That may be why Google, which makes the vast bulk of its profits from search, chose to cut a deal.
Subscribe to MoneyWeek
Subscribe to MoneyWeek today and get your first six magazine issues absolutely FREE
Get 6 issues free
Sign up to Money Morning
Don't miss the latest investment and personal finances news, market analysis, plus money-saving tips with our free twice-daily newsletter
Don't miss the latest investment and personal finances news, market analysis, plus money-saving tips with our free twice-daily newsletter
What deal did Google do?
Although it had initially threatened to leave Australia altogether, on 10 February Google agreed news licensing deals with the big Australian outlets that means it will not have to enter arbitration under the code – and a global deal with the biggest, Rupert Murdoch's NewsCorp. Facebook, by contrast, took a dramatically different and more confrontational route, banning the sharing of news content within and from Australia. It also, apparently mistakenly, blocked access to the websites of some charities, government health agencies and emergency services – not a good look just as the national Covid-19 vaccine rollout was kicking off. The result was an almighty backlash, not just in Australia, but from angry governments around the world. Even Facebook's former head in Australia, Stephen Scheeler, condemned the company's "remarkable" move as a "bullying threat" that would not be forgotten by governments. In the face-off, Facebook blinked first. It re-entered negotiations with Canberra within a couple of days and this week the two sides announced a compromise.
What's in the Facebook deal?
Facebook agreed to restore news to social-media feeds within days and the government agreed various amendments to the law now going through Parliament. Facebook and other platforms subject to the code will now be given a month's notice to comply. Tech companies will be given two months to reach deals under mediation before government can impose arbitration as a "last resort". And the code might not apply to Facebook if it shows it has done enough deals with media outlets to pay them for content. The deal was widely seen as a climbdown by Facebook, which had overplayed its hand by pulling news altogether. But it was not a "complete capitulation", says Lex in the Financial Times. The concessions it has extracted "may influence copycat legislation in other jurisdictions" and will make it easier for Facebook "to strike deals on its own terms". On the other hand, media groups will now get more from Facebook and Google, and Facebook's "hubris" at "taking on a powerful democratic nation head-on" has damaged its reputation, potentially encouraging regulators in other countries to be more aggressive.
Is the new law a model for the world?
Australia's federal treasurer, Josh Frydenberg, framed the stand-off as a "proxy battle" for all countries that want to rebalance the relationship between social-media giants and the traditional news media. Certainly, the likely result is that Facebook and Google will eventually strike more deals, in more countries, to pay for news. However, other countries could do better, says Lex. In particular, the Australian approach helps powerful media groups, with vast lobbying budgets, more than small publishers. Instead, media companies and governments should be aiming for collective, international agreements, and a digital services tax, such as that proposed by the OECD club of nations. Hopefully this debacle will give "a further push" to achieving a more "holistic, global approach"
Simon Wilson's first career was in book publishing, as an economics editor at Routledge, and as a publisher of non-fiction at Random House, specialising in popular business and management books. While there, he published Customers.com, a bestselling classic of the early days of e-commerce, and The Money or Your Life: Reuniting Work and Joy, an inspirational book that helped inspire its publisher towards a post-corporate, portfolio life.
Since 2001, he has been a writer for MoneyWeek, a financial copywriter, and a long-time contributing editor at The Week. Simon also works as an actor and corporate trainer; current and past clients include investment banks, the Bank of England, the UK government, several Magic Circle law firms and all of the Big Four accountancy firms. He has a degree in languages (German and Spanish) and social and political sciences from the University of Cambridge.