Chipmaker Arm gets a helping hand from Nvidia
Arm, the British chip designer, is to be sold to a US peer in a record deal for the industry. The consequences will be far-reaching.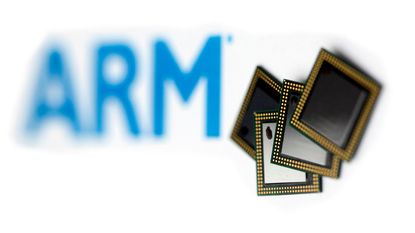 (Image credit: © Chris Ratcliffe/Bloomberg via Getty Images)
Nvidia's "blockbuster" takeover of UK chip designer Arm is already facing "growing opposition", says The Daily Telegraph. Japanese technology investor Softbank bought Arm for £24bn in 2016; it now wants to sell it to the US technology company in a record deal for the semiconductor sector.
As soon as the £30bn deal was announced, Arm's founder Hermann Hauser complained that it would deliver Britain into "American vassalage" by selling its "prime technology asset". Hauser says a sale to Nvidia would mean "the decision about who Arm is allowed to sell to will be made in the White House". The British government has pledged to investigate the deal, and China may follow suit.
Silicon Valley stardust
It's true that the deal brings "regulatory, political and client risks", including a chance that US politicians could prevent Arm exporting its products to China, says Alistair Osborne in The Times. The British government should also force Nvidia to make "hard commitments" about jobs.
Subscribe to MoneyWeek
Subscribe to MoneyWeek today and get your first six magazine issues absolutely FREE
Get 6 issues free
Sign up to Money Morning
Don't miss the latest investment and personal finances news, market analysis, plus money-saving tips with our free twice-daily newsletter
Don't miss the latest investment and personal finances news, market analysis, plus money-saving tips with our free twice-daily newsletter
However, talk about the deal being equivalent to "letting Trump get his hands on Trident" is "scaremongering". Arm may even benefit from some "Silicon Valley stardust". After all, despite the two companies being roughly the same value in 2016, when Softbank bought Arm, Nvidia's shares have since "rocketed tenfold".
If anyone should be blamed, it's the "timid" fund managers who preferred to bank "a quick 40% profit on the previous share price" and sell out to Softbank in 2016, says Nils Pratley in The Guardian. In retrospect, they would have done better to keep Arm independent and take a punt that it could "multiply in value" over a couple of decades.
Sadly, that mistake can't be undone, so it's best to let the deal go ahead, especially since Softbank now has too much debt and a "dented" reputation thanks to "ludicrous" punts on WeWork and other companies. Still, getting regulators and governments on board may "turn out to be the easy part" of the process, says Dan Gallagher in The Wall Street Journal. Arm provides the basic designs for the low-power central processor chips that form the "main brains" of smartphones and tablets.
So "nearly every company" that makes processors for mobile devices and other types of chips has a licensing relationship with Arm, including those that "either compete with Nvidia" or are planning to do so. Nvidia will therefore need to strike a "delicate balance" between "running its own chip business" and allowing Arm "a certain degree of independence". Big companies have hitherto had "little choice" but to stick with Arm, says Richard Waters in the Financial Times. But this deal could lead to a "wave of investment" in rival open-source chip architecture from companies fearful of being taken advantage of by Nvidia. Eventually, Arm's customers may switch to designing their own chip architectures to "ensure control" of their technology. Still, even losing an Apple or a Qualcomm "may not matter much" if Nvidia can use the tie-up to "consolidate its position" in the "key market" of data servers, making itself the "technology axis" for a "booming" industry of artificial-intelligence-powered devices.
Matthew graduated from the University of Durham in 2004; he then gained an MSc, followed by a PhD at the London School of Economics.
He has previously written for a wide range of publications, including the Guardian and the Economist, and also helped to run a newsletter on terrorism. He has spent time at Lehman Brothers, Citigroup and the consultancy Lombard Street Research.
Matthew is the author of Superinvestors: Lessons from the greatest investors in history, published by Harriman House, which has been translated into several languages. His second book, Investing Explained: The Accessible Guide to Building an Investment Portfolio, is published by Kogan Page.
As senior writer, he writes the shares and politics & economics pages, as well as weekly Blowing It and Great Frauds in History columns He also writes a fortnightly reviews page and trading tips, as well as regular cover stories and multi-page investment focus features.
Follow Matthew on Twitter: @DrMatthewPartri