Share tips of the week – 16 September
MoneyWeek's comprehensive guide to the best of this week's share tips from the rest of the UK's financial pages.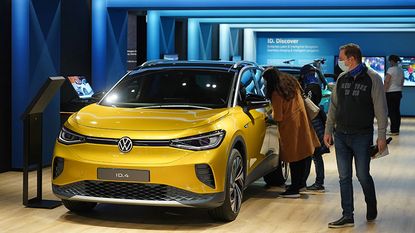 (Image credit: © Sean Gallup/Getty Images)
Six to buy
Accesso Technology Group
The Sunday Times
This Aim-listed provider of virtual queueing and ticketing software boasts 1,000 clients across 30 countries, including Legoland and Madame Tussauds. The less time customers waste queueing, the more money they spend inside. The industry was "walloped" by Covid-19, but recovering demand allowed Accesso to turn a $12m profit last year. Though a recession could herald a tougher period ahead, the long-term shift towards digital ticketing provides a steady tailwind. The shares are on a "reasonable" price/earnings (p/e) ratio of 11. 578p
Subscribe to MoneyWeek
Subscribe to MoneyWeek today and get your first six magazine issues absolutely FREE
Get 6 issues free
Sign up to Money Morning
Don't miss the latest investment and personal finances news, market analysis, plus money-saving tips with our free twice-daily newsletter
Don't miss the latest investment and personal finances news, market analysis, plus money-saving tips with our free twice-daily newsletter
Hunting
Shares
This energy-services group sells equipment such as the Titan perforating gun, which is used to drill oil and gas wells. The group is heavily exposed to the US, where rig counts have soared by more than 50% over the past 12 months in response to dearer energy prices. On 18.7 times forecast 2023 earnings the shares are not cheap, but strong global demand for US natural gas exports should push profits higher in future years, making this entry point look more reasonable. A "robust" cash position will also cushion the group as it looks to expand beyond the "structurally challenged" hydrocarbon industry. 284p
Sirius Real Estate
The Telegraph
Shares in this investor in German business and office parks are down 42% this year as Europe's biggest economy heads for a chilly winter. Widespread bankruptcies by tenants would certainly see rent revenue fall, but it is worth noting that Sirius collected more than 98% of rents during the pandemic, and Berlin can be expected to intervene again to protect firms this time. A 4.8% dividend yield and a 10.5% discount to net asset value (NAV) more than price in the evident risks. 79p
Smart Metering Systems
The Mail on Sunday
"Smart meters have been linked to fraud [and] frustration", but the core idea – a technology that lets households more easily monitor and manage their bills – has never been more essential. More than half of British households have one, with the government targeting 85% by 2025. This independent specialist "owns the meters and rents them out to energy firms" for a modest, inflation-linked rent that funds steady dividend increases. The stock currently yields 3.4%. Moves into battery storage and electric-vehicle charging should also enhance growth prospects. 893p
Sylvania Platinum
Investors' Chronicle
This South African producer of platinum, palladium and rhodium is "hugely profitable" and has announced a "bumper final dividend". Yet the shares trade on a "bargain basement" valuation. That reflects long-term scepticism about platinum-group metal prices: the decline of internal combustion engines means they won't be needed for vehicle catalysts. Yet hybrids, which still need the metals, will be with us for some time. In the short-term a post-pandemic backlog of vehicle demand and falling platinum exports from Russia should also keep platinum shining. 88p
Volkswagen
Barron's
The rise of Tesla has left traditional car-makers with "some of the stockmarket's lowest" valuations. Volkswagen trades on a p/e of less than five. The world's biggest vehicle group by annual sales is planning an initial public offering of a small stake in its Porsche division this autumn. That could unlock hidden value in VW's stock – the group trades on a big discount to the likes of Ferrari. "Volkswagen is ahead of rivals" in the dash to challenge Tesla and boasts "a strong balance sheet". €152
...and the rest
The Daily Telegraph
"Profits are booming" at oil giant Royal Dutch Shell and on "a forecast price/earnings ratio of less than five" the shares seem "amazingly cheap". With crude oil prices dipping of late and sentiment bearish, this is still far from a crowded trade. Hold (2,348p).
Investors' Chronicle
International suitors are snapping up UK software firms. Healthcare-focused Craneware, which makes all its sales in the huge US market, could be next. Customer retention rates above 90% testify to the "stickiness" of its software products and a reliable US income stream is all the more compelling given the strong dollar (1,570p).
The Mail on Sunday
Somero Enterprises' "high-tech" machines ensure that concrete floors are kept flat during pouring, reducing the number of workers required. The group operates across 100 countries. With the shares yielding over 9% existing investors should hold, while "new investors might also consider digging" in (412p).
Shares
A Covid-19 slump has given way to high oil prices and congested airports as airlines tackle new headwinds. Jet2 has made a special effort to avoid leaving passengers in the lurch with cancellations this summer, confirming its "best-in-class" service reputation. Enhanced customer loyalty should yield long-term gains. Hold (883p).
The Times
Packaging giant DS Smith has had a "torrid" period as a weaker economy has hit demand for its products. Still, the shares trade on a discount to peers and the return of in-person shopping has not dented the popularity of deliveries. Buy (272p).