Share tips of the week – 2 September
MoneyWeek's comprehensive guide to the best of this week's share tips from the rest of the UK's financial pages.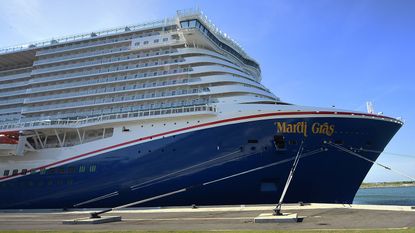 (Image credit: © Getty )
Three to buy
IP Group
The Mail on Sunday
IP Group specialises in finding promising early stage businesses and helping them flourish. Its biggest success to date has been Oxford Nanopore Technologies, a DNA-sequencing company known for identifying Covid-19 variants. But IP Group has "many more strings to its bow". Its portfolio features Cambridge-based artificial intelligence (AI) firm Featurespace and self-driving software creator Oxbotica. The dip in the share price over the past year is a buying opportunity. 69p
Taylor Maritime Investments
The Telegraph
Subscribe to MoneyWeek
Subscribe to MoneyWeek today and get your first six magazine issues absolutely FREE
Get 6 issues free
Sign up to Money Morning
Don't miss the latest investment and personal finances news, market analysis, plus money-saving tips with our free twice-daily newsletter
Don't miss the latest investment and personal finances news, market analysis, plus money-saving tips with our free twice-daily newsletter
The prospect of a global economic downturn has fuelled pessimism about the shipping sector. This explains why Taylor Maritime Investments, an investment trust, is trading at a 17% discount to net asset value (NAV), which looks "far too wide". The market is ignoring "positive dynamics associated with this sub-sector". Demand for the agricultural, food and infrastructure-related products that these shipping containers transport is still strong. Coupled with low supply, this has pushed charter rates up, which bodes well. Consider "dipping your toe in the water". $1.44
Velocys
The Sunday Times
Sustainable-fuel firm Velocys's innovative technology helps the biomass from waste-wood mix with kerosene to create a cleaner aviation fuel. It can be made in smaller refineries that require "much less capital investment". Governments are racing to decarbonise aviation, which means Velocys "could be on the cusp of taking off". Analysts expect sales to hit £46m by 2026, up from £8.3m last year. It's a "dicey" investment ,but patience could pay off. 6p
Two to sell
Carnival
Investors' Chronicle
Carnival was the world's biggest cruise operator before the pandemic. In the year to November 2019 it carried 45% of all cruise passengers on its nine lines. However, despite Covid-19's retreat, it continues to suffer. The company saw a net cash outflow of $1.9bn in the six months to May, and while it has indicated that "the worst is over" as demand for bookings increases, it still posted a loss of $3.7bn. This was only slightly better than the $4bn reported the year before. Higher inflation has meant increased fuel and payroll costs, which have made analysts "much less confident" about the group's short-term prospects. Maintaining momentum if the economic outlook darkens could prove difficult given the company's reliance on North American and European markets. Carnival could raise more equity to "put the balance sheet back on an even keel", but appetite for Carnival's debt might weaken if interest rates continue to rise. Sell. 710p
easyJet
The Times
The key question for budget carrier easyJet is how much cash it will have to shell out to compensate "stranded" passengers as airport chaos disrupts the rebound for airlines "struggling to return to profitability". Over the three months to 30 June costs associated with disruptions totalled £133m, which resulted in a £114m second-quarter loss. EasyJet has "far less ambitious fleet expansion plans" than its rivals. Although it's trying to win market share by expanding its presence at major airports, it is grappling with higher operating costs. Cancellations and staff shortages at airports have also prompted it to "thin its flight schedule". Avoid. 357p
...and the rest
Investors' Chronicle
Natural stone and concrete manufacturer Marshalls saw its net debt jump to £252m for the first half of 2022, up from £41m at the end of 2021. It also posted a fivefold increase in intangible assets to £551m in the past six months, raising concerns over a potential writedown. New orders in construction dropped by 10.4% in the three months to June, which is also discouraging. Sell (348p). Demand for insulation, smart meters, heat pumps and solar panels is likely to rise as energy prices soar, which bodes well for energy support-services group Sureserve. Buy (87p).
Shares
Russia's invasion of Ukraine and the rise of remote working in a post-pandemic world have underscored the importance of cybersecurity for investors. The L&G Cyber Security UCITS ETF is a way to cash in on the increase in global spending on cyber defences. Buy (1,760p).
The Telegraph
Demand for the commodities that mining "behemoth" BHP focuses on (iron ore, copper, and nickel) is likely to rise as the world shifts to cleaner energy. It has been hurt by "an increasingly downbeat global economic outlook", but its long-term potential "remains compelling". Buy (2,507p). US-listed tobacco firm Philip Morris should be protected from an economic slowdown thanks to the "relatively inelastic nature of demand for tobacco products". Buy ($98).
The Times
Lookers, which sells new and used cars, has revealed that pre-tax profits for the first six months of the year eclipsed last year's figure. The group could also be subject to a lucrative takeover. Buy (82p).