Three top-quality Japanese growth stocks to ride the recovery
Professional investor Nicholas Price of the Fidelity Japan Trust highlights three of his favourite Japanese growth stocks that should benefit from the country's post-pandemic re-opening.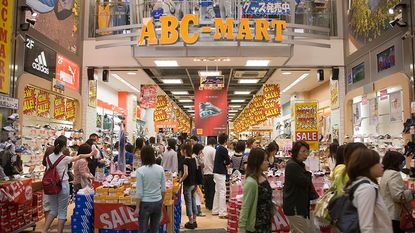 (Image credit: ABC-Mart shop in Japan © Neil Setchfield / Alamy)
Markets will remain susceptible to profound macroeconomic uncertainty, centred on global inflation, interest rates and the risk of recession. We are closely monitoring the impact that imported costs are having on companies and consumers in Japan. But inflation is much lower than in other regions and the country is starting to get back to normal as the pandemic recedes.
In this environment, we are focusing on firms benefiting from reopening, and oversold, consistent growers. There are also opportunities in the mid- and small-cap sector, where valuations have come down significantly, resulting in bargains for medium-term investors.
Japan continues to offer a wealth of under-researched mid- and small-cap growth companies. Active managers like me have the opportunity not only to invest in established global leaders, but also to unearth less well-known companies. In an uncertain environment our in-depth research and on-the-ground knowledge is invaluable.
Subscribe to MoneyWeek
Subscribe to MoneyWeek today and get your first six magazine issues absolutely FREE
Get 6 issues free
Sign up to Money Morning
Don't miss the latest investment and personal finances news, market analysis, plus money-saving tips with our free twice-daily newsletter
Don't miss the latest investment and personal finances news, market analysis, plus money-saving tips with our free twice-daily newsletter
Olympus: cutting the cost of healthcare
Olympus (Tokyo: 7733), the former camera manufacturer, is now a global leader in the gastroenterological endoscope market. The company enables medical professionals to detect lesions from gastrointestinal diseases, such as cancer, early and in a minimally invasive way. This early diagnosis of diseases in turn helps governments mitigate the cost of healthcare.
Since management changed in 2019, the company has focused on its core medical business with the aim of matching global medical-technology companies in terms of profitability and governance while reducing its non-core operations. Furthermore, Olympus is well positioned to benefit from yen depreciation, given its high levels of domestic production and overseas sales.
Mitsui is starting to motor
Mitsui High-tec (Tokyo: 6966) is a long-term growth story. Its strength lies in its ultra-precision machining (whereby a material is cut into a shape and size) and die technology, which is used to create high-quality motor cores, an essential component of powertrain motors in electric and hybrid vehicles. As a dominant supplier, the company is well positioned to meet the growing demand for motor cores and pass on higher input costs with minimal delays.
Meanwhile, the profitability of its electronic-component business has shown a marked improvement owing to new cost-efficient production lines and rising demand for automotive semiconductors.
Foot traffic picks up at ABC-Mart
ABC-Mart (Tokyo: 2670) is Japan's largest footwear retailer, with private (own-brand) products accounting for around 40% of total sales. It runs a good business with a strong competitive edge, high profit margins and stable earnings. As a market leader, it has negotiating leverage with shoemakers and can offer a wide selection of products, including exclusive designs.
Covid-related restrictions were lifted in March and a pick-up in foot traffic is boosting sales. ABC-Mart is well positioned to take market share as demand recovers. The company's limited edition and private brands are also popular with tourists, so as Japan gradually reopens its borders to foreign visitors, there is scope for these "inbound" sales to recover.
Nicholas Price, Fidelity Japanese Values