Share tips of the week – 27 May
MoneyWeek's comprehensive guide to the best of this week's share tips from the rest of the UK's financial pages.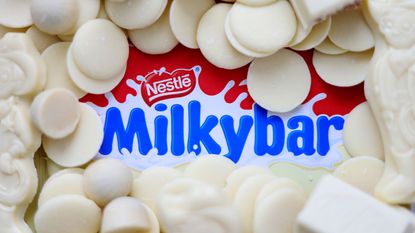 (Image credit: © Hollie Adams/Bloomberg via Getty Images)
Three to buy
Moneysupermarket
The Sunday Times
Many consumers will turn to this comparison site to save money amid the rising cost of living, but the investment case is not as straightforward as it seems. Revenues from energy, which amounted to £70m in 2020, have fallen to nothing as high energy costs mean no cheap tariffs. Insurance has also been hurt by the regulator's move to ban companies from offering cheaper deals to new customers. Still, the travel division is back at pre-pandemic levels, its money arm beat forecasts and the acquisition of cashback site Quidco has contributed £14m in revenues for the first quarter of the year "The stock seems to have been punished too far." 176p
Subscribe to MoneyWeek
Subscribe to MoneyWeek today and get your first six magazine issues absolutely FREE
Get 6 issues free
Sign up to Money Morning
Don't miss the latest investment and personal finances news, market analysis, plus money-saving tips with our free twice-daily newsletter
Don't miss the latest investment and personal finances news, market analysis, plus money-saving tips with our free twice-daily newsletter
Nestlé
Investors' Chronicle
Food producers are "walking a tightrope" trying to manage inflation costs, but Nestlé benefits from the fact that over a third of its brands are "premium" offerings whose consumers are better placed to "stomach price rises". At 25 times forward earnings the shares might feel a little steep, but the company's "resilience" justifies the premium. It also has the "financial firepower" to return money to investors while still reducing debt. CHF122
Whitbread
Shares
If consumers turn to a "cheap staycation" to save money on their holidays, Premier Inn owner Whitbread is "in a prime position to benefit". Accommodation sales are now roughly 30% above pre-pandemic levels thanks to a 10% hike in room rates and an 80% occupancy rate. Other leisure firms in the UK are posting positive reports. Dividends are resuming from July, making now a great time to buy the shares. 2,688p
Three to sell
Hollywood Bowl
The Telegraph
Shares in the UK's largest ten-pin bowling operator are trading on a forecast price/earnings (p/e) ratio of 15 – a valuation that "fails to account for the company's near-term challenges". High inflation will affect consumers' spending and is likely to decrease demand for non-essential services, which could "squeeze margins in future". The "novelty of post-lockdown leisure activities" is also decreasing. Sell. 234p
Imperial Brands
Investors' Chronicle
Tobacco company Imperial Brands is grappling with increasing societal and regulatory challenges as well as tobacco's declining appeal. The shares were hit at the end of April when the US Food and Drug Administration (FDA) announced proposals to ban menthol cigarettes and flavoured cigars, which could stifle growth opportunities in a growing market. The company is also currently appealing against FDA marketing denial orders for some of its vaping products. While heated tobacco sales have outperformed traditional tobacco, they only account for 3% of the company's tobacco revenues. Sell. 1,789p
SEE ALSO:
Imperial Brands has an 8.3% yield – but what's the catch?
Vodafone
The Times
Reports that this telecoms firm is in talks with rival Three have grabbed attention from investors, but there are both competition and commercial hurdles to a deal. Growth has been slow and investors are not convinced it will consistently improve. A "bungled response" to regulatory change in Germany has yet to be resolved and could drag revenue down next year. The fragmented telecoms sector in Europe has hindered Vodafone's ability to make a decent return, held back by the higher cost of running the network for a smaller customer base. Avoid. 125.9p
SEE ALSO
Vodafone shares yield more than 6% – should you buy, or steer clear?
...and the rest
Investors' Chronicle
The cybersecurity market is set to grow 11% per year between 2021 and 2028. NCC is cheaper than most firms in the sector, on a p/e of 16. Buy (206p).
Shares
Building supplies firm Marshalls continues to see strong demand. Buy (530p). Telecoms firm Airtel Africa has exciting long-term growth prospects. Buy (140p). Walt Disney's content should give it an edge over Netflix as streaming subscribers become more selective. Buy ($105.18). Diversified Energy benefits from higher gas prices. Buy (123p).
The Telegraph
Housebuilder Taylor Wimpey has £837m of cash to allow it to survive a tough spell, and its long-term prospects offer "significant capital growth potential". Buy (127.25p). Warehouse owner Segro's share price has been hit by the cost-of-living crisis, but the long-standing trends in its favour have not changed. Buy. (1,110p). Insurer Beazley is exposed to losses in Russia and Ukraine but this is priced in. Buy (468.4p).
The Times
Insurer Aviva's shares are cheap despite a generous dividend that "looks incredibly secure". Buy (423.9p). The economic slowdown has yet to affect demand for high-end watches and jewellery sold by Watches of Switzerland. Buy (920.5p). LondonMetric Property's assets are let on long leases, providing reliable, inflation-linked income. Buy (264.7p). Diploma supplies essential items such as industrial seals, gaskets, specialist wiring and cabling, which should be less vulnerable to cost-cutting. Buy (2,470p). Royal Mail is suffering from weaker parcel volumes and rising costs. Avoid (329.7p).