Share tips of the week – 13 May
MoneyWeek's comprehensive guide to the best of this week's share tips from the rest of the UK's financial pages.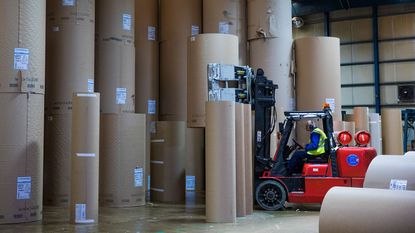 (Image credit: © Jason Alden/Bloomberg via Getty Images)
Six to buy
Derwent London
The Times
Shares in this office landlord have slumped as investors question whether demand for space will return strongly after the pandemic. It is now trading 24% below its net asset value (NAV) at the end of 2021. Yet the firm has recorded new leases worth £3.9m being signed (up from £1.3m last year) covering 64,700 sq ft of office space so far in 2022, and rents on these are up by 8.2% from their year-end estimate. Derwent is also starting to reinvest the proceeds of selling off £400m of older buildings to initiate multiple development projects. 2,952p
Subscribe to MoneyWeek
Subscribe to MoneyWeek today and get your first six magazine issues absolutely FREE
Get 6 issues free
Sign up to Money Morning
Don't miss the latest investment and personal finances news, market analysis, plus money-saving tips with our free twice-daily newsletter
Don't miss the latest investment and personal finances news, market analysis, plus money-saving tips with our free twice-daily newsletter
Ibstock
The Sunday Times
Ibstock is the UK's biggest maker of a variety of construction materials, yet shares have fallen more than 10% this year despite a "red hot" market. The firm has been affected by rising inflation costs (pushing up input costs for energy, freight, carbon and materials) and that's spooked investors. Yet it has beaten its own performance expectation for the first three months of this year and has hedged three-quarters of the gas it needs for the second half of 2022. The firm anticipates annual revenues of more than £600m by 2026, up from £409m last year. 179p
International Public Partnerships
The Telegraph
This infrastructure-focused investment trust offers a dividend that should keep pace with the rising cost of living. The trust's assets, which include gas pipelines, sewers and trains, mostly produce inflation-linked income – often with no cap, so it will keep going up no matter how high inflation climbs. These assets are also highly defensive, and should keep paying out even if global economic growth falters. It trades on a 12.5% premium to NAV, but still pays a healthy 4.5% yield. 166.8p
Moneysupermarket
Shares
Sentiment is bearish towards comparison sites such as Moneysupermarket because their ability to make money from people switching energy providers has been curbed – few suppliers are willing to offer a quote. But the firm could benefit from the cost-of-living squeeze as consumers shop around for better deals on other services, such as car insurance. The purchase of cashback site Quidco is also boosting revenues. The forecast price/earnings (p/e) ratio of 12.6 looks cheap. 174p
Savannah Resources
The Mail on Sunday
Savannah Resources owns one of the biggest lithium mines in Europe. Demand for lithium in electric vehicle batteries is soaring. There were 2.3 million electric vehicles sold in Europe last year, accounting for 17% of all cars sold. Lithium prices have risen from $400 a tonne in 2017 to $6,000 a tonne today. Savannah expects to produce 200,000 tonnes of lithium a year by 2025. If prices average $1,500 a tonne, annual profits could be as much as £120m. 4.2p
Smurfit Kappa
Investors' Chronicle
Europe's leading cardboard packaging company Smurfit Kappa is a sustainable and vertically integrated manufacturer. It handles multiple stages of the process, from growing trees to recycling old products, bolstering its security of supply.
While the cost of recycling has increased by €440m since 2020, management was quick to respond by hiking prices – made easier by strong demand due to the e-commerce boom. Pre-tax profits were up by 22% over the same period. There are cost pressures, and e-commerce may be waning, but the firm is resilient. The long-term move away from plastic packaging should power growth. 3,271p
...and the rest
Investors' Chronicle
GlaxoSmithKline (soon to be just GSK) has spent years trailing behind its Big Pharma peers. But the upcoming spin-off of its consumer healthcare arm will refocus it on its pipeline. Buy (1,797p).
The Mail on Sunday
Digital 9 Infrastructure has four data centres that run on renewable power. It's an attractive long-term bet. Buy (116p).
Shares
GlaxoSmithKline has made a strong start to the year ahead of the planned consumer spin-off, with first quarter revenue up by 34%. Buy (1,797p).
Electricity prices remain high and power producer Drax has raised its 2022 guidance. Buy (667p).
Retailer WHSmith is seeing supply costs rise, but sales are up by 45%. Buy (1,686p).
The Telegraph
Shares in supermarket chain Sainsbury's have lagged amid concerns about the impact of the cost-of-living crisis, but its results are encouraging. Buy (227.9p).
Housebuilder Redrow is being hit by cost inflation, but it's in a strong financial position and a 24% fall in the shares factors in the impact. Buy (531p).
Defence spending is set to rise and BAE Systems looks cheap even after recent gains. Buy (740p).
The Times
IMI makes valves and smart devices for managing the flow of liquids. It's aiming to boost margins by cutting costs and expanding in more profitable markets. Buy (1,370p).
Sales are slowing after a post-pandemic boom at kitchen supplier Howden Joinery, but remain solid and it's managing to pass on costs. Buy (725p).
Online clothing retailer Boohoo is suffering from higher shipping costs and weaker consumer confidence. Avoid (70.5p).
Buy-to-let mortgage specialist OneSavings Bank is seeing strong growth and has a return on equity of 20%. There's scope for higher buybacks and dividends. Buy (566.5p).