How to profit from pampered pets beyond the pandemic
Covid-19 has greatly boosted ownership. But the market had been expanding for years, and demographic, cultural and medical trends all point to long-term growth. Matthew Partridge reports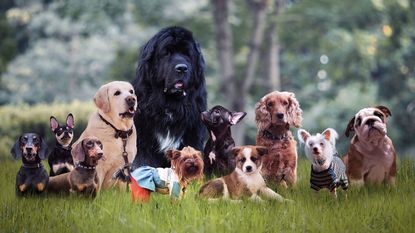 (Image credit: © Getty Images)
As soon as lockdown began in early 2020, millions of people worldwide decided to invest in a furry friend to replace the humans they were banned from seeing. Giles Money of Sarasin & Partners notes that in 2020 the percentage of US households with a pet jumped from 52% to 56%. However, the surge in pet ownership induced by the pandemic merely reinforced a long-standing trend.
Even with most restrictions now over, the market should continue to expand for years. Longer life expectancy, demographic and cultural changes, and our growing tendency to treat pets as little humans should all ensure that the global pet industry will continue to expand by around 8%-9% a year.
The surge in ownership
The growth in the pet population in the US and other major markets has been greatly accelerated by Covid-19, says Daniel Miller, portfolio manager of the Gabelli Pet Parents Fund. The isolation caused by lockdowns created a "need for companionship". People were at home far more than usual, so those who had been putting off pet ownership because they were worried about leaving an animal alone all day were now able to care for one. The rise of online e-commerce also "made it easier to buy pet accessories and food".
Subscribe to MoneyWeek
Subscribe to MoneyWeek today and get your first six magazine issues absolutely FREE
Get 6 issues free
Sign up to Money Morning
Don't miss the latest investment and personal finances news, market analysis, plus money-saving tips with our free twice-daily newsletter
Don't miss the latest investment and personal finances news, market analysis, plus money-saving tips with our free twice-daily newsletter
The pandemic-induced rise in pet ownership is an intensification of a trend that long predates Covid-19. "People are now much more aware of the enormous health and emotional benefits to having a pet." Even the oft-mocked cat pictures and videos on Facebook, YouTube and Instagram are encouraging younger consumers to get a canine or feline companion.
Miller notes that pet ownership is now particularly popular with those in their 20s and 30s, especially since people in these age groups "are delaying marriage and having children". Even those who are married or living together are finding that they can "get great pleasure from owning a pet". One statistic that Miller thinks really underlines this cultural shift comes from the fact that in 2020, "85 million [American] households had a pet, compared with only 45 million who had a child under 25".
The trend is particularly advanced in the US and UK, which both have higher per-capita levels of pet ownership than the rest of the world. However, the "rest of the world is starting to catch up". Even in developing countries, where the idea of having animals as companions was once seen as alien, younger people are starting to embrace pet ownership.
This is partly driven by cultural changes caused by exposure to images of pet ownership on television and social media, but another reason is that the emerging middle classes "now have more disposable income to spend on pets". Mike Iddon, chief financial officer of retailer Pets at Home, agrees that there has been a big explosion in pet ownership in the past few years, with "demand greatly exceeding supply" in the UK during the pandemic. He estimates that three million pets have been acquired in Britain during this period. Cats and dogs comprise the lion's share. But the numbers of fish sold has also risen sharply "after a steady period", while children's pets, such as guinea pigs and hamsters, have also been "incredibly popular".
"Humanising" pets
People are not only more likely to own a pet these days, says Iddon, but they are also treating them differently. A growing tendency to humanise, or anthropomorphise, their pets means people are increasingly likely to consider them "part of the family". This is good news for companies such as Pets at Home: "if you can win over a pet owner" and retain their loyalty through good service, "you can enjoy their business for the lifespan of the animal".
Of course, this presents a challenge as well as an opportunity. Securing consumers' loyalty is not necessarily easy given their "increasingly high" expectations, especially when it comes to "more advanced products". The good news is that there has recently been "a lot of innovation" in this area.
To take one example, dog bedding has advanced tremendously from the blankets and pet basket that used to be the norm only a few years ago. Now, you can find bedding that is "self-warming". The sophistication of dog leads has also greatly improved in the last few years.
In the longer run, Iddon sees some human technology crossing over into the animal sphere, especially in the areas of fitness and nutrition. Pets at Home, for instance, sells a range of "dog-activity monitors". These devices provide security and allow owners to ensure that their dogs are getting enough exercise – in the same way that humans use Fitbits.
Fine dining, not just fuel
People's growing pursuit of healthy nutrition has also led to a change in the market for pet food. The large pet-food manufacturers who dominate the sector have hitherto generally focused on producing food for the budget-conscious owner.
This food, known in the business as "kibble", relies on keeping costs low by using the cheapest ingredients as well as additives to bulk it up. However, there is an increasing awareness among pet owners that "cats and dogs can survive on the cheapest food, but not thrive", says Mark Scott, CEO of pet-food subscription service Bella & Duke.
Pet owners are being convinced through social media and word of mouth that "good-quality food is just as important for animals as for humans", especially as they get older and more prone to disease, says Scott. Feeding animals cheap food "is like putting diesel in a Ferrari". There's also a strong economic case for spending a little more on food, since reducing vets' bills by introducing a better diet can make the supposedly cheaper alternatives a "false economy". As a result, the large pet-food conglomerates are increasingly under pressure as consumers shift towards premium brands and specially formulated food.
Indeed, the rise in pet ownership among millennials and "Generation Z" is already starting to transform the pet-food industry, says Lucy McKinna, creator of vegan pet food brand Noochy Poochy. Not only do these owners want to make sure that their pets have the healthiest diet possible, but they are also willing to "dig deeper into their pockets for food that will make a difference, in terms of the wider environment". Five years ago McKinna, who owns a "food-obsessed rescue Doberman", came up with the idea for a vegan pet-food brand on the basis that it would "align better with my ethics".
Pet food goes green
However, while her dog loved it, and she says there is strong scientific evidence that "dogs can digest grains much better than previously thought", she received the "cold shoulder" from manufacturers and distributors. Now, though, she has been able to get her brand up and running and is in advanced talks with two major wholesalers.
Some of her first orders came from "employees of pet-food companies" who were eager to see what they had been missing out on. J Sainsbury estimates that at least a quarter of the population in the UK are partly vegetarian or vegan, so it is no surprise that pet-food firms are making an effort to appeal to this market.
Mars Petcare, one of the largest pet-food manufacturers in the world, recently developed Lovebug, an insect-based dry cat-food product. Created from black-soldier-fly larvae, and sold in British UK supermarkets, it is aimed at pet owners who care about sustainability, since it takes up only one-fifth of the land that a comparable amount of beef uses. Mars has also developed several other products that focus on reducing the environmental impact of pets, including a system for composting cat litter.
Medical care on a par with humans
The consequences of humanisation extend beyond more lavish creature comforts. Medical care is another thriving subsector. For instance, Pets at Home is offering a subscription service that entitles members' pets to regular check-ups for worms and fleas. However, it also includes more advanced treatments, "which, in some cases, are now on a par with parts of human medical care", says Mike Iddon of Pets at Home.
Pets at Home has branched out into veterinary services, and currently operates 440 veterinary practices, the majority of which are in stores. Under this joint-venture model, vets "retain clinical and operational freedom" while Pets at Home helps to support them by taking care of property, IT and finance.
This model, used to build practices from scratch rather than acquiring existing ones, allows both sides to take advantage of economies of scale in procurement and advertising, and share learning and knowledge across practices.
CVS Group goes one step further, providing a fully integrated veterinary-care system, according to its CEO Richard Fairman. It owns its own laboratories and specialist hospitals as well as vet clinics, so it can invest in diagnostic equipment, such as cardiac resynchronisation therapy and magnetic resonance tomography scanners for its frontline vets to help them deal with more complicated cases.
The images produced by this advanced equipment are then sent to one of CVS's specialists, who makes a diagnosis and formulates a treatment plan. Fairman thinks that there are other benefits to employing vets directly. CVS's vets are "part of a clinical team that can support them in their day-to day activities".
This includes the development of clinical protocols based on best practice, as well as access to a programme of professional development. There is also a strong emphasis on well-being and mentorship at the company. Fairman believes this helps the vets avoid the high levels of depression prevalent in independent practices.
To read the whole of this article, subscribe to MoneyWeek magazine
Subscribers can see the whole article in the digital edition available here
Matthew graduated from the University of Durham in 2004; he then gained an MSc, followed by a PhD at the London School of Economics.
He has previously written for a wide range of publications, including the Guardian and the Economist, and also helped to run a newsletter on terrorism. He has spent time at Lehman Brothers, Citigroup and the consultancy Lombard Street Research.
Matthew is the author of Superinvestors: Lessons from the greatest investors in history, published by Harriman House, which has been translated into several languages. His second book, Investing Explained: The Accessible Guide to Building an Investment Portfolio, is published by Kogan Page.
As senior writer, he writes the shares and politics & economics pages, as well as weekly Blowing It and Great Frauds in History columns He also writes a fortnightly reviews page and trading tips, as well as regular cover stories and multi-page investment focus features.
Follow Matthew on Twitter: @DrMatthewPartri