Britain's high street comes back from the dead
Creative destruction has wrought its magic on the high street and there are new signs of life in retail, says Matthew Lynn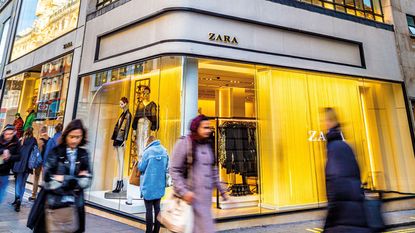 (Image credit: © Alamy)
Ever since Woolworths closed its doors for the final time in 2008, the post-Christmas retail collapse has been as much a part of the festive season as leftover turkey and worryingly high credit-card bills.
Retailers are critically dependent on the festive season, often the one month when they actually make any money. Many of them would hang on, hoping that Christmas would save them for another year; when that didn't happen, there would often be no choice but to call in the receivers. Comet, Blockbuster, Austin Reed, Maplin and Toys R Us are among the household names that have disappeared in this way over the last few years. Many more announced profit warnings or the closure of some stores.
People still like to shop
But so far, 2022 has not seen any major retail chains running into trouble. In fact, this is the first January in more than a decade when the high street hasn't been in crisis. Trading seems to have been fairly buoyant. Next, by far the UK's best-run retailer, reported another bumper set of results. All the others seem to have done at least OK too. Even M&S, at least at the time of writing, was expected to report a decent set of figures, and its share price is bouncing back. Store closures are slowing down and the high street seems to have touched bottom. There are three reasons for that.
Subscribe to MoneyWeek
Subscribe to MoneyWeek today and get your first six magazine issues absolutely FREE
Get 6 issues free
Sign up to Money Morning
Don't miss the latest investment and personal finances news, market analysis, plus money-saving tips with our free twice-daily newsletter
Don't miss the latest investment and personal finances news, market analysis, plus money-saving tips with our free twice-daily newsletter
First, people still like to shop. Over the course of the pandemic, online sales jumped by ten percentage points to hit 33% of total retail spend across the UK. But as shops have reopened, the amount we spend on the internet has fallen back. We may now have reached a plateau where around a quarter of our money is spent over our phone or a computer, but the rest is within a physical shop. People still like to browse and try things out before they buy them. They like to get out of the house. And they don't want to wait for a week and then have to retrieve a package from a neighbour.
Second, landlords have become more reasonable. One of the reasons so many chains went under was that they were locked into upwards-only rental agreements with the giant property companies that owned their stores. Many were perfectly happy to see a retailer disappear as they could just let out the space to someone who would pay more instead. Over the last couple of years, however, they started to notice that the malls and high streets are remaining empty for longer. They need to hang on to the tenants they have as there isn't anyone else to take their place. The result? Landlords have started to ease off on rent rises and sometimes accept reductions instead, or tie payments to a percentage of sales. It makes it a lot easier for retailers to survive and to ride out a slump in sales.
Weeding out the weaklings
Finally, the retailers that have survived the last decade are in far better shape. They have been through a Darwinian process, with the weakest players taken out of the market, and only the strongest surviving. Let's be honest – does anyone really miss shopping at British Home Stores or Comet? Austin Reed was hardly setting the fashion world alight; even Topshop had lost its edge to the likes of Primark and Zara.
The chains that remain are far better managed, with better ranges, a well-defined customer base, and helpful staff who might even know something about the stuff they are selling. It helps that far fewer of them are owned by private-equity firms that have loaded them up with unaffordable debts. Without that kind of financial engineering we might have a few more chains left than we do. Overall, the retailers who have made it through are well-run, with solid balance sheets – and they are far more likely to survive.
True, retailing is not exactly the future. It is hard to imagine it is going to replace the internet, nor is it where the great fortunes of the 2020s will be made. It still faces challenges, and one or two big names may still disappear before it is completely stable. But the post-Christmas collapse is behind us. The high street hit rock bottom in 2019 and 2020, and is about to stage a modest, if unspectacular recovery. Who knows, some of the shares may even be worth buying.
Matthew Lynn is a columnist for Bloomberg, and writes weekly commentary syndicated in papers such as the Daily Telegraph, Die Welt, the Sydney Morning Herald, the South China Morning Post and the Miami Herald. He is also an associate editor of Spectator Business, and a regular contributor to The Spectator. Before that, he worked for the business section of the Sunday Times for ten years.
He has written books on finance and financial topics, including Bust: Greece, The Euro and The Sovereign Debt Crisis and The Long Depression: The Slump of 2008 to 2031. Matthew is also the author of the Death Force series of military thrillers and the founder of Lume Books, an independent publisher.