Why Joe Biden's Big Pharma patent grab is a terrible idea
The US president has proposed waiving patents on Covid-19 vaccines in a bid to boost global supply. But it won't work on its own terms and holds dangers for the future.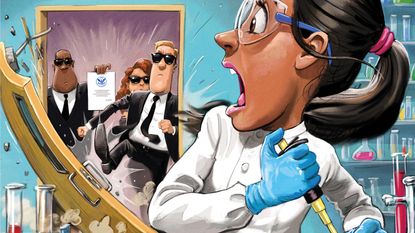 (Image credit: MoneyWeek magazine cover illustration)
What's happened?
Earlier this month the US surprised the global community – and stunned investors in drugs companies – by backing the temporary suspension of some globally agreed rules covering intellectual-property (IP) protections for Covid-19 vaccines. A waiver of World Trade Organisation (WTO) rules to help tackle the Covid-19-emergency was first proposed by India and South Africa last October, covering patents not just for vaccines, but also diagnostic tools and therapeutic treatments. Both countries have a large manufacturing sector making generic (off-patent) pharmaceuticals. The US is not signed up to a broader waiver of that kin, but its support for a narrower waiver on vaccine patents is a surprise.
Why's that?
Because the US has a vast and powerful pharmaceutical sector and Washington has a long history of opposition to public-health measures that affect intellectual property rights. In 1996, it even threatened sanctions against Brazil for weakening patent laws to improve access to life-saving Aids drugs. Still, there's no guarantee that a patent waiver – that is, a temporary suspension of certain rules set out in the WTO's Trade-Related Aspects of Intellectual Property Rights (Trips) agreement – will actually happen. Until earlier this month, the idea had gained little traction, with the US, EU (notably Germany), UK and Japan all opposed. But US support makes it far more likely that some kind of waiver will be agreed.
What's the case for a waiver?
The hope is that the waiver will encourage a wider and more geographically diverse production base, as well as encouraging international co-operation. And also that the prospect of a waiver will encourage pharmaceutical companies to enter into more voluntary arrangements and non-exclusive licensing to enable the transfer of technology in a controlled and transparent way. The lesson of the Aids pandemic is that patents "stymie accessible treatment, cost lives, and offer little bona fide enhancement of innovation", says Laurie Garrett in Foreign Policy.
Subscribe to MoneyWeek
Subscribe to MoneyWeek today and get your first six magazine issues absolutely FREE
Get 6 issues free
Sign up to Money Morning
Don't miss the latest investment and personal finances news, market analysis, plus money-saving tips with our free twice-daily newsletter
Don't miss the latest investment and personal finances news, market analysis, plus money-saving tips with our free twice-daily newsletter
What's the case against?
First, that waiving patents on Covid-19 vaccines would not actually speed up global production or get more shots into arms. Second, that doing so would have damaging long-term effects on future innovation. To take the first, it's not IP issues that lie behind vaccine supply issues, it's a range of factors including shortages of critical raw materials, a lack of production facilities and the technology and expertise to manufacture them. We know vaccine patents are not the bottleneck to making more vaccines because "there are no factories capable of producing Covid-19 vaccines sitting idle because they don't have a patent", says Matthew Lesh on CapX. Moderna announced last October that it would not be enforcing its own patents – yet there is no generic non-Moderna production.
Why not?
Because it's too hard to copy given the obstacles. Pfizer's vaccine, for example, requires 280 components from 86 suppliers in 19 countries, from glass vials to lipids to special plastics. And AstraZeneca, having established a global supply network with more than 20 partners across 15 countries, ran out of engineers qualified to transfer its technology. Moreover, waiving patents will increase competition for scarce ingredients, with the risk that less efficient and less expert manufacturers would hinder the ability of existing producers to ramp up capacity. And there's an obvious issue with safety – and the knock-on effects on global confidence in Covid-vaccines as a whole.
And the long-term consequences?
Security of property rights underpins the whole pharmaceutical sector, which is driven by massive – and massively high-risk – upfront investment in research and development. Weakening or waiving those rights would inevitably discourage companies from investing in future innovation. That would make the world less safe and more vulnerable to the next pandemic threat – and could conceivably even disincentivise investment in pharmaceuticals more broadly. Biden's "bewildering" support for this is "the single worst presidential economic decision since Nixon's wage-and-price controls", says The Wall Street Journal – destroying tens of billions of dollars in US intellectual property and surrendering America's advantage in biotech, a key growth industry. Certainly, when the next pandemic hits, the world will want the pharmaceutical industry to once again "drop everything and work like hell to make vaccines", says Tom Chivers on Unherd. "Maybe waiving IP rights will have no impact on their willingness to do that next time, but if there's even a small chance that it will, it seems a bad bet."
Will it happen?
Any agreement will need the backing of all 164 WTO members, and will take weeks or months to secure. Meanwhile, many poor countries have jabbed less than 1% of their populations, 44% of vaccine doses have gone to Europe and North America, and Covid-19 is raging in south Asia and Latin America – and all the while new variants are raising the risk-level globally. Investors are worried about a fall in pharma profits, says The Economist, but the danger – in terms of both health and economy – is far broader than that. If protracted negotiations at the WTO "suck energy away from other initiatives to transfer technology and increase vaccine supplies, that would really be something to fear". Far more useful than waiving patents, says The Washington Post, would be a concerted effort by Western governments to share their vaccine surpluses, and by Western pharma firms to strike more licensing deals and "share manufacturing know-how, experienced personnel, quality control methods, oversight and raw materials".
Simon Wilson's first career was in book publishing, as an economics editor at Routledge, and as a publisher of non-fiction at Random House, specialising in popular business and management books. While there, he published Customers.com, a bestselling classic of the early days of e-commerce, and The Money or Your Life: Reuniting Work and Joy, an inspirational book that helped inspire its publisher towards a post-corporate, portfolio life.
Since 2001, he has been a writer for MoneyWeek, a financial copywriter, and a long-time contributing editor at The Week. Simon also works as an actor and corporate trainer; current and past clients include investment banks, the Bank of England, the UK government, several Magic Circle law firms and all of the Big Four accountancy firms. He has a degree in languages (German and Spanish) and social and political sciences from the University of Cambridge.