The return of the Marcos dynasty to the Philippines
The Philippines has elected Bongbong Marcos as president, three decades after his family was ousted from power in a popular revolution. What does that bode for the future?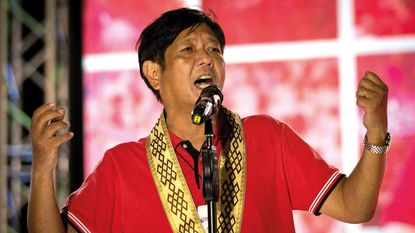 (Image credit: © Eloisa Lopez/Reuters/Alamy)
"I chose Bongbong Marcos as my president because I believe he can help our country be great again," observed a 50-year-old Manila housewife on news that the son of the former dictator Ferdinand Marcos has won a landslide victory in the Philippines' presidential election – marking "a remarkable comeback" for the Marcos family 36 years after they were run out of the country, says The Economist. Never underestimate the power of authoritarian nostalgia: it has established a new alliance of hardliners in the country. Marcos Jr's vice-president is Sara Duterte, daughter of the current "strongman" leader. "In a system dominated by dynasties", this is an "all-star team".
The revisionist narrative
The dismay of political opponents is palpable – not least because a key force propelling Bongbong, 64, to power has been the effective rewriting of history. True to the populist playbook, he campaigned on social media safely away from the direct scrutiny of those who might question the rosy depiction of the Marcos years (1965-1986) as a "golden era" of high economic growth, social stability and monumental infrastructure building – when "every Filipino had pride and honour". This revisionist narrative has played particularly well with generations too young to recall the brutal period of martial law preceding the revolution that swept Ferdinand Marcos and his pleasure-loving wife, Imelda, into exile, says Time. Slickly produced videos on TikTok and YouTube glorifying the late strongman helped secure support from 72% of voters aged 18-24, according to Pulse Asia. One older opponent describes the frightening sensation of "being gaslighted by somebody who wasn't there". The bare figures are sobering. Amnesty International estimates that under the dictator 70,000 "enemies of state" were arrested, 34,000 tortured and more than 3,000 killed.
When the Marcoses fled to Hawaii in 1986, they famously left behind most of Imelda's "3,000-pair shoe collection", but took with them at least 24 bars of gold and 22 boxes of cash. That was just to tide them over. The World Bank estimates the family may have amassed as much as $10bn in ill-gotten wealth. Their exile didn't last long. Following Marcos Sr's death, the family returned to the Philippines in 1991, ostensibly to face corruption charges, but immediately got stuck into politics again. Imelda (now 92 and described by Bongbong as the dynasty's "supreme politician") ran for president twice. Bongbong's own less than stellar 30-year career – as congressman, senator and provincial governor – has left "little to show for it", says The Economist. Descriptions of "BBM", as he is known, are variations on a theme: "easy-going", "laid-back", "not very energetic", "lazy". "A cosmopolitan sort," he has "a fondness for England, where he studied, and for American culture". The Marcos family also has a long association with China.
Subscribe to MoneyWeek
Subscribe to MoneyWeek today and get your first six magazine issues absolutely FREE
Get 6 issues free
Sign up to Money Morning
Don't miss the latest investment and personal finances news, market analysis, plus money-saving tips with our free twice-daily newsletter
Don't miss the latest investment and personal finances news, market analysis, plus money-saving tips with our free twice-daily newsletter
The fightback begins
Descriptions of "Ferrari-driving" Bongbong's school days at Worth School in Sussex are hair-raising, says the Daily Mail. One of the smallest on the rugby pitch, "he took a flick knife to games which he is said to have brandished in scrums". These days, he preaches "unity", says Nikkei Asia – a pitch that helps him dodge calls for accountability, according to opponents. Although Bongbong is less authoritarian in style, his election victory has crushed hopes of redress.
The real problem, says The Economist, is that no one knows what Bongbong stands for – he's renowned for listening "to the last person he spoke to". This susceptibility to external influence is "a potential liability" for the Philippines at a delicate time in international politics. But "the greater risks are at home" where Filipinos "wedded to the ideals of the 1986 revolution" are committed to fighting the return of the Marcoses, in courts and on the streets. Bongbong's triumphant restoration is likely to be marked by protests and instability.
Jane writes profiles for MoneyWeek and is city editor of The Week. A former British Society of Magazine Editors editor of the year, she cut her teeth in journalism editing The Daily Telegraph's Letters page and writing gossip for the London Evening Standard – while contributing to a kaleidoscopic range of business magazines including Personnel Today, Edge, Microscope, Computing, PC Business World, and Business & Finance.
She has edited corporate publications for accountants BDO, business psychologists YSC Consulting, and the law firm Stephenson Harwood – also enjoying a stint as a researcher for the due diligence department of a global risk advisory firm.
Her sole book to date, Stay or Go? (2016), rehearsed the arguments on both sides of the EU referendum.
She lives in north London, has a degree in modern history from Trinity College, Oxford, and is currently learning to play the drums.