Wave of new stockmarket listings means investing just got fun again
A wave of new initial public offerings from exciting companies is enticing investors back into stockmarkets, says Matthew Lynn.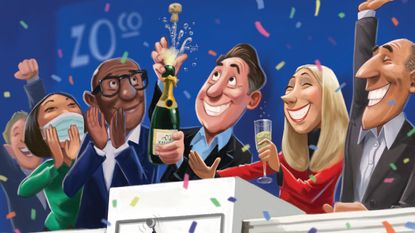 (Image credit: Illustration: IPO investors cheering)
If you just looked at a few stockmarket charts and blocked out everything else, you might come away thinking it had been a great year for the global economy. We have just seen the best few months for initial public offerings (IPOs) in two decades. Airbnb floated its shares with a value of just below $40bn – they almost immediately increased in value and the room-letting service ended up worth more than $100bn. C3.ai, the artificial-intelligence company, saw its shares rise 174% on its first day of trading. By comparison, the 70% rise in the first day of trading for the food-delivery company Doordash was relatively modest, but it still ended up with a value of more than $70bn. More IPOs are expected. Add in a rush of "special purpose acquisition companies" – shells set up simply to acquire other businesses – and it is clear that 2020 will set a record for new share issues. Even adjusting for inflation, the record set in 2000, at the height of the dotcom bubble, will be easily beaten.
Is it a bubble?
At the same time, investors have been pouring back into the market. Fidelity has seen trading volumes on its brokerage accounts double, and low-cost apps such as RobinHood are seeing a surge in volumes (and perhaps, not very surprisingly, it too is planning a listing). Through both funds and day traders, record sums are being put into the market. The UK has not seen the same kind of surge in IPOs as Wall Street has, but it has witnessed a similar resurgence of small, private investors and lots of fresh money pumped into the market, as have most European countries. Plenty of experts are understandably starting to fret that it looks like a bubble, and we are seeing a lot of exuberance, and even some froth. For new listings, and the numbers of small investors, we are starting to see numbers that haven't been seen since the late 1990s, and that was followed by a crash. The same could happen this time around as well.
But hold on. There is another explanation: the equity markets are simply getting back to what they are meant to be doing, which is bringing together people who need capital to build a business with people who want to invest. For almost two decades, the equity markets have been dying. Entrepreneurs had largely abandoned them and established companies could hardly wait to be taken over by a private-equity firm. Over the two decades since 2000, the number of quoted companies roughly halved in London and on Wall Street. The number of new issues dried up to little more than trickle. Ambitious young companies looked to the venture-capital firms in the first instance for money to expand their business, and after that they went to the sovereign wealth funds, or family offices, or sold out to a conglomerate of one sort or another.
Subscribe to MoneyWeek
Subscribe to MoneyWeek today and get your first six magazine issues absolutely FREE
Get 6 issues free
Sign up to Money Morning
Don't miss the latest investment and personal finances news, market analysis, plus money-saving tips with our free twice-daily newsletter
Don't miss the latest investment and personal finances news, market analysis, plus money-saving tips with our free twice-daily newsletter
The result? The main indexes became the home for just a collection of a handful of perfectly solid, but dull, century-old multinationals, with little growth left in them. The really exciting companies to emerge in the last decade – such as Uber, or Airbnb, or in the UK, Revolut or Monzo – weren't traded on the equity markets.
Investors rush back in
At the same time, investors lost interest. The percentage of individuals investing directly in the market hit record lows. In the 2018-2019 tax year the number of stocks-and-shares individual savings accounts (Isas), the main tax-free vehicle for investors in the UK, fell by 450,000. Hardly anyone was putting fresh money into the market. It was hard to blame them. It was difficult to stay interested when investing in the equity markets consisted of little more than deciding whether to buy a declining oil company, a shrinking tobacco manufacturer, a pharmaceuticals giant running out of patents, or a range of electricity and water firms so tightly regulated they could hardly change the logo on the annual report without checking with the government. It wasn't much fun, and the returns were hardly inspiring. This year, stockmarkets have found their mojo again. The markets have come storming back, with huge listings and a wave of new investment. That is surely for the better.
Matthew Lynn is a columnist for Bloomberg, and writes weekly commentary syndicated in papers such as the Daily Telegraph, Die Welt, the Sydney Morning Herald, the South China Morning Post and the Miami Herald. He is also an associate editor of Spectator Business, and a regular contributor to The Spectator. Before that, he worked for the business section of the Sunday Times for ten years.
He has written books on finance and financial topics, including Bust: Greece, The Euro and The Sovereign Debt Crisis and The Long Depression: The Slump of 2008 to 2031. Matthew is also the author of the Death Force series of military thrillers and the founder of Lume Books, an independent publisher.