Navigating a world in which the odd is has become the everyday
In these strange times, everything once deemed unthinkable is now thinkable. But that doesn't mean it is possible, says Merryn Somerset Webb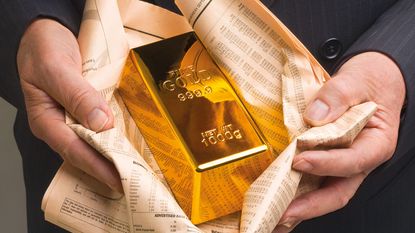 (Image credit: Gold bar wrapped in newspaper © Getty Images)
Welcome to the second issue of MoneyWeek published entirely from our homes. None of us have been to the office since Monday last week – and our very odd new world is beginning to feel less odd than it was even a week ago. We are all getting to grips with long-distance IT problems, home schooling and staying up until midnight every night to try and get supermarket delivery slots. It's fine. We are also getting used to the insane volatility of stocks. And, while we aren't remotely close to being bullish on the immediate future, we are starting to look through some of the noise.
We obviously can't tell you just how badly the global economy will do this year (this quarter and next will see the fastest and one of the biggest recessions ever). But we do have a sense of how long lockdowns in each country will last – and of how much lost GDP will be replaced by government stimulus. Pictet's Luca Paolini notes that fiscal measures so far represent 4% of global GDP and should bump up global GDP by around 6%. There may well be more to come.
We are also beginning to have a sense of absolute cheapness in markets. Note that rushing for too much cash is not a totally safe option. As Charles Heenan of Kennox Asset Management points out, it will either give you more exposure than you need to the banking system at a time of financial stress, or leave you "unprotected in the case of the return of inflation". Scary as it seems, you probably need to keep holding equities – not across the board, but low-debt sector leaders in resilient industries. John Stepek looks at what those might include in this week's cover story. We also explain why British valuations look – to some at least – "unequivocally appealing". We would also remind you that while gold has not made us our fortunes over the last few years, we always said we were holding it as insurance – insurance against times like these. Our base suggestion has long been that your portfolio is 5%-10% in gold. Mine is 10% at the moment.
Subscribe to MoneyWeek
Subscribe to MoneyWeek today and get your first six magazine issues absolutely FREE
Get 6 issues free
Sign up to Money Morning
Don't miss the latest investment and personal finances news, market analysis, plus money-saving tips with our free twice-daily newsletter
Don't miss the latest investment and personal finances news, market analysis, plus money-saving tips with our free twice-daily newsletter
We are also getting ready to think about the post-Covid-19 world. Most people think it will be very different from this one – and by remarkable coincidence just like the one they have been demanding for the last decade. For a few lines of thinking, Matthew Partridge reviews Thomas Piketty's newish book; Stuart Watkins gives his take on universal basic income; and Simon Wilson looks at debt jubilees. Everything once unthinkable is currently thinkable. But be wary of thinking the unthinkable is also the possible. In every crisis we hear about how x, y or z is broken forever. Mostly they are not. We are also trying to looking for positives. This week, we have a new addition to the magazine (Recovery Watch) where we will keep an eye on glimmers of hope and we look at how the next few months might house a stunning burst of creativity.
On a more mundane level, now really is the time to ensure your personal finances are in order. In this week's magazine, we look at how to manage the money side of putting your travel arrangements on hold. Wondering how to access the funds promised to help your business survive to the other side? We look at what we know about how to get them; we also look at the provisions for mortgage holders, tenants and landlords. This is no time to be shy. If you need the money, apply.
Merryn Somerset Webb started her career in Tokyo at public broadcaster NHK before becoming a Japanese equity broker at what was then Warburgs. She went on to work at SBC and UBS without moving from her desk in Kamiyacho (it was the age of mergers).
After five years in Japan she returned to work in the UK at Paribas. This soon became BNP Paribas. Again, no desk move was required. On leaving the City, Merryn helped The Week magazine with its City pages before becoming the launch editor of MoneyWeek in 2000 and taking on columns first in the Sunday Times and then in 2009 in the Financial Times
Twenty years on, MoneyWeek is the best-selling financial magazine in the UK. Merryn was its Editor in Chief until 2022. She is now a senior columnist at Bloomberg and host of the Merryn Talks Money podcast - but still writes for Moneyweek monthly.
Merryn is also is a non executive director of two investment trusts – BlackRock Throgmorton, and the Murray Income Investment Trust.