Is respite for leaseholders coming?
Struggling owners of leasehold homes may finally get some respite after the housing minister said long-awaited reforms will be included in the King's Speech. We have all the details.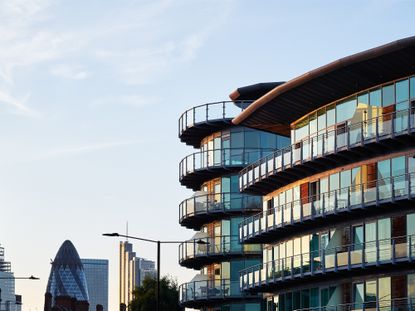 (Image credit: shomos uddin)
There are almost 5 million leasehold homes in the UK and many owners struggle with rising ground rents, high service charges and strict rules that can make them hard to sell and remortgage.
The government has promised to reform the controversial leasehold system since 2017 and banned ground rents on new leases for homes in 2022.
But little has been done for existing leaseholders.
Subscribe to MoneyWeek
Subscribe to MoneyWeek today and get your first six magazine issues absolutely FREE
Get 6 issues free
Sign up to Money Morning
Don't miss the latest investment and personal finances news, market analysis, plus money-saving tips with our free twice-daily newsletter
Don't miss the latest investment and personal finances news, market analysis, plus money-saving tips with our free twice-daily newsletter
Housing secretary Michael Gove has previously committed to abolishing leasehold as a form of tenure and the Sunday Times recently reported that the government is finally planning to ban leases on new houses.
Housing minister Rachel Maclean later tweeted confirmation of this story on social media.
"Plans to phase out leasehold and restore true home ownership confirmed today as part of the King's Speech," the post says.
"We will restore true home ownership to millions of people and end the reign of rip off freeholders and incompetent profiteering management companies."
Campaigners are positive that the government is getting more serious about this especially after Martin Boyd, chairman of the Leasehold Knowledge Partnership (LKP) advice group was yesterday appointed in a similar role for the Leasehold Advisory Service quango.
So, what could the changes mean for leaseholders?
The difference between leasehold and freehold
The two main forms of property ownership in the UK are freehold and leasehold.
Freehold ownership means you purchase and own the property and all the land up to a set boundary.
In contrast, the leasehold system in England and Wales dates back to medieval times and is based on distinguishing between who owns the land and who has the right to live on it.
Essentially, when you purchase a leasehold house or flat, you are purchasing the right to occupy the property for a set period defined in the lease.
A lease usually lasts for between 99 and 125 years and can make purchasing a house or a flat in a development cheaper as you are not responsible for communal areas and outdoor boundaries.
It was a popular way for developers to build homes under the Help to Buy scheme.
Why leasehold reform is needed
The freeholders or owners of the property, typically a landlord or managing agent, can charge ground rent for the lease and also service charges to cover maintenance.
Leaseholders complain that these fees often rise unfairly and don't reflect the true costs of any work needed to maintain the surroundings.
Homeowners also highlight that repairs are regularly ignored despite paying high service charges.
There may also be restrictions in the lease such as having pets or renovations.
A property can lose its value as the lease term falls and it can be expensive and complicated to extend, especially as it can often be hard to find who the managing agent or freeholder is.
That can make it harder for owners to remortgage or sell a property.
How will leasehold reforms work?
This isn't the first attempt at reforming leasehold.
The Law Commission gave its backing to wider use of commonhold ownership in 2020, where property owners help run developments. But it has failed to take off so far.
The government banned ground rents on new-builds in 2022 but this hasn't been applied to existing leases despite promises that support would be provided.
This is expected to be addressed with new legislation to be included in the King's Speech on 7 November.
The Sunday Times report suggests the government will cap all existing ground rents at a "peppercorn" rate and will change the standard contract lease extension from 90 years to 990 years.
Sebastian O'Kelly, a spokesperson for the Leasehold Knowledge Partnership, is anticipating substantial reforms.
"The leasehold reforms will include making enfranchisement easier and cheaper, blocking off legal loopholes to thwart right to manage and paving the way to commonhold on new blocks of flats," he says.
"Lease forfeiture will also be addressed, and probably something about leasehold houses being banned, except where essential – i.e where the developer does not own the land."
Katie Kendrick, a spokesperson for the National Leasehold Campaign, says the devil will be in the detail.
"These headlines don't change anything, action does and for far too many leaseholders it is the action that is far too slow," she says.
"We all know leasehold houses is the tip of the iceberg in relation to the many abuses of the leasehold system. We must tackle the issue's flat leaseholder face swiftly to release them from the shackles of an unfair iniquitous system. We will not and cannot leave them behind.
"We don't know yet if the reforms will do enough to protect existing leaseholders, but if they don't the government will be shooting itself in the foot with the nearly 10m voters who live in 5m leasehold homes."
She says the NLC would like a firm commitment from government that there will be sunset clause on leasehold.
"For any political party claiming to be the party of homeownership, they must get rid of leasehold in favour of commonhold like the rest of the world," she adds.
Marc Shoffman is an award-winning freelance journalist specialising in business, personal finance and property. His work has appeared in print and online publications ranging from FT Business to The Times, Mail on Sunday and The i newspaper. He also co-presents the In For A Penny financial planning podcast.