Halifax: house prices rise for the first time in six months
UK house prices have gone up for the first time in six months amid supply shortages, the latest Halifax house price index shows. Are property prices rising again?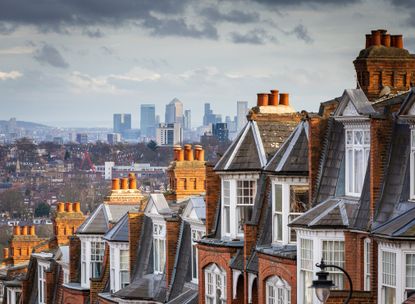 (Image credit: coldsnowstorm)
House prices rose by 1.1% in October, ending the six-month streak in monthly falling house prices, latest data by Halifax shows. This compares to a -0.4% decline in September and a -1.8% fall in August, which was recorded as the biggest drop in house prices in over 10 years. Annually, property prices still fell -3.2%, but up from -4.5% last month.
The unexpected rise in house prices means the average property price is now £281,974 - a £3,373 rise from September.
Halifax says the shortage of homes for sale and weak demand in the property market has forced house prices up. Due to high-interest rates and the high cost of living, it expects house price growth to return in 2025. Though, on average, house prices are £40,000 above pre-pandemic levels.
Subscribe to MoneyWeek
Subscribe to MoneyWeek today and get your first six magazine issues absolutely FREE
Get 6 issues free
Sign up to Money Morning
Don't miss the latest investment and personal finances news, market analysis, plus money-saving tips with our free twice-daily newsletter
Don't miss the latest investment and personal finances news, market analysis, plus money-saving tips with our free twice-daily newsletter
Where are house prices falling the most?
Although house prices are up on a monthly basis, all UK nations and regions saw house prices fall on an annual basis- the biggest fall of -6% seen in South East England, meaning the average house price there is now £374,066.
London house prices remain at an all-time high compared to the rest of the UK, at £524,057, which is a -4.6% fall over the past year.
Scotland shows the most resilience in annual house prices, declining by only -0.2%. The average house price in Scotland now costs £202,608.
The average house price in Wales reached £213,125 as they fell by 3.9% over the last year.
Charlotte Nixon, mortgage expert at Quilter: says: "East England prices decreased by -6.0% over the last year. While some buyers may hold out for pre-pandemic valuations, the interplay of supply and demand, coupled with shifting economic winds, may necessitate a new approach to price negotiations.
For those considering their next move, the strategy is less about rushing in and more about measured decisions that suit your life needs in the here and now rather than trying to time the market."
First-time buyers remain resilient
With rent prices at a record high, purchasing a home remains attractive for first-time buyers, even though demand overall is weak.
Stephen Perkins, managing director at Norwich-based Yellow Brick Mortgages says: "First-time buyers in particular are in a strong position and know that they hold a lot of bargaining power at present. The stupendously high cost of renting is also encouraging them to buy even though mortgage rates are much higher than what they are."
House prices for first-time buyers are down -2.4% annually, which is lower than the general -.3.2% fall over the last year.
Will house prices fall?
Since interest rates remain high and buyers face cost of living pressures, experts say the property market will remain weak until 2025, which is when growth will return.
Sarah Coles, head of personal finance, Hargreaves Lansdown: "There's no real sign of a significant shift in the immediate future. The miserable level of mortgages approved for September is a decent indication the rest of the year will be fairly deathly.
It may take a significant shift in mortgage rates before more enthusiasm returns to the market. With the Bank of England indicating it's unlikely to cut rates until around the middle of next year – and even then cuts are likely to be slow and incremental - we may be in for quite a wait. A stronger market might take until 2025 to materialise."
Vaishali graduated in journalism from Leeds University and she has experience working with the likes of Leicester Mercury, Inews and The Week. She also comes from a marketing background, where she has done copywriting and content creation for businesses.
Currently writing about all things personal finance, Vaishali is passionate about finding the best deals around, whether it's the best credit cards or the cheapest personal loans, as well as sharing top money hacks to help people save and better manage their money.