Halifax: House prices bounce in February, but market remains subdued
Latest house prices show a rise in February - has the potential house price crash stalled?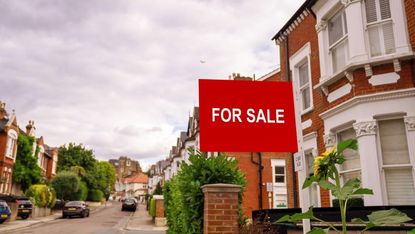 (Image credit: © Getty images)
UK house prices unexpectedly bounced back in February, with the latest Halifax data showing a 1.1% increase in February, following a period of flat growth of three months previously.
The price of a typical UK property now stands at £285,476, compared to £282,360 in January.
The February house price rise indicates consumer confidence is returning and potentially a u-turn of house prices declining. Nationwide's data last month also indicated house prices were not falling as fast as expected.
Subscribe to MoneyWeek
Subscribe to MoneyWeek today and get your first six magazine issues absolutely FREE
Get 6 issues free
Sign up to Money Morning
Don't miss the latest investment and personal finances news, market analysis, plus money-saving tips with our free twice-daily newsletter
Don't miss the latest investment and personal finances news, market analysis, plus money-saving tips with our free twice-daily newsletter
The annual rate of UK house price growth remained at 2.1% for the third month, but it slowed throughout all nations and regions in February.
The property market has been cooling down following three years of booming growth as buyers retreat from the market due to increased mortgage rates and cost of living pressures.
But mortgage rates have been falling as of late. Two- and five-year fixed rate mortgages sit between 4 to 5%, having climbed down from their September peak of 6.65% following the mini-Budget chaos.
But, they remain high compared to the end of 2021, when lenders were offering rates of around 2%.
"Recent reductions in mortgage rates, improving consumer confidence, and a continuing resilience in the labour market are arguably helping to stabilise prices following the falls seen in November and December," said Kim Kinnaird, director at Halifax Mortgages.
"Still, with the cost of a home down on a quarterly basis, the underlying activity continues to indicate a general downward trend."
How did house prices change per region?
The annual rate of growth slowed in all regions last month. It fell most significantly in the North East, slowing from 3.6% in January to 1.1% in February. The typical home in the region now costs £163,953.
In London the average house price fell by 0.9% to £526,842 from £530,416 the previous month. This could be due to the city's large proportion of flats, which have seen their prices stagnate.
Homes in London cost £240,000 more than the UK national average.
In Wales annual growth slowed to 1.2% in February from 1.9% in January, meaning the average price tag on a home is now £198,779.
Scotland saw the smallest fall in annual growth – the average price for a home is £198,779 as house prices slowed marginally from 2.3% in January to 2.2% in February.
Buyers in Northern Ireland will now pay £185,009 on average, an annual growth rate of 5.7% from 7% in January.
The buyers' market returns
There is "mounting evidence that the housing market is seemingly in a pendulum moment — swinging back in a buyer's market direction", says Myron Jobson, senior personal finance analyst at interactive investor.
Sellers are having to accept discounts of up to £14,000 – the biggest discount in five years – as they re-price their homes, according to the latest data from Zoopla.
Additionally the stock of homes for sale is increasing – up by 60% from this time last year. The increase in choice allows buyers to drive a harder bargain.
"For those selling, it is essential to be realistic about the current market conditions and adjust pricing expectations accordingly," says Charlotte Nixon, mortgage expert at Quilter.
"There must be a mental shift away from the years of the pandemic when the market was incredibly hot but for many this will still mean that their house has increased in price particularly if bought over ten years ago."
Where next for house prices?
Halifax's data differs vastly from Nationwide's, released earlier this month. But what most house price indexes seem to agree on is that property prices are falling.
"The conflicting assessments is symptomatic of a hiccupping market that is adjusting to a come down from the blistering pace of house price growth over the past few years," says Jobson.
House prices grew by 20.4%, or £48,620, over the last three years, according to Halifax, compared to growth of 7.8% over the previous three years.
The explosive growth was fuelled by cheap borrowing costs, stamp duty cuts and built up savings throughout the pandemic.
But now mortgage rates are far higher due to a series of interest rate increases by the Bank of England (BoE).
The base rate is currently sitting at 4%, and it's widely expected to rise by 0.25%-0.50% when the BoE next meets late March as it attempts to control stubborn inflation.
Mortgage lenders are starting to offer deals below the base rate for the first time since last September as they try to lure buyers back in.
The employment market has also held up – unemployment is near a record low. This combination has likely helped the market. But it's "far too early to be calling a soft landing", says Sarah Coles, head of personal finance at Hargreaves Lansdown.
"There are still an awful lot of challenges facing the market, which means it's likely to decline from here, and we can't rule out something more substantial."
Nic studied for a BA in journalism at Cardiff University, and has an MA in magazine journalism from City University. She joined MoneyWeek in 2019.