Frenzied house price boom leaves buyers desperate
House prices are rising faster than at any time since 2004. And buyers are getting desperate, says Nicole Garcia-Merida.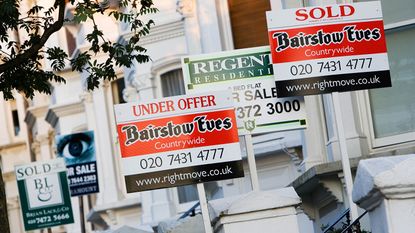 (Image credit: © Tim Graham/Getty Images)
House prices saw their biggest monthly rise since February 2004 this April, jumping 2.1% month on month to reach a new record high average price of £238,831. Over the last 12 months they have risen by 7.1%, or by an average of £15,916.
Nationwide's latest house price index adds to what we have been saying for a while now — the boom that started last July when the stamp duty holiday was announced does not seem to be abating. April's 7.1% yearly rise is only slightly below the peak of 7.3% recorded in December and up from 5.7% in March.
Everyone predicted the market would slow by the end of March because that is when the stamp duty holiday was meant to end, but its extension came with a whole new set of predictions on the "reacceleration" of the market that are proving true.
Subscribe to MoneyWeek
Subscribe to MoneyWeek today and get your first six magazine issues absolutely FREE
Get 6 issues free
Sign up to Money Morning
Don't miss the latest investment and personal finances news, market analysis, plus money-saving tips with our free twice-daily newsletter
Don't miss the latest investment and personal finances news, market analysis, plus money-saving tips with our free twice-daily newsletter
However, we have moved past buyers trying to take advantage of the stamp duty holiday, says Robert Gardner, Nationwide's chief economist. "For most people it is not the key motivating factor prompting them to move in the first place." Three quarters of the homeowners surveyed at the end of April that were either moving or considering a move said they would've done so regardless of the stamp duty holiday extension. This can perhaps be attributed to the wider shift in our priorities since the pandemic upended life as we knew it. The death of the commute and the "race for space" have meant homeowners' needs and wants for their future abodes have changed, potentially forever.
What's more, the conditions that allow them to turn thought into action are still present. Borrowing costs are low and new mortgage offerings are popping up left, right and centre. The stock of homes on the market remains "relatively constrained", however, and so prices could be driven further. "If house prices remain flat in month-on-month terms over the next two months, the annual rate of growth will reach double digits in June."
"Given the forces at play in the market, it's highly unlikely that prices are going anywhere but up in the immediate future," says Sarah Coles of Hargreaves Lansdown. "This kind of market can be very dangerous for buyers. It's easy to start to panic about how fast properties are being snapped up, and be sucked into bidding wars that leave you overpaying for the property."
"In London, the market is starting to enter frenzy territory," says Lucy Pendleton, property expert at James Pendleton estate agents. "We haven't seen this much anxiety in buyers' eyes for years. They're losing out left and right to cash buyers bidding over asking price. Pictures this month of people camping outside an estate agent overnight sums up the general picture. Prices have run away and vendors feel they're now able to test the water with valuations that would have seemed unthinkable a year ago."
So buyers are buying, but sellers aren't selling. And when they are, they're selling for a lot more than they would have before the property boom kicked off last July. And we know where that led to for New Zealand's property market. However we also know unemployment is expected to rise later in the year when the furlough scheme comes to a close, so there are no guarantees that the market will continue its "steep climb", says Coles. "If you're buying at the moment, take some time to think things through. It's difficult to keep your cool when the market is this hot, but it's the best way to ensure you don't get burned."
Nic studied for a BA in journalism at Cardiff University, and has an MA in magazine journalism from City University. She joined MoneyWeek in 2019.