Should you take advantage of the UK's new breed of domestic holidaymakers?
With Britons choosing to holiday in the UK this year, the owners of the country's holiday cottages are cleaning up. Should you buy in, too? Merryn? Somerset Webb looks at the pros and cons.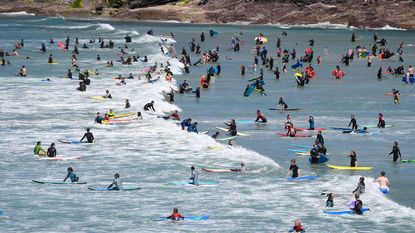 (Image credit: Surfers at Polzeath, Cornwall ©)
On Thursday morning the roads around Edinburgh seized up completely. Two hundred and fifty empty coaches were heading for the city, in an attempt to attract some attention to the miserable state of their industry.
With coach tours about the least attractive leisure activity most people can think of at the moment (all the infection possibilities of a cruise, none of the sea views, fresh air, or pink champagne), no foreign visitors (locals don't take the Nessie tour anyway) and team sports and school outings off the menu, it is obvious that conditions for coach companies at the moment are completely miserable. You have to feel for the operators.
While they were honking (the protest movement is called Honk for Hope) much of Scotland was out shopping for the kit required for a different kind of staycation. New car registrations are soaring (up 11% in July — everyone wants their own travel bubble). Bicycles are sold out. The shelves at Decathlon have been swept clean of paddle-boards, tents, camping stoves and inflatable kayaks.
Subscribe to MoneyWeek
Subscribe to MoneyWeek today and get your first six magazine issues absolutely FREE
Get 6 issues free
Sign up to Money Morning
Don't miss the latest investment and personal finances news, market analysis, plus money-saving tips with our free twice-daily newsletter
Don't miss the latest investment and personal finances news, market analysis, plus money-saving tips with our free twice-daily newsletter
Holiday cottage operators across the country are filling up, as are campsites (again, everyone wants to be in their own bubble) and even hotels — try finding a nice hotel room in Cornwall for an August weekend.
My inbox is jammed with press releases from firms that usually promote luxury overseas hotels which are now offering domestic luxury retreats instead — luring me in with rankings for things such as the whitest sand in Britain (Kynance Cove in Cornwall if you are interested). Forget "exotic climes," said one, "there's a lot to love about our little island."
There is, of course, and this kind of pitch makes sense. Last year, £49bn was spent abroad by UK tourists. Much of that is now going to stay at home.
And to add a little extra fuel to the fire, many of us have both more money in our pockets than usual (most studies show a rise in savings during lockdown and Bank of England data backs this up) and more holiday entitlement left, too. Over 70% of workers took no holiday in April at all. Those on furlough have had no need to use up any holiday days yet (rather bizarrely, none of their non-working days count as holiday).
Time plus money plus travel restrictions. For pretty much everyone operating in the UK's domestic tourism industry (coach owners aside) this equals a dream come true.
It's not good for Greece, where Capital Economics points out that tourism accounts for over 20% of GDP, or Spain (14%) or Italy (13%). But it's absolutely fabulous for us. So much so that you can rather imagine UK policymakers thinking that their constant mutterings about possible new quarantines and the occasional surprise introduction of one has a rather neat upside. Anyone packing for France will be worried about the rise in new cases, with the two-week infection rate running at 24.9 new cases per 100,000 people compared to the UK's 15.4.
How can you benefit? Buy a holiday let
You may by now all be wondering how, bar getting into the already brutally competitive stand-up paddle-board business, you can benefit from all this, particularly if you have spare cash knocking around you can't make much on in today's low interest environment. Compound your savings at the 0.1% rate set by the Bank of England, and it will double in a disappointing 694 years.
The obvious answer is to buy a holiday let. Demand is high, stamp duty has been cut on purchases (you'll only pay the additional 3% on anything under £500,000 until March 2021), and, unlike residential buy-to-lets, holiday lets still come with very attractive tax advantages.
You can claim capital gains relief and entrepreneur's relief (a flat rate of 10%) on properties that are let commercially and occupied for at least 105 days a year. The profits count as earnings for pension purposes (so you can roll them into a Sipp) and you can claim capital allowances as well as offsetting expenses against your profits.
There's a reason why it is a popular sideline for so many people. But before you join the queues at the first seaside estate agent you see, ask yourself a few questions.
First, how might the Covid bill be paid? Could it be something to do with raising taxes, and if so might property (which is very often the first port of call for broke governments) and in particular property that competes with the struggling hotel sector be in the line of fire? And second, is this a blip or a trend — are we really going to learn to love holidaying in the UK, or are we actually just reluctantly making do until we can get away properly again?
We like to go abroad. According to the Office for National Statistics, we took 70% more holidays abroad in 2016 than we did in 1996 (45 million in total) despite only a 12% rise in population.
The upwards trend has occasionally stuttered — mostly when a crisis of some kind persuades us to stay home to save money. 2012-2013 saw an increase from 26% to 30% of people taking holidays exclusively in the UK, for example. But it hasn't yet stalled.
That said, there is some evidence that we were falling back in love with our own beaches even before Covid. A pre-pandemic report from Barclays last year suggested that 30% of domestic holiday makers planned to spend more time in the UK than in the past. Within that, the young were particularly keen: more than half of 25-34 year olds felt the same, in large part because they keep having "positive experiences" in the UK: "The habit of domestic breaks is being positively reinforced."
This isn't just posturing around the idea of low impact travel either — it's born out in numbers showing rising demand translating into increased revenues. Look at all this, and my guess is an awful lot of people will be thinking that the shift to staycationing is yet another trend we will later understand has been massively accelerated by Covid (add it to debt monetisation, homeworking, digitalisation) — which is why mortgage brokers are already reporting rises in inquiries about holiday let mortgages.
I like the idea. But I'd also just chuck a few more stats at it. Average August rainfall in Oban: 76mm with rain falling on around 23 out of 31 days. In Truro: 43mm over 17 days. In Malaga: 4mm over one or two days. I like Cornwall. But I think holiday let owners will also find most people will be quite keen to get back to Spain next year.
• This article was first published in the Financial Times
Merryn Somerset Webb started her career in Tokyo at public broadcaster NHK before becoming a Japanese equity broker at what was then Warburgs. She went on to work at SBC and UBS without moving from her desk in Kamiyacho (it was the age of mergers).
After five years in Japan she returned to work in the UK at Paribas. This soon became BNP Paribas. Again, no desk move was required. On leaving the City, Merryn helped The Week magazine with its City pages before becoming the launch editor of MoneyWeek in 2000 and taking on columns first in the Sunday Times and then in 2009 in the Financial Times
Twenty years on, MoneyWeek is the best-selling financial magazine in the UK. Merryn was its Editor in Chief until 2022. She is now a senior columnist at Bloomberg and host of the Merryn Talks Money podcast - but still writes for Moneyweek monthly.
Merryn is also is a non executive director of two investment trusts – BlackRock Throgmorton, and the Murray Income Investment Trust.