Living on a houseboat: the pros and cons of a floating home
Living on a houseboat sounds romantic and peaceful. But it's not as straightforward as it looks, says Nicole Garcia Merida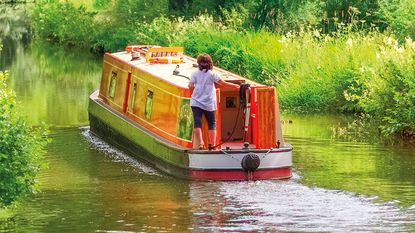 (Image credit: kodachrome25)
Drifting down a river in your own permanent home is an enticing prospect. So it's no wonder more and more people, especially retirees and cash-rich divorcees, are opting for a peaceful riverside existence. But owning a houseboat is not all topping up your tan – and your drink – on the deck. Floating homes come with a long list of administrative and financial factors to consider.
No stamp duty to pay
For many, a houseboat's main attraction is its exemption from stamp duty, says Lana Wrightman, spokesperson for riverhomes, an estate agent specialising in waterside property and houseboats. Since stamp-duty rates went up in 2016, prospective buyers have been turning to houseboats. "We can't keep up with the demand," says Wrightman.
"We'll have 50 people interested in buying, but only ten available homes." Nationwide, boat numbers have increased by 6% to 34,573 since 2012, says the Canal & River Trust, which oversees 2,000 miles of canals and rivers across England and Wales. In London, boat numbers have jumped by 84% to 4,274 since 2012.
Subscribe to MoneyWeek
Subscribe to MoneyWeek today and get your first six magazine issues absolutely FREE
Get 6 issues free
Sign up to Money Morning
Don't miss the latest investment and personal finances news, market analysis, plus money-saving tips with our free twice-daily newsletter
Don't miss the latest investment and personal finances news, market analysis, plus money-saving tips with our free twice-daily newsletter
Though for some the lifestyle may seem a bit too nomadic, houseboats are an extremely flexible option for the footloose and fancy-free. Beryl McDowall, a spokesperson for the Residential Boat Owners' Association, moved into her current boat 28 years ago. "If you... can move around, you can stay somewhere, see if you like the place, and then look for a mooring. But if you think 'this isn't for me', you move on...
You haven't got to sell a house and buy another property. You just take your home with you."
Buyers are also drawn to houseboats by a sense of community; neighbouring boats and a love of the same lifestyle can bring people together in a way blocks of flats can't.
Three key financial factors
The price of houseboat living can vary widely. The main things to consider are a boat licence, the cost of mooring the boat and the price of the boat itself. From April 2020, licences will be calculated by length and width of the boat, the duration of the licence (three, six, or 12 months) and whether you're after a canal and river licence, or just a river licence. You can get a discount of up to 5% if you purchase it online and pay in full. Mooring can be very expensive, says Fran Read, a spokesperson for the Canal & River Trust. Areas outside cities will be cheaper. "Central London moorings are extremely rare and can cost over £12,000 a year," says Read. A mooring in Canary Wharf costs more than £22,100 and one in Watford would cost about £3,500. Long-term moorings are available for three years at a time.
If you do not want a permanent mooring, you could consider "continuous cruising". To fulfil the terms of a continuous cruising licence you must move your boat and dock it in a different place every fortnight as well as cover a range of 20 miles over the course of a year. As this option excludes yearly mooring costs, it is far more affordable. It requires a lot of planning, but it is a viable option for those who work from home.
Then there's the domestic administration to consider. Permanently moored boats can simply be connected to a direct source of water, sewage treatment and electricity. But cruising houseboats need a water tank for drinking and showering and a separate sewage tank for waste. Many of the latter can treat waste so that it's safe to pump it off the boat, but some need to be emptied manually at shore waste-reception facilities.
As for electricity, cruising houseboats can use generators or batteries as sources of power. The boats also have to be taken to a dry dock every five years; the owners need to move out for two weeks while the hull is scraped and the exterior repainted.
The upshot is that living on a houseboat "can be done very cheaply or very expensively", says Read. "The main thing... is only buy a boat if you love the lifestyle. While on the outside it might look cheaper and romantic, you might find that a day every fortnight is taken up doing chores."
The marine mortgages on offer
For those not in possession of a large amount of cash to secure a houseboat outright, there are mortgages available. But houseboats cannot be acquired with a typical residential mortgage and there is a limited number of marine mortgage lenders who will provide financing. Marine loans have shorter repayment terms at around ten years and a larger deposit – 30% is typical – is often required. Pegasus Marine Finance offers loans between £5,000 and £2m, repayable at rates starting at an annual percentage rate (APR) of 5.9% over a period of up to ten years. This provider also offers zero-deposit loans at higher APRs. A £50,000 loan repaid over ten years would incur a 7.9% APR, making the repayable total £72,579.90.
Promarine Finance asks for a deposit of 20% or more and loans start at £3,000. They are fixed-rate over periods from two to ten years. Using the same example as above, an APR of 16.1% would set you back £81,908.40. Shawbrook Bank offers residential marine financing from £10,000 upwards, over a term of up to ten years. It requires a 25% deposit and has a fixed APR of 10.4%. The repayable total would be £79,074.29. As with any home, do thorough research before securing a mortgage. The interest rates and deposits are high, so be sure you are really signed up to the houseboat lifestyle before signing on the dotted line.
Nic studied for a BA in journalism at Cardiff University, and has an MA in magazine journalism from City University. She joined MoneyWeek in 2019.