The collapse of Football Index: what can investors learn?
Sports gambling platform Football Index has appointed administrators, with customers locked out of their accounts with possible losses of up to £90m. Saloni Sardana looks at what happened, and what investors can learn.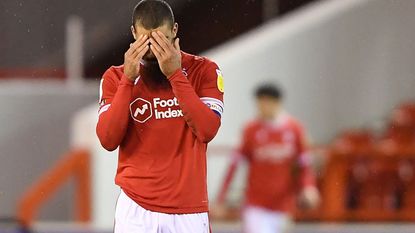 (Image credit: © Jon Hobley/MI News/NurPhoto via Getty Images)
Global stockmarkets have been hitting record highs and it might feel as though losing money is a difficult proposition right now.
But for investors who bought into the Football Index, things are looking very grim indeed. The firm appointed administrator Begbies Traynor on Thursday, and is expected to file for administration in Jersey on 18 March. Users may end up losing up to £90m, some suggest, with thousands of people currently locked out of their accounts.
The Football Index has been under scrutiny all week after both the UK Gambling Commission and the Jersey Gambling Commission revoked the licence of its parent company, BetIndex, last Friday.
Subscribe to MoneyWeek
Subscribe to MoneyWeek today and get your first six magazine issues absolutely FREE
Get 6 issues free
Sign up to Money Morning
Don't miss the latest investment and personal finances news, market analysis, plus money-saving tips with our free twice-daily newsletter
Don't miss the latest investment and personal finances news, market analysis, plus money-saving tips with our free twice-daily newsletter
What is the Football Index?
The Index, which was touted as the "stockmarket of football", gave investors the chance to "invest" in (read: gamble on) the performance of professional football players. But what on earth does that mean?
Users could buy "shares" in footballers in a model that mimicked the stockmarket, earning money through a classic strategy of buying cheap and selling high, with Football Index taking a commission on trades.
As a footballer performed well on the pitch, their value rose. In theory, gamblers who identified promising players early in their career could buy in cheaply and sell on for a profit later as their stock rose.
Users could also earn "dividends", which fluctuated in line with players' performance on the pitch or how much media attention a player was getting. A total of £11m was paid out in the form of dividends to investors in 2019-2020. It is unclear, however, where the money to pay these dividends was coming from.
Football Index launched in 2015, and at one time sponsored both Nottingham Forest and Queens Park Rangers football clubs, who play in the second tier of English football. Both clubs have now torn up their sponsorship agreements and confirmed that they will remove the index branding from their strips.
So what went wrong?
Why Football Index has entered administration
Things started to go downhill on 5 March after Football Index announced a major change that slashed the value of dividends. As of 4 April, the maximum amount customers could be paid out per share each day would be capped at 6p, down from a previous 33p.
This sparked a massive crash in share prices, but was necessary, the company said, to ensure the "long-term sustainability of the platform". Users were also unhappy at Football Index's ability to "mint" new shares in players, diluting their holdings and "dividend" payments. It issued around 300,000 new shares on the exchange just weeks before announcing it had appointed administrators.
The company has also been accused of painting a rosier financial picture than was actually the case through a number of statements, including one in November 2020 made by chief executive Mike Bohan, who said the company had "never been in a stronger position than today".
What happens next?
The next steps are less clear, but directors of the Football Index say they hope to relaunch the company once the administration process is concluded. John Whittingdale, the new gambling minister, will be asking the Gambling Commision to investigate the Football Index, reports the Guardian, following a furore which has seen a petition being signed by more than 3,500 people demanding the company refund net deposits.
As the UK and Jersey Gambling Commissions have suspended BetIndex's licence, the company has confirmed that all withdrawals and further investment are currently suspended. It has said that remaining cash balances are being held in a "segregated account". It's not yet clear what that might mean in practise for account holders but when the administrators come in, we can expect to find out.
While Football Index reportedly has more than 500,000 registered users, The Times reports that only 30,000 were regular users, suggesting that the average individual loss per investor could amount to about £3,000.
Lessons for investors to learn from the debacle
So what can investors learn?
For a start, you need to understand what you are doing. Football Index was always a form of gambling, not investing - the terminology of the stock market was clearly a marketing gimmick of sorts.
There is nothing wrong with enjoying a bet, and we suspect most people who used the platform understood that they were betting on football rather than "investing".
However, even if you're "just" gambling, it's important to understand the basic model - what are the rules and where's the money coming from? We all know how a casino works and we all know how betting on the horses works.
But in this case, it's not at all clear where the money to pay the "dividends" was coming from and clearly – as the rule change and the subsequent collapse of the company demonstrate – it was not from a sustainable source.
It's also always worth being aware of what protection you are entitled to if the platform you are using for any financial transaction goes bust. Whether you're talking about an online bookie, a peer-to-peer lender, or a plain old stockbroker or bank, it's important to understand who regulates them and what compensation you can expect if the provider goes to the wall.
For example, it's not at all impossible for a broker to go to the wall as many investors have learned to their cost in recent years. You can find out more about the protection offered in such cases in this piece.
So the bottom line is: do your research, don't invest – or bet – on anything you don't understand, and make sure to find out how much protection you are entitled to should the platform go under. And of course, don't put all eggs in your basket – definitely not in something as inherently risky as sports betting.
Saloni is a web writer for MoneyWeek focusing on personal finance and global financial markets. Her work has appeared in FTAdviser (part of the Financial Times), Business Insider and City A.M, among other publications. She holds a masters in international journalism from City, University of London.
Follow her on Twitter at @sardana_saloni