GameStop, short-sellers, Reddit rebels and Wall Street's wonky plumbing
What was the furore over US retailer GameStop really about? Is silver the next big social media-driven trade? And what does any of this mean for sensible long-term investors? John Stepek tries to unravel the story.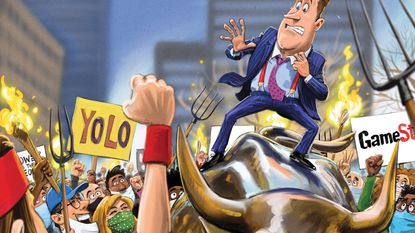 In short, not very. One angle that has been pored over and amplified by many in the press is the idea that Reddit users are angry about 2008. We've already noted above that the "rebellion" started as a value investing thesis, but some posts on the website do point to a generalised anger about bailouts in 2008 and a re-run of "Occupy Wall Street". Yet hedge funds and short-sellers are the wrong target for this rage against "too big to fail".
As Michael Lewis's book, The Big Short (and the film of the same name) explain, short-sellers were among the few institutions to spot and warn of the risks in the housing market in 2008. Moreover, short-sellers were not bailed out at any point during the financial crisis – it was the banks who were saved (which was arguably the right thing to do at the time, though you can certainly argue with the way it was done and the relative lack of consequences for those who were in charge).
So what good do short-sellers do? In return for taking the risk of uncapped losses, they've helped to uncover frauds ranging from Enron in 2001 to Wirecard last year (those who think this should be the job of the authorities should note that the German regulator tried to have Financial Times journalists arrested for pursuing the latter story). But what of the "good, honest" companies that short-sellers have bankrupted? I've tried to uncover even one example of this, yet while lots of people clearly feel very hostile towards short-sellers (just try defending them on Twitter), they can't point to any specifics to back up their views – so email editor@moneyweek.com if you have an example.
Subscribe to MoneyWeek
Subscribe to MoneyWeek today and get your first six magazine issues absolutely FREE
Get 6 issues free
Sign up to Money Morning
Don't miss the latest investment and personal finances news, market analysis, plus money-saving tips with our free twice-daily newsletter
Don't miss the latest investment and personal finances news, market analysis, plus money-saving tips with our free twice-daily newsletter
John is the executive editor of MoneyWeek and writes our daily investment email, Money Morning. John graduated from Strathclyde University with a degree in psychology in 1996 and has always been fascinated by the gap between the way the market works in theory and the way it works in practice, and by how our deep-rooted instincts work against our best interests as investors.
He started out in journalism by writing articles about the specific business challenges facing family firms. In 2003, he took a job on the finance desk of Teletext, where he spent two years covering the markets and breaking financial news. John joined MoneyWeek in 2005.
His work has been published in Families in Business, Shares magazine, Spear's Magazine, The Sunday Times, and The Spectator among others. He has also appeared as an expert commentator on BBC Radio 4's Today programme, BBC Radio Scotland, Newsnight, Daily Politics and Bloomberg. His first book, on contrarian investing, The Sceptical Investor, was released in March 2019. You can follow John on Twitter at @john_stepek.