A new fund for the model investment trust portfolio
After sifting through readers' suggestions, Merryn Somerset Webb picks a new fund for the MoneyWeek model portfoli of investment trusts.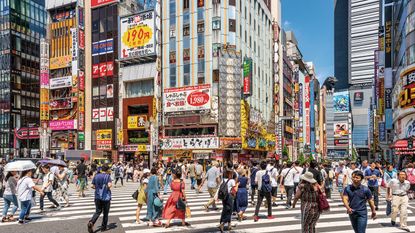 (Image credit: Shinjuku district - Tokyo, Japan © Getty Images)
First, a thank you. Last I week I asked for ideas on replacing Temple Bar in our model investment trust portfolio. I put up a couple of ideas myself – with Dunedin Income Growth (yielding 5%) being the one I thought we might go with. But most of those who replied felt I was being a tad parochial. We have written here several times that Japanese dividends are likely to be more reliable than UK or US dividends over the next few years (thanks to the high levels of cash on Japanese balance sheets), so why not a Japanese Income fund – CC Japan Income & Growth (yielding 3.7%) being the obvious one? It's an interesting idea – and if you hold a wider portfolio, a great one to look at. But outside the UK, I am not sure that a single country fund is the answer for a very diversified portfolio such as ours.
Another suggestion was technology-focused Herald Investment Trust. Again, you should look at this, but as we already have exposure to both tech and the unlisted space with Scottish Mortgage (as well as RIT and Caledonia, which both hold unlisted investments), it isn't quite right. Better fits are Bankers Trust, Mid Wynd and Murray International. Our panel of investment trust advisers like all three. I discounted Troy Income & Growth last week because it shares a management company with one of our other trusts and I have to do the same for Bankers (managed by the same group as Law Debenture). I like Murray for its high yield (5%) and am very tempted to put it in. Anyone interested in exposure to emerging markets should definitely look at it. For this purpose, however, it may be too exposed.
We have concerns about Mid Wynd International Investment Trust (LSE: MWY) too: it yields only 1.2%; it has Amazon as a top holding, as does Scottish Mortgage (this may not matter); and it quite often trades on a premium to its underlying portfolio value. However, I think it might be the best bet for now. We have all just been reminded how important it is that the firms we own are resilient – capable of hanging on through good times and bad. It is hard to see any of Mid Wynd's holdings asking for a state bailout. It also has 18% of its assets in Japan. I'm really sad to lose the UK value focus that came with Temple Bar, but we still have that in Law Debenture. And Mid Wynd's manager does have an eye for price as well as quality. Do not rush into this – keep an eye on the shares and try to buy when they are not trading at a premium. I will do the same. And there is nothing wrong with holding more cash than usual while you wait.
Subscribe to MoneyWeek
Subscribe to MoneyWeek today and get your first six magazine issues absolutely FREE
Get 6 issues free
Sign up to Money Morning
Don't miss the latest investment and personal finances news, market analysis, plus money-saving tips with our free twice-daily newsletter
Don't miss the latest investment and personal finances news, market analysis, plus money-saving tips with our free twice-daily newsletter
Those who feel that I've now abandoned you in your time of yield need might also look at Max King's latest ideas in this week's magazine. Real estate won't be top of your wish list right now, but if steady dividends are, don't ignore hotel and event space owner Secure Income Reit (LSE: SIR). For a few other interesting trusts turn to the personal view page in this week's magazine. The three trusts mentioned there are too niche for the portfolio, but are definitely worth a look.
Finally, gold. A lot of you have asked how you should hold it. The easiest option is to buy a fund of some kind (see here for more). But some of you might like it in a form you can run through your fingers. If so, look to this week's collectables page, where Chris Carter runs through the many delightful choices of coins for collectors and investors. Mine's a Britannia.
Merryn Somerset Webb started her career in Tokyo at public broadcaster NHK before becoming a Japanese equity broker at what was then Warburgs. She went on to work at SBC and UBS without moving from her desk in Kamiyacho (it was the age of mergers).
After five years in Japan she returned to work in the UK at Paribas. This soon became BNP Paribas. Again, no desk move was required. On leaving the City, Merryn helped The Week magazine with its City pages before becoming the launch editor of MoneyWeek in 2000 and taking on columns first in the Sunday Times and then in 2009 in the Financial Times
Twenty years on, MoneyWeek is the best-selling financial magazine in the UK. Merryn was its Editor in Chief until 2022. She is now a senior columnist at Bloomberg and host of the Merryn Talks Money podcast - but still writes for Moneyweek monthly.
Merryn is also is a non executive director of two investment trusts – BlackRock Throgmorton, and the Murray Income Investment Trust.