Diagnosing cancer more deftly will pay dividends
Given that 50% of Britons will develop the disease during their lifetimes, we need to get better at detecting it, says Matthew Partridge. These firms are leading the technological charge.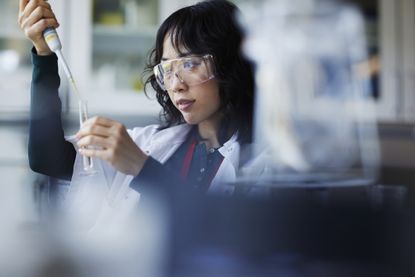 (Image credit: Getty Images)
There were 391,000 cancer diagnoses in the UK alone in 2019, according to Macmillan Cancer Support.
There is therefore huge demand for better ways to diagnose cancer as fast as possible. The cancer diagnosis market is already worth an estimated $135bn, and is expected "to exceed $250bn by 2030", says Maximilian Martin, global head of philanthropy at Lombard Odier.
Ageing populations in developed countries and greater access to treatment in emerging markets are driving demand. On the supply side, recent progress has "opened up vast possibilities".
Subscribe to MoneyWeek
Subscribe to MoneyWeek today and get your first six magazine issues absolutely FREE
Get 6 issues free
Sign up to Money Morning
Don't miss the latest investment and personal finances news, market analysis, plus money-saving tips with our free twice-daily newsletter
Don't miss the latest investment and personal finances news, market analysis, plus money-saving tips with our free twice-daily newsletter
From sick care to healthcare
Creaking healthcare systems around the world are realising that they will need to take a big step away from "reactive treatment toward targeted, preventative medicine", says Luke Barrs, global head of fundamental equity client portfolio management at Goldman Sachs' Asset Management.
Elena Viboch, partner at venture capital firm General Catalyst, agrees that there needs to "be a move from sick care to health care". When it comes to cancer, catching the disease at an earlier stage enables "higher survival rates, less costly treatments, and a situation where people's quality of life can be maintained for longer", says Viboch.
While the resulting delays and waiting lists in the UK affect everyone, they are "particularly critical for cancer patients, who are receiving diagnoses far later and struggling to access treatment before their condition worsens as a result".
Ovid Amadi, senior analyst at RTW Investments says, a better diagnosis "can also help doctors gauge which stage the cancer has reached (there are four stages, with stage one being the mildest) and find any particular mutations, which can in turn help "match the right treatment to the right patient".
The best technology can now detect the return of malignancy between ten and 12 months sooner than previously, notes Amadi.
The potential in blood tests
Perhaps the most promising research involves cancer-detecting blood tests. Detecting one type of cancer through drawing blood is impressive enough, but the ultimate goal is a test that can detect multiple types of cancer (known as an MCED) "so that you can go to the doctor each year for a simple blood test that will tell you if you have cancer or not", says Amadi.
The problem is that accurately detecting multiple cancers and distinguishing between them, "so the doctors know which part of the body to search... to carry out follow-up tests", is "exponentially more difficult than just detecting just one". Still, that hasn't stopped Illumina from developing Galleri, the first commercially available MCED.
Imaging and artificial intelligence
Advanced imaging systems, such as CT, MRI and ultrasound scans, are also frequently used to help diagnose cancer. However, while non-invasive, they have drawbacks.
All three systems are extremely expensive, with most MRI machines "so large that up until now they have had to be located in hospital basements", says Sackin.
Developments in artificial intelligence (AI) and machine learning "also mean you can get the same image quality from a weaker signal", allowing for even smaller and cheaper MRIs. These devices, then, should soon start playing an even greater role in detecting cancer.
For example, AI "is already powering endoscopy systems by providing an enhanced visualisation to detect polyps better and earlier when performing colonoscopies," says Sara Torrecilla, senior biotechnology analyst at asset manager Candriam.
As well as speeding up the process, it "can enhance diagnostic accuracy and detect subtle features that may be overlooked by human observers". AI could also revolutionise big-data analysis when it comes to diagnosing cancer.
Finally, AI algorithms "can provide prognostic information to guide treatment decisions by analysing clinical data and predicting patient outcomes and survival rates".
What to buy now
The main multi-cancer early detection (MCED) test at present is the highly promising Galleri test developed by Grail, which was bought by Illumina (Nasdaq: ILMN) in 2020. While the deal may need to be unwound owing to pressure from competition regulators, "there is the possibility that Grail may be spun out directly to Illumina's shareholders, which means [they] may still be able to benefit", says Julie Utterback, senior equity analyst at Morningstar.
What's more, Illumina's legacy genomic-sequencing tools "remain a key building block of most liquid biopsy tests", ensuring that the firm will benefit when such tests take off.
Another risky investment involved in developing liquid biopsies is Exact Sciences (Nasdaq: EXAS). Its flagship product is Cologuard, an FDA-approved stool test that uses DNA markers to detect colon cancer.
The leading developer of medical- imaging devices is Siemens Healthineers (Frankfurt: SHL), spun out of the German engineering firm Siemens in 2016. Siemens Healthineers is the pioneer of photon counting, which the US Food and Drug Administration called "the first major new technology for CT imaging in nearly a decade". This provides "a greatly improved spatial resolution" . The upshot is that thanks to this new technology radiologists should be able "to identify smaller anatomical structures, detect and observe tumour development and potential metastasis, and evaluate if an injected therapy drug can pass into the tumour itself", says Sara Torrecilla of Candriam.
Intuitive Surgical (Nasdaq: ISRG) is known for its robot-assisted surgery. It recently released Ion, a flexible bronchoscopy system that is aimed at improving the diagnosis of lung cancer. By enabling the camera to get into parts of the lungs that are hard to reach, Ion can do away with the need for a more intrusive needle biopsy.
Matthew graduated from the University of Durham in 2004; he then gained an MSc, followed by a PhD at the London School of Economics.
He has previously written for a wide range of publications, including the Guardian and the Economist, and also helped to run a newsletter on terrorism. He has spent time at Lehman Brothers, Citigroup and the consultancy Lombard Street Research.
Matthew is the author of Superinvestors: Lessons from the greatest investors in history, published by Harriman House, which has been translated into several languages. His second book, Investing Explained: The Accessible Guide to Building an Investment Portfolio, is published by Kogan Page.
As senior writer, he writes the shares and politics & economics pages, as well as weekly Blowing It and Great Frauds in History columns He also writes a fortnightly reviews page and trading tips, as well as regular cover stories and multi-page investment focus features.
Follow Matthew on Twitter: @DrMatthewPartri