The case for nickel – a crucial metal in the Green Energy Revolution
Nickel's use in batteries for electric vehicles makes it a vital metal for the 21st century. Dominic Frisby investigates how to invest.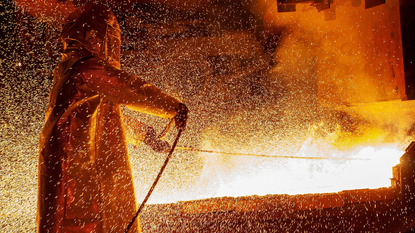 (Image credit: © AFP via Getty Images)
"Tesla will give you a giant contract for a long period of time if you mine nickel efficiently and in an environmentally sensitive way," said Tesla CEO Elon Musk in July 2020.
In September he reiterated his position: "In order to scale, we really need to make sure that we're not constrained by total nickel availability. I spoke with the CEO of the biggest mining company in the world and said, 'Please make more nickel, it's very important.'"
One year on from those big statements, we consider the investment case for nickel.
Subscribe to MoneyWeek
Subscribe to MoneyWeek today and get your first six magazine issues absolutely FREE
Get 6 issues free
Sign up to Money Morning
Don't miss the latest investment and personal finances news, market analysis, plus money-saving tips with our free twice-daily newsletter
Don't miss the latest investment and personal finances news, market analysis, plus money-saving tips with our free twice-daily newsletter
Nickel wants to go higher
Nickel, like all metals, has had quite a time of it over the last few years. Today it trades around US$19,500/tonne – a seven-year high.
The lows came in 2015-2016 – and, short of some kind of deflationary bust – I doubt we'll ever see them again. We didn't even touch them during the March 2020 Covid panic. Those lows were around $8,000/tonne.
However, the all-time high for nickel came in May 2007. It perhaps marked peak mania towards the end of the last great commodity supercycle. $54,300 was the price, so we are still some way off that.
If I look at a short-term chart of nickel I have to say I am not greatly encouraged by the price action. We hit a high in February, re-tested it last week and failed, and since then the price has been sliding.
However, if I look at a longer-term chart, I see a huge base that has formed over many years, with consistently higher lows since 2016, and that now looks like it wants to go higher, a lot higher. We are a long way from the speculative manias you find at the end of large bull markets.
Here's a screenshot from the London Metals Exchange (LME) – what do you make of it?
Perhaps we just need to digest and consolidate the gains of the past year for a little longer before the bull market can get going again. Summer doldrums and all that.
Nickel's role in the Green Energy Revolution
Nickel is the fifth most common element on earth. Humans have been using it since the bronze age, but it wasn't officially recognised until 1751. Ancient Chinese manuscripts refer to "white copper", while northern European miners in the Middle Ages called it Kupfernickel, which translates as "Old Nick's copper" or "devil's copper", because the reddish ore looked like copper, but they couldn't get any copper out of it.
Nickel has a high melting point, resists corrosion and oxidation, is ductile, magnetic at room temperature and alloys readily. It can be deposited by electroplating, has catalytic properties and recycles well – it can be re-used again and again. With these properties, its biggest use by far – almost 80% of annual demand – is in stainless steel. The rest comes from alloys (10%), plating (4%), electric vehicle batteries (3%) and, of course, "other". Nickel use has been growing at a rate of about 4% per annum since 2010.
The excitement around the metal lies in its use in electric vehicle (EV) batteries. Nickel is a key component for EV cathodes. "Green energy will play a key role in nickel's future," says the LME. "The rapid rise of electric vehicles and growing importance of battery technology are likely to increase demand for higher purity nickel. Whilst EV's only represent a small share of the current nickel story, government policy and the strategic plans of well-known automotive players are driving the renewable automotive manufacturing, and in turn a small part of the energy industry forward, which will impact the nickel futures market."
It's that Green Energy Revolution again, and the huge demands it places on natural resources.
Demand from electric vehicles is small – but that will change
Eddy Haegel, president of BHP Nickel West, said this week: "We believe that over 2020 to 2030, overall nickel demand will grow at 5% compound annual growth rate, and that nickel-in-battery demand will grow at a rate of 21% CAGR." He sees EVs accounting for 25% of all vehicles sold by 2030.
Meanwhile, we have Elon Musk saying, "Please make more nickel, it's very important." Musk likes the greater energy density of nickel-rich, cobalt-free cathodes. That's why he wants nickel. Robyn Denholm, chair of Tesla, says it will purchase around $1bn per year in battery minerals from Australia alone.
Nickel demand in the EV and energy storage sectors remains relatively small, but the outlook is that this will change. The International Energy Agency estimates a rise of 4,000% over the next 20 years — "from 81 metric tons in 2020 to 3,352 metric tons by 2040". How they can be quite so precise, I've no idea, but one presumes there is a methodology.
80% of all nickel historically mined, says the Nickel Institute, was extracted over the past three decades. Worldwide, around 2.5 million tonnes of nickel are mined per year, according to this year's US geological survey. Indonesia (760,000 tonnes) is the world's biggest producer, followed by the Philippines (320,000 tonnes), Russia (280,000 tonnes), New Caledonia (200,000 tonnes), Australia (170,000 tonnes) and Canada (150,000 tonnes).
The world's nickel resources are currently estimated at 300 million tonnes, and there are thought to be significant deposits in the deep sea, which no doubt humans will eventually start mining (if they don't get to outer space first).
The world's biggest producers are Vale, Norilsk Nickel, Jinchuan Group International Resources, Glencore and BHP Group – the latter two being the simplest option for UK investors. But they are far from pure plays: BHP's nickel division accounts for less than 1% of its earnings.
The small and mid-cap pure plays are where the big nickel bucks will be made – and lost.
Dominic Frisby ("mercurially witty" – the Spectator) is the world's only financial writer and comedian. He is MoneyWeek's main commentator on gold, commodities, currencies and cryptocurrencies. He is the author of the books Bitcoin: the Future of Money? and Life After The State. He also co-wrote the documentary Four Horsemen, and presents the chat show, Stuff That Interests Me.
His show 2016 Let's Talk About Tax was a huge hit at the Edinburgh Festival and Penguin Random House have since commissioned him to write a book on the subject – Daylight Robbery – the past, present and future of tax will be published later this year. His 2018 Edinburgh Festival show, Dominic Frisby's Financial Gameshow, won rave reviews. Dominic was educated at St Paul's School, Manchester University and the Webber-Douglas Academy Of Dramatic Art.
You can follow him on Twitter @dominicfrisby