The climate summit didn't kill off coal – what stocks might benefit?
The COP26 climate summit made a commitment to "phase down" coal. But coal still accounts for a vast amount of the energy produced around the world – and will do for some time yet. Saloni Sardana looks at what was agreed, and how you can invest in coal.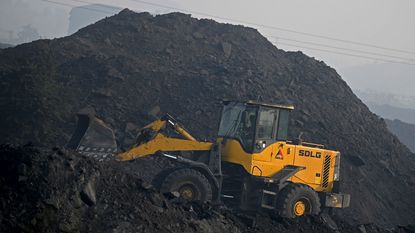 (Image credit: © MONEY SHARMA/AFP via Getty Images)
The COP26 climate summit was always going to be eventful. The closely-watched global summit was held in Glasgow, promising to put huge pressure on nations to reduce their fossil fuel usage even as Europe and other parts of the world are in the midst of one of their worst energy crises in recent history.
It initially looked as though the 200 nations attending had agreed a solid commitment to phase out coal. But at the eleventh hour the final text of the agreement was watered down to include a "phase down" rather than a "phase out" of coal.
UK prime minister Boris Johnson hailed the agreement as a victory nonetheless, and said it was a "death knell" for coal despite the last minute change to the agreement.
Subscribe to MoneyWeek
Subscribe to MoneyWeek today and get your first six magazine issues absolutely FREE
Get 6 issues free
Sign up to Money Morning
Don't miss the latest investment and personal finances news, market analysis, plus money-saving tips with our free twice-daily newsletter
Don't miss the latest investment and personal finances news, market analysis, plus money-saving tips with our free twice-daily newsletter
But is it really? What does COP26 mean for the future of coal?
Why coal was so closely watched in this year's COP
As CNN reports, COP26 marked the first time that combatting coal or any fossil fuel had been explicitly tied to achieving climate goals.
The agreement builds on greenhouse gas emission targets that were initially decided back in 2016 during the COP21 Paris agreement. The agreement set out targets that are revisited each year with the aim of reducing average temperature rises to a maximum of less than two degrees celsius by the end of the century, and ideally closer to 1.5 degrees.
On paper, COP26 achieved exactly that. Before COP26, based on countries' 2030 targets, the planet was on course for a 2.7-degree temperature increase by the end of the century. Factoring in COP26's achievements, experts are now predicting that the planet will warm by 1.8 degrees to 2.4 degrees in the same period.
So, progress has been made, even if it still lags the original target made by COP21. Parties have agreed to revisit their commitments as and when necessary by the end of next year to ensure that the Paris Agreement stays alive.
The Glasgow climate pact called for a swift end to fossil fuel subsidies. As Bloomberg notes, while talks about ending subsidies for fossil fuels have been bubbling for years, "activists were encouraged by the symbolism of it finally making its way into a COP accord".
Why China's actions may still keep coal in favour
However, although coal was a key focus of the event, two of the world's biggest carbon emitters – India and China – lobbied to "phase down", rather than completely eliminate, coal usage.
China is the world's biggest emitter of greenhouse gases (it was responsible for 50% of the world's coal consumption last year) so its actions and promises will keep market watchers on their toes. And while the country has somewhat reduced its reliance on fossil fuel, its recent energy crunch, which wreaked havoc and resulted in several power cuts, has made it harder for it to completely abandon fossil fuels. China released its Nationally Determined Contribution – national climate plans which include targets, policies and other measures that are intended to respond to climate change – on 26 October which disappointed many who were expecting it to do more.
What this means for investors
COP26 certainly made progress by including coal more explicitly in the firing line, but the direction is clear: it will take longer than the optimists had perhaps hoped to phase out coal.
Coal still accounts for a vast amount of the energy produced around the world and it also forms an essential part of the backbone of many countries' power grids – when green power such as wind or solar is intermittent, coal kicks in to close the gap.
So with that in mind which coal companies still look cheap? The share prices of most coal miners have soared since last year, but many still trade on relatively inexpensive valuations. Investors looking to gain pure play exposure to coal might look at Nacco Industries (NYSE: NC), which trades on a price/earnings ratio of around 7.4 and has a dividend yield of 1.8%. A riskier play is Peabody Energy (NYSE: BTU) which trades on a p/e of just three.
Investors who want broader exposure to the commodity sector with some coal thrown in, plus a London listing, should look at Glencore (LSE: GLEN) on a p/e of around seven.
Saloni is a web writer for MoneyWeek focusing on personal finance and global financial markets. Her work has appeared in FTAdviser (part of the Financial Times), Business Insider and City A.M, among other publications. She holds a masters in international journalism from City, University of London.
Follow her on Twitter at @sardana_saloni