The race to put art on the moon
Two space cadets are hoping for a big pay day by putting works of art on the moon. Chris Carter reports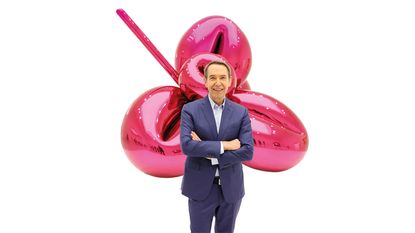 (Image credit: © Cindy Ord/Getty Images)
Until now, the focus of lunar exploration has been to get to the moon, and then bring stuff back – stuff like a bag full of dust for scientific study, for example (see below). But now, there's an altogether different kind of space race under way – the race to take stuff to the lunar surface. Stuff like art. It began when Nasa asked robotics companies to come up with pod-like lunar landers to ferry equipment to the moon ahead of its own planned trip to return astronauts to the lunar surface for the first time since 1972, says Kelly Crow in The Wall Street Journal. At least two of those companies also plan to be the first to send up art. (In fact, that race may have already have been won. Legend has it that a postage-stamp-sized ceramic tile called Moon Museum, etched with drawings by artists including Andy Warhol, surreptitiously went up with Apollo 12, in 1969. It may still be attached to the lunar module, but somebody needs to go up there to prove it.)
Jeff Koons, the American artist who currently holds the record for the living artist who has sold the most expensive artwork, is intent on winning the race. His cuboid installation called Moon Phases, which is packed with miniature and almost weightless moons in various phases of their lunar cycle, is to hitch a ride on a SpaceX Falcon 9 rocket later this year. Koons is racing against Sacha Jafri, a London-based artist, who last year created the world's largest painting. His artwork, a thin metal plate engraved with an embracing couple and 88 hearts, called We Rise Together, is to go up on a rocket designed by United Launch Alliance, a joint venture between Lockheed Martin and Boeing. This has suffered delays, but also hopes to fly by the end of 2022.
One giant pay cheque
Neither artist has overlooked the more terrestrial matter of how to make money from their launches. Both will issue digital works in the form of non-fungible tokens (NFTs). After Koons' lander touches down, cameras will take photographs of the cube to be "minted" into 100 NFTs. The first 15 will cost $2m each, with later versions possibly priced higher. Buyers will also acquire one of the miniature moons (although not the right to remove it from the casing, assuming they were physically able), and an encased metal-alloy model moon for display on Earth. A gemstone will be added to the spot where Moon Phases eventually ends up on the real lunar surface. Jafri plans on minting 20,000 NFTs to be sold later in aid of charity. He claims one prospective buyer has already pledged $75m. It looks to be one small step for NFTs, one giant pay cheque for these two artists.
Subscribe to MoneyWeek
Subscribe to MoneyWeek today and get your first six magazine issues absolutely FREE
Get 6 issues free
Sign up to Money Morning
Don't miss the latest investment and personal finances news, market analysis, plus money-saving tips with our free twice-daily newsletter
Don't miss the latest investment and personal finances news, market analysis, plus money-saving tips with our free twice-daily newsletter
The $1.8m bag of dust
A "contingency" sampling of lunar dust that Neil Armstrong collected from the moon during the Apollo 11 mission in July 1969 was the star lot of the Bonhams "Space History" sale in New York last week. According to Armstrong's biographer James Hansen, the astronaut was so focused on taking photos on the moon that at first he neglected to collect the sample that was a mission priority. If the mission had had to be cut short, Nasa would at least have this small sample of dust and small rocks to show for its efforts. But Armstrong did fill the Teflon bag with two scoops of surface matter, weighing around a kilo in total. The bag then made its way back to Earth – only for Nasa to lose it.
In 2003, the bag turned up in the garage of Max Ary, a director of the Cosmosphere space museum in Kansas, who, two years later, was jailed for theft, money laundering and fraud, says Liam Kelly in The Sunday Times. US government officials seized and sold his space memorabilia, which included the bag, to cover Ary's fines. The bag was bought for $995 by Nancy Lee Carlson, who sent it to Nasa to be authenticated. Nasa said it was genuine, but refused to return it, arguing that it never should have been sold. The space agency removed the moon dust using double-sided carbon tape, attached to aluminium discs, and the bag was sold in 2017 with Sotheby's for $1.8m. Meanwhile, following legal challenges, Nasa was eventually ordered to return five of the six aluminium discs to Carlson. They sold for $504,375, including fees, last week. A full-sized model of Sputnik 1, the first man-made satellite in space, sold for $2,550, also as part of the sale, and a signed photo of fellow Apollo 11 astronaut Buzz Aldrin, standing in the moon's Sea of Tranquillity (pictured), fetched $4,845.
Auctions
Going…
A "magnificent and extremely rare" large doucai Chinese vase, dating from the Qianlong period (1736-1795), is the highlight of Christie's Chinese ceramics sale in Hong Kong on 30 May. Doucai refers to the decorating technique by which fine underglaze cobalt blue lines were painted onto the porous unfired clay. The design, the ruyi motif, is based on the form of a lingzhi, a type of fungus, expressing a wish that the emperor receive everything he desired on his birthday. The body of the vase features four gilt Buddhist symbols of good luck, and the handles are formed as dragons. The vase (pictured) is valued at HK$30m-HK$50m (£2.9m-£4.9m), with the proceeds to go to a fund for the acquisition of artworks.
Gone…
A blue-and-white Chinese vase that was filled with a few dried flowers when it was spotted at a house clearance in Mansfield, Nottinghamshire, was initially valued at £50 by auctioneer Charles Hanson, believing it to be a reproduction, says The Derby Telegraph. But after it was listed for sale online, "extraordinary" offers were made. The vase had been given to the seller's father, when he worked as a chauffeur in the 1950s. It was withdrawn from sale, and further research revealed that the vase is a rare piece dating from around 1640, a turbulent period in which the Ming dynasty ended. After being relisted by Derbyshire-based Hansons Auctioneers, with a guide price of up to £3,000, the vase was sold to a bidder in China for £15,000.
SEE ALSO:
The $15m violins up for auctio
Chris Carter spent three glorious years reading English literature on the beautiful Welsh coast at Aberystwyth University. Graduating in 2005, he left for the University of York to specialise in Renaissance literature for his MA, before returning to his native Twickenham, in southwest London. He joined a Richmond-based recruitment company, where he worked with several clients, including the Queen's bank, Coutts, as well as the super luxury, Dorchester-owned Coworth Park country house hotel, near Ascot in Berkshire.
Then, in 2011, Chris joined MoneyWeek. Initially working as part of the website production team, Chris soon rose to the lofty heights of wealth editor, overseeing MoneyWeek's Spending It lifestyle section. Chris travels the globe in pursuit of his work, soaking up the local culture and sampling the very finest in cuisine, hotels and resorts for the magazine's discerning readership. He also enjoys writing his fortnightly page on collectables, delving into the fascinating world of auctions and art, classic cars, coins, watches, wine and whisky investing.
You can follow Chris on Instagram.