Matchbox toys are on fire with collectors
The children of the 1960s are fuelling a boom in collectable model cars, says Chris Carter.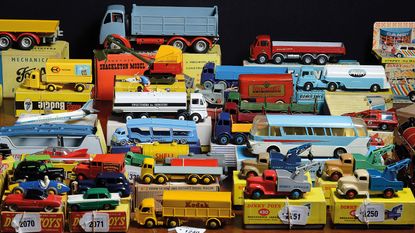 (Image credit: Dinky toys for auction © Nigel Roddis/Getty Images)
The first miniature Hot Wheels toy cars rolled down their iconic orange racing tracks in May 1968 in the US. They cost 59 cents each, and that year, toymaker Mattel sold 16 million of them. They were, says Zachary Crockett on The Hustle, "America's hottest new plaything". Five decades on, "the children of the Sixties are fuelling a small but mighty collectors' market".
Bruce Pascal, "a successful commercial real estate executive" by day, is one such enthusiast. "By night, he buys $5,000 Hot Wheels cars on eBay." The 59-year-old owns a "staggering array of 7,000 rare toy cars that are collectively insured for $1.5m". He will even chase down former Mattel employees in the quest for ultra-rare prototypes. "I'm like the Antiques Roadshow that shows up to their door," Pascal tells The Hustle. One former worker broke down in tears when Pascal handed him a cheque for $12,000. "A few forgotten toys turned into a new roof for the man's house," says Crockett.
Collecting tiny cars is far from a purely American pursuit – indeed, its roots stretch back into 19th century Europe. Little "tinplate" cars, made from cut, shaped and decorated sheets of metal, "are among the earliest mass-produced toys", replacing wooden ones, says Michael Dowse of Sheffield Auction Gallery in the Sheffield Telegraph. "Many important makers were German, with the most sought-after including Marklin and Bing, although American makers Marx and Strauss are also keenly collected." The late 19th and early 20th centuries are considered the "golden age". Prior to the 1890s, these toys were hand painted and featured such details as lamps, opening doors and rubber tyres. They "are among the most highly prized by collectors".
Subscribe to MoneyWeek
Subscribe to MoneyWeek today and get your first six magazine issues absolutely FREE
Get 6 issues free
Sign up to Money Morning
Don't miss the latest investment and personal finances news, market analysis, plus money-saving tips with our free twice-daily newsletter
Don't miss the latest investment and personal finances news, market analysis, plus money-saving tips with our free twice-daily newsletter
After 1900, colour lithography made them more economical to produce, but less complex. "As with most collectables, the key to value is rarity, quality and condition," says Dowse. "This, coupled with the desire of ownership, ensures the tinplate market is buoyant.​​​​​​​" One fine example, a red CIJ André Citroën clockwork tinplate open tourer from the 1920s, sold for £700 with Special Auction Services in Newbury, Berkshire, this summer.
Then, in 1953, north London die-casting company Lesney Products began making miniature vehicles small enough to be placed inside a matchbox. These Matchbox cars (now also made by Mattel) soon attracted the attention of children, who continued to collect them well into adulthood.
Simon Hope, from Cheshire, amassed one of the world's best collections over 60 years. Last November, his almost 3,000 cars and lorries sold for £252,000 with specialist Yorkshire-based Vectis, according to the Mail Online, with later reports putting the final figure at over £300,000. A lime green ERF Dropside lorry was the most expensive item, fetching around £7,000.
On 10 September, the Wayne Laughman collection of hundreds of tiny Matchbox toys is to go under the hammer, also with Vectis.
The tat racket
"If you are looking to make an extra bit of cash… it may be worth having a look in the loft," says Stephanie Rendall in The Scotsman. Toys that have long-since been packed away, gathering dust, could be valuable collectables. "Nostalgic boomers and millennials have been listing their attic finds online for years as a quick income supplement." Hot Wheels cars (see above) "are now being listed online for hundreds of pounds", with one seller offering their vintage toy for £434.36, "which is a dramatic increase on the original price – the equivalent of merely 48p when it first went on sale".
But even more recent toys from the 1990s are also in surprising demand. Take Beanie Babies, for example. These cuddly critters were "collectables to start with, and many children's rooms were filled to the brim with these stuffed animals". The Peanut the Royal Blue Elephant toy is one of the most valuable, due to a manufacturing error that saw 2,000 made in a darker shade than intended. They have been listed for sale online with prices of up to £3,700. That said, the 1997 Princess Diana Beanie Baby has been listed on eBay for an eyebrow-raising £25,000. While that might be a tad hopeful, the average selling price for Beanie Babies is £2,207, according to online marketplace OnBuy, topping its list of the most in-demand collectables lying around the house.
Whether the "Gotta Go Flamingo" (a bird on a toilet that's on Argos' list of must-haves for Christmas 2020) holds its value years from now remains to be seen.
Auctions
Going…
The crown worn by Nineties rapper Notorious BIG is set to star in Sotheby's first-ever auction dedicated to hip hop music on 15 September in New York. It was worn by "Biggie", whose real name was Christopher Wallace, in a photoshoot a few days before he was killed, aged 24, in a shooting in 1997. Photographer Barron Claiborne's portrait of Wallace wearing the plastic crown was later turned into a giant mural in the rapper's home borough of Brooklyn. It is expected to sell for $200,000. An archive of love letters written by a teenage Tupac Shakur before he was famous also forms part of the sale, valued at between $60,000 and $80,000. A portion of Sotheby's proceeds will go to good causes.
Gone…
A Japanese sunburst electric guitar played by Jimi Hendrix after he was discharged from the US Army in 1962 has sold for $216,000 at California-based GWS Auctions. Hendrix played the instrument "when the guitar god was an R&B sideman and fledgling rocker based in New York City", says Daniel Kreps for Rolling Stone. It was left with a friend in New York, when Hendrix left for Britain to start The Jimi Hendrix Experience band four years later. Other lots in the sale included a 14-carat gold ring, previously owned by Elvis Presley, which sold for $22,500, and one of Michael Jackson's sequined black jackets, which fetched $20,000.
Chris Carter spent three glorious years reading English literature on the beautiful Welsh coast at Aberystwyth University. Graduating in 2005, he left for the University of York to specialise in Renaissance literature for his MA, before returning to his native Twickenham, in southwest London. He joined a Richmond-based recruitment company, where he worked with several clients, including the Queen's bank, Coutts, as well as the super luxury, Dorchester-owned Coworth Park country house hotel, near Ascot in Berkshire.
Then, in 2011, Chris joined MoneyWeek. Initially working as part of the website production team, Chris soon rose to the lofty heights of wealth editor, overseeing MoneyWeek's Spending It lifestyle section. Chris travels the globe in pursuit of his work, soaking up the local culture and sampling the very finest in cuisine, hotels and resorts for the magazine's discerning readership. He also enjoys writing his fortnightly page on collectables, delving into the fascinating world of auctions and art, classic cars, coins, watches, wine and whisky investing.
You can follow Chris on Instagram.