Forget stocks – handbags have outperformed them all
A surprising collectable has been trouncing other asset classes. Chris Carter reports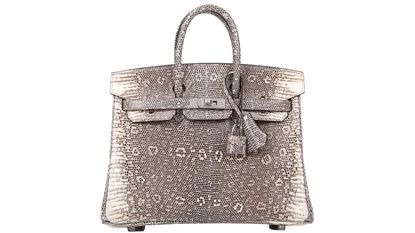 No longer mere fashion accessories and Margaret Thatcher's weapon of choice, handbags are this year's darlings of the collecting world. So says the oft-quoted 2020 Wealth Report from Knight Frank. The value of handbags rose by 13% last year, the most of any collectable asset class (see below for the others). That was also slightly better than the 12% the FTSE 100 managed for 2019 – remember those days?
Of course, expensive handbags have been around for at least as long as there have been chihuahuas to put in them. But as a collectable, they're relatively new to the scene. And, until very recently, there hasn't existed any index to track prices. So Art Market Research (AMR), the company that supplies Knight Frank with data for its Knight Frank Luxury Investment Index (KFLII), made one.
"It's only been possible to create an index on handbags now because of the frequency with which many iconic pieces are coming to auction today," says AMR's Sebastian Duthy. That has left some auction houses scrambling to catch up. Bonhams, a major auction house founded in 1793, only opened its handbags and fashion department in January, having pinched a couple of staff members from Chiswick Auctions, according to the Antiques Trade Gazette. The west London auctioneer is big in the way of selling handbags. Last March it launched its free The Handbag Report email newsletter, offering tips and auction news.
Subscribe to MoneyWeek
Subscribe to MoneyWeek today and get your first six magazine issues absolutely FREE
Get 6 issues free
Sign up to Money Morning
Don't miss the latest investment and personal finances news, market analysis, plus money-saving tips with our free twice-daily newsletter
Don't miss the latest investment and personal finances news, market analysis, plus money-saving tips with our free twice-daily newsletter
What to buy
Collectable handbags should be kept in tip-top condition. "The only person who has got away with mistreating theirs was Jane Birkin," says Carol Lewis in The Times. Then again, the actress did lend her name to one of the most sought-after of all handbags – the Hermès Birkin (so much so, in fact, that its rising value has been termed "Birkinomics"). She sold one of her beaten-up bags on auction site eBay in 2011 for £100,100 for charity. And the most expensive bag ever sold at auction was a Birkin. Made from crocodile skin, with gold and diamonds, it fetched HK$2.9m (£293,000) in Hong Kong with Christie's. And last June, a Himalaya niloticus crocodile Birkin 35 sold for £162,500 in London, also with Christie's.
Hermès is arguably the most prestigious of marques and custom-made bags, known as Hermès Horseshoe Stamp (HSS) bags, featuring the stamp inside the bag, are the "ultimate status symbol", says Chiswick Auctions' Winnie McGee. Chanel bags also carry status. Bags made from ethically sourced exotic skins, such as crocodile, fetch high prices, as do limited editions.
Coming up…
If you're quick, you can still get in a bid for a "rare" Hermès Ombre Birkin handbag, made from Varanus salvator lizard with "palladium hardware" (pictured). It takes pride of place at Sotheby's online auction, with bidding set to end at 4pm today (Friday). It is expected to fetch up to $120,000. Bonhams, Chiswick Auctions and Christie's are holding sales in London in April, May and June.
Good news for stamp lovers
Good news at last for philatelists – stamps were the second-highest-rising collectable asset of 2019, rising by 6%. That market has been in a slump for the past few years, so 2019 might just have heralded a turnaround for these once-popular collectables. We'll have to wait and see.
Over ten years, the market has only grown by 64% – not much compared with other collectable assets, such as whisky and classic cars. That said, classic cars (and jewellery) were last year's biggest losers, both down 7%. The signs were there, particularly for cars. Values had risen by 194% over ten years (again, according to Knight Frank), but the demand failed to turn up at the calendar highlight that is Monterey Car Week, in California, last August.
Surprisingly, whisky "only" grew by 5% (imagine if you could get that kind of return on your cash Isa), but that market has done superbly well over the past decade, increasing by 564%. Andy Simpson of Rare Whisky 101 blames oversupply and a "softening of values for the market leader, The Macallan".
Still, with investors fleeing stocks and whisky being an easily storable, tax-efficient (if you store it "in-bond") and relatively liquid asset,I doubt we've reached the dregs of the whisky market just yet.
Auctions
Going…
A rare stone lithography film poster for The Invisible Man from 1933 is to be sold with Texas-based Heritage Auctions as part of its Movie Poster online sale, taking place this Saturday and Sunday. "This beautiful poster is an outstanding example of the horror artwork by artist Karoly Grosz, which made the Universal monster genre such a success," says Grey Smith, director of posters at Heritage Auctions. It is expected to sell for up to $125,000. A "front-of-house card" (a smaller film poster, known as a "lobby card" in the US) for the 1931 horror classic Frankenstein is expected to fetch between $50,000 and $100,000.
Gone…
Hand-painted artwork for the 1954 monster movie Creature from the Black Lagoon sold for £22,000 before fees with Ewbank's Auctions in Surrey late last month. It had been expected to sell for up to £4,000. It was one of a collection of film and circus posters produced by Bradford-based W E Berry for Disney, Rank, Universal, Columbia Pictures, Paramount and Ealing Studios from the 1920s, says the BBC. In total, the collection brought in £165,000 – three times the estimated asking price of £55,000. Artwork for Ealing comedy The Ladykillers fetched five times its asking price – it sold for £8,000.
Chris Carter spent three glorious years reading English literature on the beautiful Welsh coast at Aberystwyth University. Graduating in 2005, he left for the University of York to specialise in Renaissance literature for his MA, before returning to his native Twickenham, in southwest London. He joined a Richmond-based recruitment company, where he worked with several clients, including the Queen's bank, Coutts, as well as the super luxury, Dorchester-owned Coworth Park country house hotel, near Ascot in Berkshire.
Then, in 2011, Chris joined MoneyWeek. Initially working as part of the website production team, Chris soon rose to the lofty heights of wealth editor, overseeing MoneyWeek's Spending It lifestyle section. Chris travels the globe in pursuit of his work, soaking up the local culture and sampling the very finest in cuisine, hotels and resorts for the magazine's discerning readership. He also enjoys writing his fortnightly page on collectables, delving into the fascinating world of auctions and art, classic cars, coins, watches, wine and whisky investing.
You can follow Chris on Instagram.