Is it time to buy bitcoin? This chart suggests it is
Dominic Frisby's simple trading system is based on making as few decisions as possible then sitting tight. And right now, it's telling you to buy bitcoin. Here, he explains everything you need to know.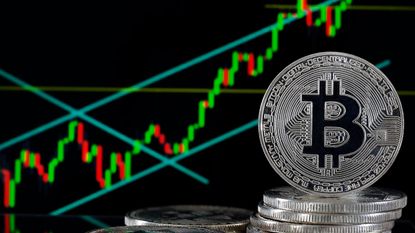 (Image credit: © Chesnot via Getty Images)
I wanted to cover a simple, trend-following strategy today. It's a strategy I've devised myself and one I have outlined before on these pages. It doesn't work in a range-bound market – you end up losing money. But in a trending market I don't know of any system that's better. In all the years I have been writing about and following markets, I've not seen one that beats it. The reason I wanted to cover it today is that last week the system issued a buy signal. Let me start by explaining how the system works.
A very simple trend trading system
You start with a weekly chart of the asset in question. Let's use the S&P 500 by way of example. In addition, you plot the six- and 21-week exponential moving averages (EMA). A 21-week simple moving average would show the average price over the last 21 weeks. A 21-week EMA gives greater weighting to more recent weeks.
When the six-week EMA crosses up through the 21-week EMA and the price is above, that is your buy signal. When the six-week EMA crosses down through the 21-week EMA and the price is below, that is your sell signal.
Subscribe to MoneyWeek
Subscribe to MoneyWeek today and get your first six magazine issues absolutely FREE
Get 6 issues free
Sign up to Money Morning
Don't miss the latest investment and personal finances news, market analysis, plus money-saving tips with our free twice-daily newsletter
Don't miss the latest investment and personal finances news, market analysis, plus money-saving tips with our free twice-daily newsletter
Here's we see the S&P over the last 20 months. In that period, the system has issued one sell signal (October 2018) and one buy signal (February 2019). I have marked them both on the chart.
The system has worked particularly well with the US indices over the last ten years in what has been an extraordinary bull market. I can't show the entire period below for reasons of visibility, but here are the last four years with buys and sells marked.
That's three buy signals and two sell signals in four years. It's pretty low maintenance. Meanwhile, and most importantly of all, it kept you long when the market was rising. It doesn't let coronavirus, or something Donald Trump said on Twitter, or whatever the panic du jour happens to be, shake you out. The longer a trend, the better this system works.
We've just had a buy signal on bitcoin
I've also found the strategy works well with bitcoin, an asset that is prone to extraordinary bull and bear market cycles.
Here we see bitcoin since 2015. There have been three buy signals and two sells. The buy signal came in 2015 with bitcoin at around $300. The sell didn't come until 2018, three years later, with bitcoin now around the $9,000 mark. Sure, it didn't get you out at the $20,000 high – but with a $300 to $9,000 move, I don't think anyone is complaining.
The next buy signal came in early 2019 at around $5,000. I remember covering it on these pages. And the sell got you out around $8,000. It was "only" a 60% gain. Disappointing, perhaps, but then the trend didn't go on for longer, and this is a trend-following strategy. If the trend isn't there, you don't win.
Last week with bitcoin at $8,300 we got another buy signal. Is bitcoin about to go to the moon (again) or will it reverse and fall flat? Nobody knows. Many will have an opinion, but you don't need to have an opinion with this system, you just need to follow it. If bitcoin does go to the moon, the system will make sure you are onboard the rocket. And if it falls flat, the system will get you out for a comparatively small loss.
There are numerous ways to buy bitcoins. You can go to an ATM. You can open an account with an exchange such as Bitpanda, SFOX or Kraken, deposit money and buy that way. You can buy from an individual using localbitcoins.com or bittylicious.com.
I don't recommend buying large quantities until you know what you are doing. I have always advocated setting yourself up with a wallet, buying £20 worth, getting a friend to do the same, and then practising sending each other small amounts of money – getting familiar with the tech, wallets, how to store coins safely and so on, before investing meaningful amounts of capital.
If you simply want exposure to the price, many spreadbetting companies offer synthetic derivatives that will do the job for you (bear in mind that spreadbetting itself is a highly risky way to bet on markets, and bitcoin is a particularly volatile – thus risky – market. So again, don't touch it unless you know what you're doing).
There are countless online tutorials and guides to help get you started. The aim of this article is not to explain how to buy bitcoin. It is to alert you to the fact that, according to my simple trend-following strategy, we have a buy signal in bitcoin. What you do with that information is up to you. But whatever decision you take, make sure you manage your risk!
• Daylight Robbery – How Tax Shaped The Past And Will Change The Future is available at Amazon and all good bookstores with the audiobook, read by Dominic, on Audible and elsewhere. If you want a signed copy, you can order one here.
Dominic Frisby ("mercurially witty" – the Spectator) is the world's only financial writer and comedian. He is MoneyWeek's main commentator on gold, commodities, currencies and cryptocurrencies. He is the author of the books Bitcoin: the Future of Money? and Life After The State. He also co-wrote the documentary Four Horsemen, and presents the chat show, Stuff That Interests Me.
His show 2016 Let's Talk About Tax was a huge hit at the Edinburgh Festival and Penguin Random House have since commissioned him to write a book on the subject – Daylight Robbery – the past, present and future of tax will be published later this year. His 2018 Edinburgh Festival show, Dominic Frisby's Financial Gameshow, won rave reviews. Dominic was educated at St Paul's School, Manchester University and the Webber-Douglas Academy Of Dramatic Art.
You can follow him on Twitter @dominicfrisby