Bitcoin bounces after Elon Musk weighs in on the clean energy debate
Bitcoin jumped to an almost two-week high overnight after yet another tweet from Elon Musk. Saloni Sardana looks at what the "crypto-king" has said now.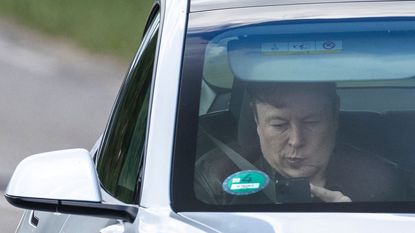 (Image credit: © ODD ANDERSEN/AFP via Getty Images)
Bitcoin jumped to an almost two-week high overnight after another tweet from Elon Musk. So what has he said now? He said Tesla would start accepting bitcoin as payment for its electric cars again if cryptocurrency miners were to use clean energy for their transactions.
In a Twitter post on Sunday, Musk said: "When there's confirmation of reasonable (~50%) clean energy usage by miners with [a]positive future trend, Tesla will resume allowing Bitcoin transactions."
Bitcoin jumped 10% to more than $39,000.
Subscribe to MoneyWeek
Subscribe to MoneyWeek today and get your first six magazine issues absolutely FREE
Get 6 issues free
Sign up to Money Morning
Don't miss the latest investment and personal finances news, market analysis, plus money-saving tips with our free twice-daily newsletter
Don't miss the latest investment and personal finances news, market analysis, plus money-saving tips with our free twice-daily newsletter
Musk was responding to criticism from Magda Wierzycka, chief executive of South African asset management firm Syngia, who had said that the US Securities and Exchange Commission should have investigated his recent spate of controversial tweets, alleging that they amounted to market manipulation.
Elon Musk's whipsaw effect on the bitcoin price
Musk has pretty much been the "Fed" of the crypto world in recent months, able to move markets with his pronouncements. Last month, he sprung a nasty surprise on bitcoin hodlers last month when he announced Tesla would no longer accept bitcoin as payment for its cars because of concerns over high electricity usage in cryptocurrency mining.
That stunned the crypto world, and the bitcoin price slid by 13%.Before that, the cryptocurrency had been on a huge bull run, and Musk was a big part of that. Tesla bought $1.5bn worth of bitcoin in February and later it announced it started accepting bitcoin as a form of payment for its cars.
Musk's outlandish love for the cryptocurrency, along with moves by major banks such as BNY Mellon and Goldman Sachs, appeared to usher in a new era of cryptocurrency turning mainstream. Added to that was euphoria around the listing of Coinbase, America's largest cryptocurrency exchange, which went public in April.
But concerns over bitcoin's effect on the environment, along with other factors, has helped it shed almost 40% from a high of almost $65,000 two months ago.
In another market-moving tweet, Musk said last month he held talks with bitcoin miners on improving the sustainability of the digital coin.
So why are some market watchers getting nervous about bitcoin's energy usage?
Bitcoin's energy concerns
Bitcoin mining is the process by which new bitcoins are created and the blockchain is maintained, with new transactions added and verified. Critics of the cryptocurrency – often derisively dubbed "no coiners" – point out the vast amounts of energy used by cryptocurrency mining.
Indeed, a study published by the University of Cambridge earlier this year shows that the bitcoin network's annual electricity usage – currently at around 121 terawatt hours – is higher than that of Sweden. A separate report published in 2020 found that at present only 39% of proof-of-work mining – the method by which bitcoin transactions are verified – is powered by renewable energy
But, as Fred Thiel, chief executive of cryptocurrency mining firm Marathon Digital Holdings notes in Bloomberg, the cryptocurrency mining may be closer to becoming 50% clean than one would think, hinting that Musk may indeed allow cars to be purchased using bitcoin.
This is because China has already shut down many bitcoin mining operations in provinces that were powered by coal, which should theoretically contribute to cleaner mining processes.
What this means for investors
So with all that in mind, what does Musk's latest tweet mean for investors?
The industry's energy concerns are yet another obstacle in the way of mainstream adoption of bitcoin. The cryptocurrency market has been beset by one regulatory setback after another, and is prone to regulatory shocks. We saw that on Friday when the Basel Committee floated the idea of setting higher capital requirements on banks holdings of cryptocurrencies.
China has also banned its institutions from providing cryptocurrency services, and is cracking down on bitcoin mining in the country. So, clean or not so clean, Musk's tweet may do little to give investors confidence that holding bitcoin will be smooth sailing.
It is still worth paying attention to bitcoin and cryptocurrencies, and learning as much as you can. But until the market can be moved to the "moon" and back by a single tweet from a capricious CEO, it can't be said to be a reliable long-term investment.
Saloni is a web writer for MoneyWeek focusing on personal finance and global financial markets. Her work has appeared in FTAdviser (part of the Financial Times), Business Insider and City A.M, among other publications. She holds a masters in international journalism from City, University of London.
Follow her on Twitter at @sardana_saloni