4 small caps to buy in 2023
The UK's AIM market is full of opportunities for investors, writes Michael Taylor of Shifting Shares. Here are his top small caps to buy for 2023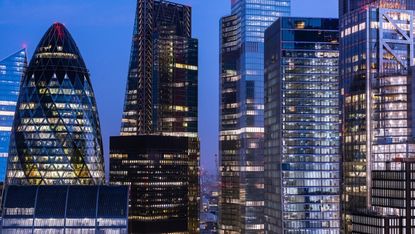 (Image credit: © Getty images)
Michael Taylor of Shifting Shares picks his favourite small caps to buy for 2023.
Investors who're not comfortable in picking their own shares might want to look to funds instead. And there are lots of other tempting options to own for the year ahead.
That said, here are Michael Taylor's top picks for 2023.
Subscribe to MoneyWeek
Subscribe to MoneyWeek today and get your first six magazine issues absolutely FREE
Get 6 issues free
Sign up to Money Morning
Don't miss the latest investment and personal finances news, market analysis, plus money-saving tips with our free twice-daily newsletter
Don't miss the latest investment and personal finances news, market analysis, plus money-saving tips with our free twice-daily newsletter
Top small caps to buy for 2023
Harvest Minerals (Aim: HMI), 7.95p
Harvest Minerals is an Australian company that produces the fertiliser KP Fertil in Brazil. Its Arapua project, where it mines the nutrients it needs to make fertiliser, has an estimated life span of 100 years. The extraction process consists of digging, crushing, bagging and selling. The company has been shunned by the market since it raised a large amount of capital in 2018, but nearly five years later there have been no new share placings and cash balances are on the up.
A lack of trust was (in my opinion) the reason for the slump in the share price but sales are now rising after Covid-19 set the company back a year. In 2021 sales reached 85,030 tonnes and the 2022 guidance of 150,000 tonnes was exceeded in September.
It would be unrealistic to expect such stratospheric growth every year, but it's worth noting the company can produce 400,000 tonnes before needing to expand its operations.
Harvest will exit 2022 in a cash-generative (and potentially profitable) position.
However, it is worth noting that sentiment has a great impact on this stock: this year it has traded between 5p and 18p – a 260% range. The stock is illiquid and any decrease in fertiliser prices could negatively affect it.
However, it should profit from encouraging long-term growth prospects. Brazil wants to reduce its reliance on imported fertiliser, and the global population is not getting any smaller, so long-term demand looks assured.
Altitude (Aim: ALT), 31.5p
Altitude is a technology company that provides services to the promotional merchandising and print industries in North America. The business owns the so-called AIM Smarter platform, which connects buyers, sellers, and manufacturers of promotional merchandising.
Naturally, the promotional events and merchandising sectors took a hit during Covid-19, but management managed to replace some of the lost revenue by sourcing PPE and hand-sanitiser suppliers and connecting them with buyers. Group sales are growing and the company reported last month that it was trading ahead of expectations.
House broker Zeus has forecast adjusted profit before tax of £0.5m this year. Valuing this company on a p/e basis makes the shares seem expensive, but that doesn't factor in the rate of earnings growth and the mouth-watering long-term potential. This is a growing, $23bn industry, with roughly 75% of the transactions carried out offline.
There is definitely a risk that this industry slows down in any recession, but with a lot of low hanging fruit to go for and the business scaling up, I feel that there is potential upside should management continue executing.
XP Factory (Aim: XPF), 21.5p
XP Factory is the old Escape Hunt – the same stock that appeared in my 'Five Aim stocks with plenty of potential for 2021' (27 December 2020) at 16.5p. It ended the year at 29p, but currently sits at 21.5p. Escape Hunt offered games in which people are locked in a room and have to solve puzzles and find clues in order to escape.
The firm has continued to make progress. The company acquired Boom Battle Bars in November 2021, raising £30m at 30p, and it was clearly a good acquisition. Boom Battle Bars is an experiential leisure brand that offers games such as augmented reality darts and axe-throwing. It also sells drinks and a small selection of food, with the former more profitable than the latter.
XP Factory is a high-margin business overall because it is securing deals with landlords for large sites and then charging people for games and additional goods ("upsells").
Boom Battle Bars diversifies the risk of relying on escape rooms should they go out of fashion (though the company told me in 2021 that the games have surprising longevity) by opening up units that offer a full spectrum of activities.
I like the company and think the shares can trade higher but I have to point out the risk that this is a business that is clearly sensitive to consumer discretionary spending.
Brave Bison (Aim: BBSN), 2.2p
Brave Bison is a media, marketing and technology company skewed towards social media. It consists of three divisions under the single Brave Bison brand: Commerce, Performance, and Social & Influencer. It owns and operates more than 650 channels across all major social-media networks and boasts a client list including major brands such as Google, Panasonic and Currys. The board includes two brothers, Theo and Oliver Green, who bought into the company (and own 45% of it) and have implemented a turnaround strategy that has seen the company deliver £1.02m in net profit in its recent half-year.
The board has proved that it can acquire and bed in companies effectively. A new financing facility, meanwhile, will give Brave Bison more firepower on top of the £5.2m of gross cash reported in the half-year results. I think the market has yet to wake up to the potential here. At the current valuation, this share is certainly not expensive.
There is always a risk with buy and builds as acquisitions can be complex, but at the current valuation, this is not an expensive share.
Michael Taylor holds long positions in HMI, ALT, XPF, and BBSN. You can read Michael's monthly Buy The Breakout newsletter for free at shiftingshares.com. Follow Michael on Twitter @shiftingshares. A longer version of this article appeared in the MoneyWeek magazine issue number 1136.