Top investment ideas for 2023: silver, tech and drugs
Our writers' top investment ideas for 2023 include a cybersecurity stock, bitcoin and a psychedelic treatment for depression.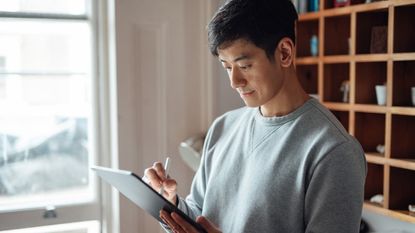 (Image credit: © Getty images)
As we enter the new year, we've asked our contributors to put together their top investment ideas for 2023. Their ideas span everything from gold, silver and bitcoin to the best stocks for yield and psychedelic treatments.
Top investment ideas for 2023
Jonathan Compton
Jonathan Compton was MD at Bedlam Asset Management and has spent 30 years in fund management, stockbroking and corporate finance.
My pick is UK-listed Kape Technologies (LSE: KAPE), a £950m company that has been dragged down even as revenue and profits have blossomed and the outlook brightened.
Subscribe to MoneyWeek
Subscribe to MoneyWeek today and get your first six magazine issues absolutely FREE
Get 6 issues free
Sign up to Money Morning
Don't miss the latest investment and personal finances news, market analysis, plus money-saving tips with our free twice-daily newsletter
Don't miss the latest investment and personal finances news, market analysis, plus money-saving tips with our free twice-daily newsletter
It specialises in virtual private networks (VPNs) and cybersecurity. You probably don't use a VPN on your PC or tablet today, but many of us will because it provides an encrypted server and hides your IP address from spammers, hackers and prying eyes.
In short, it keeps your data far safer than conventional security packages. Seven million customers already use Kape, while the market for computer privacy is huge and expanding fast; we're all fed up with torrents of spam and hackers.
The forward price/earnings (p/e) ratio for 2023 is below eight.
Stephen Connolly
Stephen Connolly is managing director of consultancy Plain Money. He has worked in banking and asset management for over 25 years.
The US-listed conglomerate Berkshire Hathaway "B" shares (NYSE: BRK.B) is led by legendary investor Warren Buffett.
It's ending 2022 in positive territory, up 3%, trouncing the S&P 500 index's -16.7% fall. This outperformance from its undervalued investments across diverse sectors such as energy, technology, transport and financial services in companies such as Coca-Cola, American Express and Apple shows once again that Buffett knows his business.
Such skill is rare – only one in four fund managers beat index trackers this year, according to broker AJ Bell. Nearly two-thirds of them failed over a decade as well, a period when markets were relatively benign.
The new year will not, unfortunately, herald a fresh start and 2023 will remain difficult. So I'm going to keep quietly dripping my money into Berkshire.
Dominic Frisby
Dominic Frisby is the world's only financial writer and comedian. He is MoneyWeek's main commentator on gold, commodities, currencies and cryptocurrencies.
It's hard to think of a time in the history of bitcoin when sentiment was lower.
However, usage is exploding in East Asia. It's exploding in Africa, especially in Nigeria. It is exploding anywhere there is a currency crisis: Turkey, Venezuela, Argentina.
The member nations of the Shanghai Cooperation Organisation (China, India, Russia et al) are desperately seeking a non-dollar alternative money to trade in.
The issue is who will be the trusted third party in a world where trust is thin.
We need "a blockchain-based system of international settlements that … will not depend on banks or interference by third countries", said Vladimir Putin last week. Bitcoin is international, independent settlements system that eliminates the need for trusted third parties.
Cris Sholto Heaton
Cris Sholto Heaton is an investment analyst and writer who has been contributing to MoneyWeek since 2006 and was managing editor of the magazine between 2016 and 2018.
Energy is going to be a critical theme over the next few years.
There are many interesting opportunities in this sector, but I'll highlight one that may not be familiar. Woodside Energy (LSE: WDS) merged with BHP's oil and gas interests when the latter restructured last year, and added a secondary London listing to its main listing in Sydney.
Woodside is really a play on liquefied natural gas (LNG), which is an increasingly important source of supply, especially in Asia. Slightly under 50% of its portfolio is in LNG and about a quarter in piped gas. Annual production is forecast to rise by more than 20% by 2027 after its Scarborough LNG project off the coast of Western Australia starts up in 2026.
At Monday's price of 1,960p, the stock trades on 6.5 times estimated 2022 earnings and a forecast dividend yield of around 10%. Investors are getting paid well to wait for growth.
Frédéric Guirinec
Frederic is an investment analyst. He started his career at JP Morgan in Paris. He has more than ten years of experience investing in private equity and also worked with the 3i debt management team investing in private debt.
I will focus on food here. While agricultural commodities prices have now fallen back from the highs printed in 2022, they allowed food-processing companies to increase prices and margins.
Companies such as General Mills, Nestlé or Mondelez are fully valued, but I would consider Premier Food (LSE: PFD) or Norwegian conglomerate Orkla (Oslo: ORK), which could be broken up.
In addition, palm-oil producers are out of institutional investors' reach for sustainability reasons, but companies in the food sector are looking to reduce costs and will keep using cheap ingredients. This will favour the likes of MP Evans (LSE: MPE) or Sipef (Brussels: SIP).
David C. Stevenson
David Stevenson has been writing the Financial Times Adventurous Investor column for nearly 15 years and is also a regular columnist for Citywire. David is executive director on a number of stockmarket listed funds including Gresham House Energy Storage and the Aurora Investment Trust.
Compass Pathways (Nasdaq: CMPS) is a US-listed, UK-based life-sciences stock with a difference. It is the leader in clinical research into psilocybin (or magic mushrooms to the rest of us) for psychiatric disorders.
Psychedelics cause almost no dependency and are proving highly reliable in early stage trials. There are some difficulties, notably the setting in which the drugs need to be taken (preferably with a trained counsellor) and the current trials will hopefully rectify these.
It also has enough cash on the balance sheet to get it through the crucial next two years, which in my view will prove decisive for this promising area of research.
If the trials succeed, big pharma will come knocking. I own shares and have been adding to my holdings over the last few months.
Mike Tubbs
For decades, Dr Mike Tubbs worked on the 'inside' of corporate giants such as Xerox, Battelle and Lucas. Working in the research and development departments, he learnt what became the key to his investing. Knowledge which gave him a unique perspective on the stock markets.
This year I am playing it safe after noting that company insolvencies in England and Wales were up by 38% year on year to 1,948 for October 2022. They could increase if the country falls into a recession.
I am therefore recommending Begbies Traynor (LSE: BEG), which handles the UK's largest number of corporate insolvencies, together with personal insolvencies, corporate finance, company valuations, sales of company assets and property consultancy.
The forward dividend yield is a healthy 2.6%.
Chairman Ric Traynor's first-half statement said that he expects continued growth and is confident about delivering on full-year market expectations.
James McKeigue
James is currently the managing editor of LatAm INVESTOR, the UK's only Latin American finance magazine.
Feel like you had a tough year? Spare a thought for shareholders in Brazil's national oil company, Petrobras (NYSE: PBR).
The firm is on target to post record profits and pay its highest-ever dividend in 2022, yet its share price is down 19% since the start of the year. The last few months have been particularly brutal, with the stock falling by 43% since 21 October.
That has left the profitable, well-managed oil producer looking ridiculously cheap.
It trades on a p/e of 1.7, compared with peers such as Shell that trade on a p/e of 4.8. Petrobras is also generous with its cash, currently offering a 2022 gross dividend yield of 27%, according to Bloomberg, although this is likely to change depending on profits.
Andrew Van Sickle
Andrew is the editor of MoneyWeek magazine.
The price of silver, having drifted downwards for most of the year, has suddenly come alive, jumping by 25% since early November to $23 an ounce. There should be plenty more gains ahead.
Solar panels, electric vehicles and 5G mobile technology are three key growth areas requiring silver.
Batteries for electric vehicles need up to twice as much silver as their counterparts designed for internal combustion engines, while one estimate foresees an 85% increase in annual silver consumption by the solar industry in a decade.
You can track the spot price with the WisdomTree Physical Silver ETF (LSE: PHSP). Just remember that it can be gold on steroids to the downside too.
Rupert is the Deputy Digital Editor of MoneyWeek. He has been an active investor since leaving school and has always been fascinated by the world of business and investing.
His style has been heavily influenced by US investors Warren Buffett and Philip Carret. He is always looking for high-quality growth opportunities trading at a reasonable price, preferring cash generative businesses with strong balance sheets over blue-sky growth stocks.
Rupert was a freelance financial journalist for 10 years before moving to MoneyWeek, writing for several UK and international publications aimed at a range of readers, from the first timer to experienced high net wealth individuals and fund managers. During this time he had developed a deep understanding of the financial markets and the factors that influence them.
He has written for the Motley Fool, Gurufocus and ValueWalk among others. Rupert has also founded and managed several businesses, including New York-based hedge fund newsletter, Hidden Value Stocks, written over 20 ebooks and appeared as an expert commentator on the BBC World Service.
He has achieved the CFA UK Certificate in Investment Management, Chartered Institute for Securities & Investment Investment Advice Diploma and Chartered Institute for Securities & Investment Private Client Investment Advice & Management (PCIAM) qualification.