HMRC launches one week warning for tax credit renewals
Tax credit customers have until 31 July to submit renewals amid a scam warning from HMRC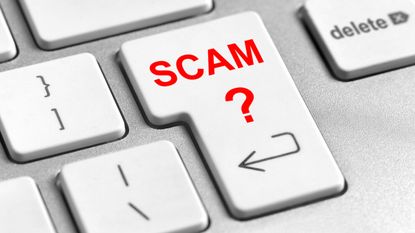 (Image credit: © Getty Images)
HM Revenue and Customs (HMRC) has warned thousands of tax credit customers they have only days to renew their annual claims or risk having the payment stopped.
Renewal packs should have been received in the post by June 15 containing all the details to renew.
Customers who received a renewal pack with a red line across the first page and the words 'reply now' must respond to HMRC by 31 July or risk having their payments stopped.
Subscribe to MoneyWeek
Subscribe to MoneyWeek today and get your first six magazine issues absolutely FREE
Get 6 issues free
Sign up to Money Morning
Don't miss the latest investment and personal finances news, market analysis, plus money-saving tips with our free twice-daily newsletter
Don't miss the latest investment and personal finances news, market analysis, plus money-saving tips with our free twice-daily newsletter
These include details on relationship changes, including marriage or separation, changes to the cost of childcare or if working hours fall below 30 hours a week.
More than 171,350 customers must return their details by the end of the month.
Customers whose packs had a black line across the first page and the words 'check now' only need to update HMRC if their details have changed.
'Reply now' customers must respond to the request for information even if there have been no changes to their circumstances.
The quickest and easiest way to renew tax credits is online at GOV.UK or via the HMRC app.
Myrtle Lloyd, HMRC's director general for customer services, said: "We know tax credits offer vital financial support for our customers so it is important that you renew by the deadline on 31 July. It is quick and easy to renew online at GOV.UK or using the HMRC app, just search 'manage my tax credits' on GOV.UK."
HMRC issues tax credit scam warning
HMRC has warned of the latest tactics being employed by criminals as the deadline for tax credits renewals looms.
Around 1.5m tax credits customers are at risk of being targeted, with HMRC sending annual renewal packs to households across the country.
Typical scams include emails or texts falsely claiming someone's details are not up to date and that the recipient may miss out on payments.
Scam messages may also claim that a payment has not "gone through", that someone's national insurance number has been used in fraud or that someone is entitled to bogus tax rebates, grants or support.
Fraudsters may even phone people and threaten them with arrest if they do not immediately pay fake tax debts.
HMRC is also urging people to be alert to misleading websites or adverts asking them to pay for government services which are free, often by charging for a connection to HMRC helplines.
People can renew their tax credits for free via gov.uk or the HMRC app.
HMRC's Lloyd added: "Never let yourselves be rushed. If someone contacts you saying they're from HMRC and asks you to give personal information or urgently transfer money, be on your guard. Search 'HMRC scams' advice on GOV.UK to find out how to report scams and help us fight these crimes."
Scam messages can be convincing, and individuals may be pressured into making rushed decisions. HMRC will never ring anyone out of the blue making threats or asking them to transfer money.
According to the National Cyber Security Centre, HMRC was the third most spoofed government body in 2022, behind the NHS and TV Licensing.
In the last year, to April 2023 HMRC has responded to 170,234 referrals of suspicious contact from the public. Of these, 68,437 offered bogus tax rebates. In the same time period the department has also responded to 58,186 reports of phone scams in total and reported 26,922 malicious web pages for takedown.
How can I report a scam?
If you're unsure about a text claiming to be from HMRC forward it to 60599, or an email to phishing@hmrc.gov.uk. Report a tax scam phone call on GOV.UK.
Contact your bank immediately if you've had money stolen, and report it to Action Fraud. In Scotland, contact the police on 101.
By reporting phishing emails, you help stop criminal activity and prevent other people from falling victim.

Join us at the MoneyWeek Summit on 29.09.2023 at etc.venues St Paul's, London.
Tickets are on sale at www.moneyweeksummit.com
MoneyWeek subscribers receive a 25% discount.
Explore More
Katie Binns is an award-winning journalist, and former Sunday Times writer where she spent 10 years covering news, culture, travel, personal finance and celebrity interviews. She has also written for the Times, Telegraph, i paper and Woman and Home magazine.
Her investigative work on financial abuse has examined the response of banks, the Financial Ombudsman and the child maintenance service to victims, and resulted in a number of debt and mortgage prisoners being set free.