HMRC crackdown on workers who earn extra income - what tax do you need to pay?
Anyone who makes money from selling items online or renting out a property on Airbnb could be hit with tax bills and fines unless they get their tax affairs in order, due to new rules being introduced in January 2024. We explain who needs to pay and why.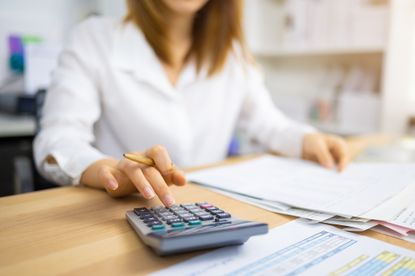 (Image credit: Twenty47studio)
Holiday homeowners, online marketplace sellers and people who rent out property on Airbnb have been warned to brace themselves for a tax crackdown.
HMRC has ordered digital platforms like eBay, Vinted and Airbnb to report information about the income of users from 1 January. It could see thousands of people who earn a bit of extra income being caught out by the taxman if they haven't declared it.
Almost a third (31%) of UK workers have found ways of earning extra cash to supplement their income during the cost of living crisis, according to a survey by the comparison site money.co.uk.
Subscribe to MoneyWeek
Subscribe to MoneyWeek today and get your first six magazine issues absolutely FREE
Get 6 issues free
Sign up to Money Morning
Don't miss the latest investment and personal finances news, market analysis, plus money-saving tips with our free twice-daily newsletter
Don't miss the latest investment and personal finances news, market analysis, plus money-saving tips with our free twice-daily newsletter
"While extra cash is always welcome, some people won't be used to the tax implications of working for themselves, and could easily land themselves in hot water with the taxman," warns Cameron Jaques, business loans expert at money.co.uk.
We explain who needs to pay tax on extra income like a "side hustle" or renting out a property, whether you need to do a tax return, and how the 1 January rules could impact you.
What do the new rules mean?
Digital platforms that allow people to make extra cash on top of their main income will have to start reporting how much money their users are making to HMRC from New Year's Day.
Until now, HMRC has been able to request this data on an ad-hoc basis, but from 2024 it will be shared automatically.
The rules affect websites and apps like Vinted, eBay, Depop, Etsy, Uber, Airbnb and JustPark. It means holiday rental hosts, delivery drivers, people who buy and sell clothes and other items using online marketplaces, and those who sell homemade crafts online, will be impacted.
The tax clampdown also affects digital platforms based overseas - including for holiday lets in Europe - so they will have to report to HMRC about their UK-resident sellers.
A copy of the details that the platform supplies to the taxman will be sent to the seller to help them comply with their tax obligations. HMRC hopes the rules will mean more people get their tax bill right and catch those who are deliberately avoiding paying.
Although, as Nick Winters, partner at the accountants Blick Rothenberg, points out, the digital platforms "will be reporting annually for calendar years [rather than tax years], so the first period of reporting will be the year ended 31 December 2024, which they need to report by 31 January 2025. This means that, as the reporting periods are different, the information will not directly correspond to those which taxpayers report on their tax returns."
While the reporting requirement is from 1 January 2024, there is nothing to stop HMRC asking individuals whether income from that source started before then - which could cause big tax bills, and potentially fines, for some people.
The legislation comes from "The Platform Operators (Due Diligence and Reporting Requirements) Regulations 2023", which were laid before the House of Commons on 19 July. They bring into force OECD rules that were adopted by the EU.
Given the increase in people having a side hustle and earning money online using platforms like Vinted or renting out a holiday home on Airbnb, the legislation gives HMRC "the tools to keep up with modern trading methods", according to Winters.
Do I have to pay tax?
It depends if you're considered a "trader", and if you are, how much money you make.
Being a trader usually means that you buy and sell online regularly to make a profit. For example, if you have a spring clean and sell some unwanted items without intending to make a profit, this is unlikely to be classified as trading. However, if you often buy and sell clothes online to make a profit, you could face a tax bill.
There is a handy tool to check if you need to tell HMRC about additional income on gov.uk.
In terms of paying tax, anyone who earns £1,000 or less from a side hustle in a tax year does not have to pay tax or declare this income, thanks to the trading allowance. So, if you earn £1,000 from property or trading income it will be tax-free – if you're a basic-rate taxpayer this will save you up to £200 a year, or £400 a year for a higher-rate taxpayer.
Whether you're renting out your driveway or even selling jam at the local market, and your earnings are within the £1,000 allowance, you won't usually need to fill out a tax return - but just make sure you keep any relevant paperwork proving your income in case HMRC asks for it later.
If you earn more than £1,000 from your side hustle in a tax year, you'll still benefit from the trading allowance, but you will need to fill out a tax return to report the extra income and pay any tax.
Note that if you're letting out furnished accommodation in your home, such as renting a room to a lodger, you can also earn up to £7,500 tax-free using the rent-a-room scheme.
However, if you make even £1 above your annual allowances, you need to tell HMRC.
Jaques said: "The bottom line is, whether it's selling on sites like Vinted or Depop, or doing a bit of dog walking, if you're earning more than £1,000 in a tax year from your side hustle, you must register as self-employed with HMRC, even if you are also in full-time employment.
"Understanding how to avoid any unwelcome tax bills is a key part of having more than one job, so if you are tempted to start a side hustle, do your research first."
How do I pay the tax?
If you think you need to file a tax return for income earned in the 2022-23 tax year, the deadline to register for self-assessment was 5 October. If you haven't done it yet, don't panic - just try to sign up as soon as you can.
You then have until 31 January, 2024 to submit your tax return online and pay any tax due for 2022-23, or 31 October, 2023 if you want to send in a paper return.
When you fill in your tax return, you need to include information about all sources of income, including your side hustle, your employment and anything else, such as buy-to-let or pension income.
You can pay the income tax in a variety of ways, including via online banking, by debit card online, at your bank or building society, or by posting a cheque. Just make sure the money arrives at HMRC by 31 January.
You can often change your tax code and pay extra tax through PAYE (in other words, deducted via the pay packets from your employer). However, Winters says: "The taxpayer cannot usually pay this tax through their PAYE. They would need to file a tax return and pay tax under the self-assessment regime."
What about tax I need to pay for previous years?
If you have been earning a small amount over your allowance for a number of years, you can usually file self-assessment returns for those years retrospectively and pay the tax due.
However, if you have larger sums to declare or have filed tax returns and did not mention your additional income, you will need to make a voluntary disclosure. You can use the online voluntary disclosure process to tell HMRC about the income.
Any penalties for outstanding tax will usually be lower if you proactively contact HMRC, rather than have the taxman chase you.
Fines can vary from 0-30% of the tax due for failing to pay it "because of a lack of reasonable care" to 100% in some cases where the failing is "deliberate and concealed".
Winters adds: "Penalties can be reduced if you tell HMRC about the error, help them to calculate the extra tax and give them access to check the figures
"There will also be an interest charge for later payment – as interest rates have risen, this is now potentially significant too."
Ruth is passionate about helping people feel more confident about their finances. She was previously editor of Times Money Mentor, and prior to that was deputy Money editor at The Sunday Times.
A multi-award winning journalist, Ruth started her career on a pensions magazine at the FT Group, and has also worked at Money Observer and Money Advice Service.
Outside of work, she is a mum to two young children, a magistrate and an NHS volunteer.