Brexit begins: what do the UK and the EU want from a trade deal?
With Brexit now done, the trade talks can begin. But who wants what from a UK/EU trade deal, and how likely are they to get it?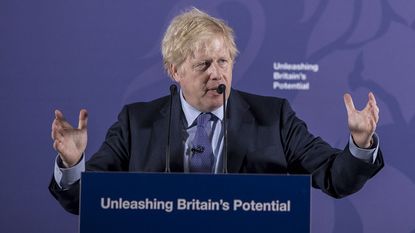 (Image credit: © 2020 Bloomberg Finance LP)
Now that we've left the EU, the talks can begin. The talks formally begin in March, and the transition period (during which nothing changes, even although the UK has left the EU) ends at the close of this year. But today, both sides set out their initial stall.
For the UK, prime minister Boris Johnson called for a Canada-style free trade deal, or else the UK will revert to the Withdrawal Agreement (which is basically World Trade Organisation rules). The choice, said the prime minister, "is emphatically not 'deal or no deal'. The question is whether we agree a trading relationship with the EU comparable to Canada's – or more like Australia's. In either case, I have no doubt that Britain will prosper mightily."
A Canada-style deal would imply most tariffs on goods being eliminated. The flow of services is more restricted, but the UK would aim to have a better deal on this front. A Canada-style deal would also imply less need to abide by EU regulation. An Australia-style deal – well Australia doesn't really have a deal with the EU yet, so it's arguably just another name for "no deal" or "WTO deal".
Subscribe to MoneyWeek
Subscribe to MoneyWeek today and get your first six magazine issues absolutely FREE
Get 6 issues free
Sign up to Money Morning
Don't miss the latest investment and personal finances news, market analysis, plus money-saving tips with our free twice-daily newsletter
Don't miss the latest investment and personal finances news, market analysis, plus money-saving tips with our free twice-daily newsletter
On the behalf of the EU, chief negotiator Michel Barnier said that there was a "highly ambitious trade deal" on the table, but that in effect, the more access Britain wants, the more it will have to abide by EU rules. Put very simply, as Helen Thomas of Blonde Money puts it, "the UK position is zero tariffs, but also zero alignment" whereas "the EU position is [that] zero tariffs requires full alignment."
In short, it's going to be a tricky negotiation, as you'd expect. Fisheries and financial services are among the first issues to be tackled, and while the former is much less important to the UK economy than the latter, it's quite possible that there will be a lot more headlines about fish than about funds.
A lot of pre-Brexit discussion has gone on around the question of who holds the most cards in these debates, with the EU normally being depicted as the most powerful player. That smacks of a simplistic "win/lose" mentality rather than the understanding that trade deals are meant to be "win/win" – where both parties get something out of it rather than trying to beat each other down.
But one interesting illustration that the traffic may not be all one way is that motoring group Nissan has – according to the FT, although the company denies it – come up with a contingency plan which puts the UK's Sunderland plant front and centre in its strategy. In the event of a Brexit deal that results in tariffs being imposed on car exports, the contingency plan apparently involves Nissan shutting its factories in France and Barcelona, in order to "double down" on its UK plant, which employs 6,000 staff and is the biggest such site in the UK.
The idea is that being made in the UK would give Nissan a massive advantage over its Europe- and US-based rivals (such as Ford and VW), enabling it to grow its market share from the current 4% to as much as 20%. According to the FT, the drop in demand for diesel cars has whacked demand for Nissan's vehicles in mainland Europe in any case. Meanwhile, Peugeot has indicated that it would boost its own presence in the UK in a "hard" Brexit scenario.
Clearly a lot of this falls under the category of "who knows how this could all pan out?" But the FT is not known for being an ardently pro-Brexit publication and if nothing else, it does show that things aren't as clear cut as some might have argued before the UK withdrew.
We'll keep you up to date as the talks evolve. Oh, and do subscribe to MoneyWeek magazine for more in-depth analysis – you can get your first 12 issues for £12 right now.
John is the executive editor of MoneyWeek and writes our daily investment email, Money Morning. John graduated from Strathclyde University with a degree in psychology in 1996 and has always been fascinated by the gap between the way the market works in theory and the way it works in practice, and by how our deep-rooted instincts work against our best interests as investors.
He started out in journalism by writing articles about the specific business challenges facing family firms. In 2003, he took a job on the finance desk of Teletext, where he spent two years covering the markets and breaking financial news. John joined MoneyWeek in 2005.
His work has been published in Families in Business, Shares magazine, Spear's Magazine, The Sunday Times, and The Spectator among others. He has also appeared as an expert commentator on BBC Radio 4's Today programme, BBC Radio Scotland, Newsnight, Daily Politics and Bloomberg. His first book, on contrarian investing, The Sceptical Investor, was released in March 2019. You can follow John on Twitter at @john_stepek.