What's to be done about the post-Covid dearth of baristas?
The economy is reopening, but who will staff the bars, cafes and nail salons?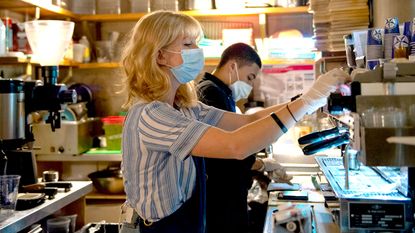 (Image credit: © Alexi Rosenfeld/Getty Images)
At the time of the referendum on leaving the EU, official estimates put the number of people from the rest of Europe living and working in the UK at roughly three million. As it turns out, that was wildly wrong. Last week, we learned that 5.3 million have applied for "settled status" in the UK, the scheme that allows anyone from the EU already in the country to stay permanently. There might, of course, have been many more. There will be plenty who have decided to go home, especially with so much of the economy locked down over the last year. Even so, there were at least two million more than were counted. The British economy, in other words, has been relying on hiring lots of cheap staff mainly from eastern Europe, Spain and Portugal. Now we've left the EU and ended free movement, the labour crunch is going to hurt.
You really can't get the staff
We are already starting to see the signs of that. It has been disguised to some degree by the Covid-19 epidemic, which has closed tens of thousands of businesses, especially in relatively low-paid sectors such as hospitality and retail. After all, a restaurant that has been forced to close doesn't worry too much about whether it has anyone to wait on tables. Nor does a shut nail salon worry about who's going to do the manicures. But as we start to open up again, it is going to become painfully clear that the staff are simply not available anymore, and certainly not at minimum wage.
Companies are already getting anxious about that. UKHospitality reported last week that its members were short of 188,000 staff as they started to reopen. The London based Caravan chain has been giving customers a £100 voucher if they can recommend a potential employee. The Hawksmoor chain is offering bonuses of up to £2,000 to staff who recommend friends for jobs. Both the pub chains Marston's and Mitchells & Butlers have said they are struggling to find workers. And that's when the economy is still partially locked down and many businesses are operating at half of normal capacity. When the economy is completely back to normal, it will become far more difficult to find people. In some cases, it will simply be impossible.
Subscribe to MoneyWeek
Subscribe to MoneyWeek today and get your first six magazine issues absolutely FREE
Get 6 issues free
Sign up to Money Morning
Don't miss the latest investment and personal finances news, market analysis, plus money-saving tips with our free twice-daily newsletter
Don't miss the latest investment and personal finances news, market analysis, plus money-saving tips with our free twice-daily newsletter
We will see the consequences of that played out right across the economy. First, wages will rise far faster than expected. They are already rising by 4% a year, well ahead of inflation even though that is ticking up as well. But with the market so tight, expect wages to start rising in the 6%-7% range. In some quarters, the figure might even hit 10%. After all, the only real way to attract staff is to pay more. If a company can't afford that, then that is tough: it probably needs to find ways of operating more efficiently.
Adjusting to a new normal
Whole industries will hardly be viable anymore. We have five times as many coffee shops as we did at the start of the century, but many of them relied on an endless supply of cheap labour. Add 20% to the wage bill and they will have to close. The same may be true for fruit farming, pubs, cleaning agencies, shops, and many others. We will see a wave of business closures. Profits at big companies will also come under pressure as they have to pay more to fill vacancies. Any labour-intensive businesses – most hospitality chains and every retailer, and the web delivery and logistics companies – will be far less profitable over the next few years. There will also be bottlenecks as staff become unavailable and get replaced by machines.
It may well have been the right decision to end the UK's excessive dependence on cheap, imported workers. It created an economy where companies relied on an endless supply of migrant staff: it was low-wage, low-productivity and didn't do much for growth per person even if it boosted total output. But it is only now that we are starting to find out just how reliant businesses had become on them. Getting over that at the same time as recovering from Covid-19 is going to come as a huge shock to the economy – and it is one we have not yet even started to adjust to.
Matthew Lynn is a columnist for Bloomberg, and writes weekly commentary syndicated in papers such as the Daily Telegraph, Die Welt, the Sydney Morning Herald, the South China Morning Post and the Miami Herald. He is also an associate editor of Spectator Business, and a regular contributor to The Spectator. Before that, he worked for the business section of the Sunday Times for ten years.
He has written books on finance and financial topics, including Bust: Greece, The Euro and The Sovereign Debt Crisis and The Long Depression: The Slump of 2008 to 2031. Matthew is also the author of the Death Force series of military thrillers and the founder of Lume Books, an independent publisher.