Brexit deal: what's changed between Britain and the the EU
After years of wrangling and political scraps, Britain is now outside the EU and has secured a free-trade agreement with the bloc. So what's changed?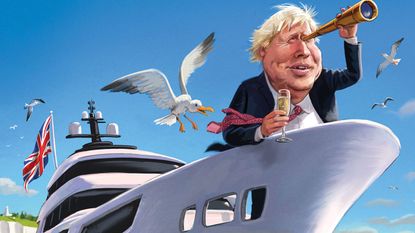 What's happened?
The UK-EU Trade and Co-operation Agreement, a 1,246-page treaty setting out the post-Brexit terms of trade, was passed by the House of Commons after just five hours' debate on 30 December. After all the wrangling, the EU has agreed its first ever tariff-free and quota-free trade deal with its ex-member, governing £650bn annually in bilateral trade. It's a broader agreement than Canada's, but one which – like Switzerland's – is also more open-ended, says The Economist. In a small but symbolically rich moment, Britain's first action under its new freedoms was to scrap VAT on women's sanitary products (the "tampon tax"), says The Daily Telegraph. Under EU rules, the minimum VAT level was 5%. Far from firing the starting gun on a "regulatory race to the bottom", the first tangible benefit of Brexit was aimed at helping low-income women.
What's in the deal?
Enough room for more wrangling to keep trade lawyers rich for decades. There are no tariffs or quotas on goods, but there's a delicate "rebalancing mechanism" – subject to arbitration – aimed at preserving the EU's "level playing field" with the UK. In short, the treaty leaves the UK free to set its own standards in areas such as environmental standards and labour law, but at the cost of having access to the European market restricted if it diverges too far. But that arbitration mechanism doesn't rely on the European Court of Justice – a crucial win for the UK. A similar balancing act has been agreed on state aid and on fishing rights, which are subject to a transition period ending in June 2026. The deal grants transit rights to road hauliers, but with far more restrictions than previously. And there are tough new checks on agri-food products, and some on pharmaceutical products.
So a win-win?
It's more of a suck-it-and-see. Boris Johnson mistakenly told MPs that the deal removes "non-tariff barriers" to trade. In fact, his government is attempting to recruit 50,000 new customs agents to enforce a wave of new bureaucracy and checks at ports – arrangements that HM Revenue & Customs estimates will cost British businesses £7bn a year. The government also published more than 300 pages of instructions to businesses on how to comply with the new regulations governing cross-Channel trade just hours before they came into force. It covers the likes of customs forms, rules of origin requirements, export health certificates for animal and plant products, and a host of other regulatory documentation. But Johnson is claiming victory. Last week he wrote of how naysayers had said that "you couldn't have unfettered free trade with the EU, without conforming to EU laws. You couldn't have your cake and eat it. Maybe it would be unduly provocative to say that this is a cake-ist treaty; but it is certainly from the patisserie department".
Subscribe to MoneyWeek
Subscribe to MoneyWeek today and get your first six magazine issues absolutely FREE
Get 6 issues free
Sign up to Money Morning
Don't miss the latest investment and personal finances news, market analysis, plus money-saving tips with our free twice-daily newsletter
Don't miss the latest investment and personal finances news, market analysis, plus money-saving tips with our free twice-daily newsletter
Is it?
Depends what is meant by "unfettered". Under the deal, the UK gets tariff-free and quota-free trade in goods only as long as it stays aligned with the EU's "level playing field" regulations and state-aid subsidies. "So the deal owes less to the cake department than to the hire-purchase department," says Tom Newton Dunn in The Sunday Times. "It is strictly conditional. It is only ours for as long as we keep paying the bill of alignment." The treaty also appears fundamentally skewed to the strengths of the EU, in that it prioritises the trade of goods (and fishing rights) and offers next to nothing to Britain's powerful services and financial sector, which constitutes a large chunk of the economy (see opposite page). "On financial services, data and much else the Brexit negotiations are by no means over," says The Economist.
Will it make us richer?
Currently, the Office for Budget Responsibility estimates that, under the new trade deal, the UK's economy will be 4% smaller than it would have been within the single market and customs union, because of non-tariff trade barriers. A long touted benefit of Brexit was also the ability to make extra-EU trade deals of our own. So far, the only deal we've signed that is not a rollover from the deals we had as EU members is the one signed in October with Japan. On UK government projections, that deal will add a modest 0.07% to GDP over 15 years. Over the longer term, the emerging freedoms of life outside the EU could well ultimately make us all richer and happier. But "we need a strategy to achieve it", says Newton Dunn – and a "detailed plan to deliver that strategy. At the moment, the prime minister has neither. Just admirable ambitions and eloquently penned optimism".
So what should the strategy be?
That's the question that will dominate politics post-Covid-19. A good place to start, says Mark Littlewood in The Daily Telegraph, would be a massive deregulation drive, starting with the so-called acquis, the 80,000 pages of European law that remains on our statute book. "Expunging all unhelpful regulations needs to be the primary focus of a single identifiable ministry," producing a stream of EU Regulatory Repeal Bills. A sunset clause scrapping everything by 2025 unless Parliament specifically votes to retain it would help speed things up. More broadly, policymakers and bureaucrats should replace the "precautionary principle" with the "innovation principle" when it comes to new regulations. Without abandoning safety concerns, the presumption in the UK must be of allowing innovation to flourish.
And at least Brexit is done with?
Not really. Brexit will remain a dominant political issue, placing strains on the unity of the UK and leading to future scraps on issues such as immigration, regulatory alignment, the status of service industries, fishing, access to databases, and defence cooperation. But Brexit, after all, is a process, not an event. It will continue.
Simon Wilson's first career was in book publishing, as an economics editor at Routledge, and as a publisher of non-fiction at Random House, specialising in popular business and management books. While there, he published Customers.com, a bestselling classic of the early days of e-commerce, and The Money or Your Life: Reuniting Work and Joy, an inspirational book that helped inspire its publisher towards a post-corporate, portfolio life.
Since 2001, he has been a writer for MoneyWeek, a financial copywriter, and a long-time contributing editor at The Week. Simon also works as an actor and corporate trainer; current and past clients include investment banks, the Bank of England, the UK government, several Magic Circle law firms and all of the Big Four accountancy firms. He has a degree in languages (German and Spanish) and social and political sciences from the University of Cambridge.