A "new deal" needn't be green
Britain is seeking measures to revive its Covid-ravaged economy. It should choose from a broader palette than just "green", says Matthew Lynn.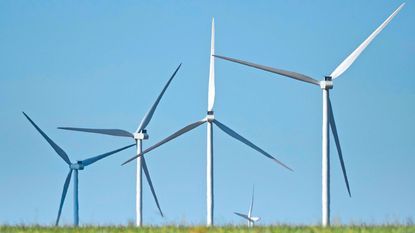 (Image credit: Wind turbines ©)
President Macron of France (pictured) is betting big on a €100bn reboot of the economy that will focus on green technologies. The EU's new €750bn coronavirus rescue fund will also focus on environmental projects. In Germany, Chancellor Angela Merkel has pledged €40bn for a green recovery fund. Joe Biden, if elected as president of the US, has said he will spend big on a "green new deal". Massive green stimulus packages are all the rage, and there will be those arguing that Britain should do something similar. That would be a mistake.
The perils of overinvestment
Not that there's anything wrong with green technologies. Climate change might or might not turn out to be quite the global emergency it is cracked up to be. But most green energies deliver cheaper power, cleaner air and less pollution, and it is hard to see anything not to like about that. Sustainable manufacturing and farming will be more durable, more local and, again, usually cheaper as well. It will be far better if we are all driving electric cars, living in solar heated homes, eating lab-grown meat, with vegetables from a vertical farm on the side, while getting deliveries from a battery-powered drone. If anyone can work out how to make an electric-powered plane, preferably drawing its power from the sun, then so much the better.
But one thing is surely clear. We are about to see massive over-investment in the sector. Every country around the world is using the Covid-19 recession as a reason for sinking vast sums of government money into one green project after another. Factories are going to be built to build batteries by the tens of millions. Wind and solar farms, barrages to capture tidal power and geothermal plants, are going to be built across Europe to create vast quantities of renewable energy. Research and development labs will be set up across the continent to create the technologies that will make fossil fuels about as relevant to the 21st century as horses were to the 20th. If it is green, and renewable, and reduces carbon emissions in one way or another, it is going to receive vast quantities of investment over the next five years.
Subscribe to MoneyWeek
Subscribe to MoneyWeek today and get your first six magazine issues absolutely FREE
Get 6 issues free
Sign up to Money Morning
Don't miss the latest investment and personal finances news, market analysis, plus money-saving tips with our free twice-daily newsletter
Don't miss the latest investment and personal finances news, market analysis, plus money-saving tips with our free twice-daily newsletter
The result? It will be the same as in every other industry when there is a massive wave of investment. There will be too much capacity. It happens all the time in the commodities market. It happened in the telecoms bubble of the 1990s. It has happened in steel, in cars, in shipping, and in countless other industries. Too much stuff is made, and prices inevitably crash. Fast forward five years, and they will be giving away solar panels to put on your roof for practically nothing. Electric car batteries, one of the main reasons why petrol-free vehicles remain relatively expensive compared with their traditional rivals, will be as cheap as chips. For the relatively minor cost of some undersea cables, the UK will be able to buy Macron's and Merkel's green electricity for practically nothing. The billions of green investment will be generating vast quantities of the stuff, and since you can't store it, you might as well sell it off to the British for whatever they are willing to pay (which since we will probably be the only buyer won't be much).
Focus on what we're good at
The right strategy for the UK is to forget about making any green investments of our own and launch our own economic stimulus before the end of the year, focusing instead on all the industries the rest of the world is ignoring right now. Such as? Consumer goods, where there is plenty of scope for technology-led innovation, the creative industries, fintech, and the law and education, where there could be a huge space for artificial intelligence to revolutionise the way services are delivered. We are pretty good at all of those, and can strengthen our lead while everyone else is ignoring them. In a few years' time, we will be able to buy all the green energy and technology we need at a fraction of their cost – and we won't have to lose tens of billions in the process.
Matthew Lynn is a columnist for Bloomberg, and writes weekly commentary syndicated in papers such as the Daily Telegraph, Die Welt, the Sydney Morning Herald, the South China Morning Post and the Miami Herald. He is also an associate editor of Spectator Business, and a regular contributor to The Spectator. Before that, he worked for the business section of the Sunday Times for ten years.
He has written books on finance and financial topics, including Bust: Greece, The Euro and The Sovereign Debt Crisis and The Long Depression: The Slump of 2008 to 2031. Matthew is also the author of the Death Force series of military thrillers and the founder of Lume Books, an independent publisher.