Zhao Weiguo: China's No. 1 chip tycoon vanishes
Zhao Weiguo rode a decades-long boom in China pursuing Beijing's core industrial policy of semiconductor self-sufficiency. Then he fell foul of Xi Jinping.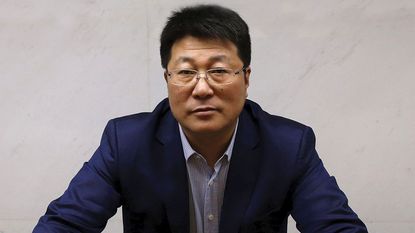 (Image credit: © REUTERS / Alamy)
One of China's most prominent technology tycoons, Zhao Weiguo, has mysteriously vanished, having apparently fallen foul of Xi Jinping's government, according to Chinese business site Caixin.
Zhao, 54, led the now cash-strapped chipmaking giant Tsinghua Unigroup for a decade, says the Financial Times. But he has been "out of contact" since mid-July after "being taken from his home by authorities". According to local media, he is "under investigation by officials in Beijing".
Zhao's downfall marks the latest "in a series of epic corporate collapses" featuring aggressive Chinese dealmakers, who rode a decade-long, debt-fuelled international acquisition spree, and have now been jailed or detained – usually on corruption charges. The difference with Zhao was that, rather than chasing prestige investments such as property, his aims were in line with one of Beijing's core industrial policy ambitions – semiconductor self-sufficiency.
Subscribe to MoneyWeek
Subscribe to MoneyWeek today and get your first six magazine issues absolutely FREE
Get 6 issues free
Sign up to Money Morning
Don't miss the latest investment and personal finances news, market analysis, plus money-saving tips with our free twice-daily newsletter
Don't miss the latest investment and personal finances news, market analysis, plus money-saving tips with our free twice-daily newsletter
A drive to the cutting edge
The quest to free China from its dependence on foreign-made chips made Zhao one of the most powerful of the country's new barons. "No one epitomises Beijing's vision better," remarked Forbes in 2015. "The goal," he said, was to use "foreign know-how as a shortcut to building an advanced chip sector for China". And he proved a master at delivering.
In just two years, Zhao's state-backed company shot from an obscure role peddling scanners and herbal medicine to become the "champion of Beijing's chip ambitions". Zhao drove Unigroup "to the leading edge of China's semiconductor industry", says Nikkei Asia, starting off in style with the $1.7bn acquisition of Nasdaq-listed Spreadtrum. Several of the country's most promising chipmakers evolved from "Tsinghua's stable", says the FT – notably Yangtze Memory Technologies, which has more than tripled its production to nearly 5% of the global market since its launch in 2016.
Zhao always dismissed assumptions that he acted on behalf of the Chinese government, describing Tsinghua Unigroup as "a market-oriented company" – a claim endorsed by big-name investors such as Intel, which bought a 20% stake in 2014. Nonetheless, Beijing poured huge funds into the group, which was also well-connected politically. Zhao was particularly close to the former Chinese president Hu Jintao and his son Hu Haifeng, who helped run Tsinghua Holdings.
The last hoorah
When Xi took power in 2013, the cash spigot continued until about 2017, when Unigroup secured $22bn from state investors to fund acquisitions. It was a last hoorah.
As the company's debt mountain grew, so did its political alienation. Zhao's standing in Beijing was "clouded by tensions" between Hu and Xi, says the Financial Times. Meanwhile, the Americans had wised up to the threat posed, prompting the failure of multi-billion tilts on tech groups Micron and Western Digital. Tsinghua's finances began unravelling. In 2020, when it shocked investors by defaulting on a domestic bond, total liabilities were estimated at more than $31bn.
Zhao's descent, following the forced "restructuring" of his group, was swift, says The Japan Times. But he certainly found his voice – slamming a low-ball $9bn rescue offer by a state-backed fund as "an attempt to commit a crime". Zhao's outcry "ignited a public spat" that state censors allowed to flourish. "There's no reason why I can't win this case," he insisted. But in February, he was effectively ousted from the group, says Nikkei Asia. Now he has disappeared from view completely. Whatever his fate, Zhao Weiguo didn't intend to go quietly.
Jane writes profiles for MoneyWeek and is city editor of The Week. A former British Society of Magazine Editors editor of the year, she cut her teeth in journalism editing The Daily Telegraph's Letters page and writing gossip for the London Evening Standard – while contributing to a kaleidoscopic range of business magazines including Personnel Today, Edge, Microscope, Computing, PC Business World, and Business & Finance.
She has edited corporate publications for accountants BDO, business psychologists YSC Consulting, and the law firm Stephenson Harwood – also enjoying a stint as a researcher for the due diligence department of a global risk advisory firm.
Her sole book to date, Stay or Go? (2016), rehearsed the arguments on both sides of the EU referendum.
She lives in north London, has a degree in modern history from Trinity College, Oxford, and is currently learning to play the drums.