Chase Coleman: star hedgie hits the panic button
Chase Coleman got off to a sizzling start in the hedge-fund industry and became one of the biggest winners of the tech bull market. His fall from grace has been brutal.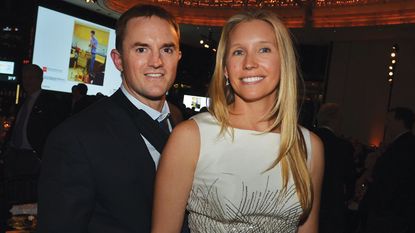 (Image credit: © Amanda L. Gordon/Bloomberg via Getty Images)
The New York hedge-fund star Chase Coleman once observed that "the person who does best is the one with the panic button furthest from his keyboard". The line was typical of his suave persona as one of Wall Street's most quietly effective operators. But even Coleman must have felt his arm stretching ever closer to the button of late. "If you owned growth stocks this year… you got your face ripped off," says a fellow tech-focused fund manager. Coleman's disfigurement was worse than most. His Tiger Global fund "has become the highest-profile casualty of the tech stock hammering", says the Financial Times. It has lost around $20bn since the end of last year.
No excuses
The most prominent of the "Tiger Cubs" – an "elite club" of financiers who cut their teeth at Julian Robertson's Tiger Management in the 1990s – Coleman, 46, was one of the biggest winners of the tech bull market: his flagship fund delivered compound annual returns of 21% over 20 years. Now some "two-thirds of the dollar gains made for investors since its 2001 launch" have been erased. In an attempt to limit further losses, the fund "slashed or dumped" holdings in stocks including Netflix and Airbnb last week. True to his habit of rarely giving interviews, Coleman kept his remarks about the mauling brief. "Markets have not been co-operative given the macroeconomic backdrop," he wrote to investors. "But we do not believe in excuses and so will not offer any."
Coleman was born in 1975 and raised in affluent Glen Head on Long Island. His father was a partner at an historic New York law firm, Pillsbury Winthrop Shaw Pittman, and his mother was an interior designer. But his "vaulted pedigree" goes back much further, observed a write-up in Hampton Style in 2012, when the "genial" young hedge-funder had already become "an industry phenom" and "a fixture on the young preppy scene of Southampton and the clubby circuit of New York". Coleman is descended from Peter Stuyvesant – the last Dutch governor of "New Netherlands" who constructed the wall that gave Wall Street its name. He may not have kept the British out in 1664, "but he did successfully negotiate very civilised terms of surrender".
Subscribe to MoneyWeek
Subscribe to MoneyWeek today and get your first six magazine issues absolutely FREE
Get 6 issues free
Sign up to Money Morning
Don't miss the latest investment and personal finances news, market analysis, plus money-saving tips with our free twice-daily newsletter
Don't miss the latest investment and personal finances news, market analysis, plus money-saving tips with our free twice-daily newsletter
Coleman attended Deerfield Academy in Massachusetts, graduating in 1997 with a degree in Spanish and economics. From there, it was a quick skip into one of the most exciting firms on Wall Street, says Bloomberg. Coleman's mentor and new employer, hedge fund manager Julian Robertson, recognised his "raw talent", and he didn't disappoint.
Climbing Everest
His big break came in 2001, when Robertson unwound his own fund and set him up with $25m to launch a tech fund. In the midst of the dotcom bust, it was a leap of faith. But Robertson's trust in 25-year-old Coleman overrode his inherent distrust of tech, and Coleman returned the favour by adopting much of Robertson's investment philosophy, and sundry other "Julianisms" in his strategy.
In a nutshell, says Institutional Investor, that means "buy the best companies… levered to the most important secular growth trends" and "short the worst". The fund got off to "a sizzling start" during the turmoil by shorting losers, and accumulating a series of shrewd long bets. It was early into China, buying stakes in the "Yahoos of China", Sina, Sohu and NetEase, and, in 2004, began a private-equity business to tap nascent US web 2.0 start-ups. There were mistakes – Coleman admits to selling some investments, including Facebook and Amazon, too early – but funds under management told their own story: shooting from $5bn in 2012 to $50bn in 2021.
Last year Tiger Global celebrated its 20th birthday and Coleman took "a well-deserved victory lap". Now, says the FT, he faces "an Everest of a task" rebuilding. As Amin Rajan, of tech consultancy Create concludes: "A fall of this magnitude is rare" – even in the hedge-fund industry.
Jane writes profiles for MoneyWeek and is city editor of The Week. A former British Society of Magazine Editors editor of the year, she cut her teeth in journalism editing The Daily Telegraph's Letters page and writing gossip for the London Evening Standard – while contributing to a kaleidoscopic range of business magazines including Personnel Today, Edge, Microscope, Computing, PC Business World, and Business & Finance.
She has edited corporate publications for accountants BDO, business psychologists YSC Consulting, and the law firm Stephenson Harwood – also enjoying a stint as a researcher for the due diligence department of a global risk advisory firm.
Her sole book to date, Stay or Go? (2016), rehearsed the arguments on both sides of the EU referendum.
She lives in north London, has a degree in modern history from Trinity College, Oxford, and is currently learning to play the drums.