Can "super geek" Jeff Bezos save the planet?
Amazon boss Jeff Bezos, seen by some as the "evil face of capitalism", is becoming a power beyond the reach of his multi-tentacled company. His next aim is to halt climate change.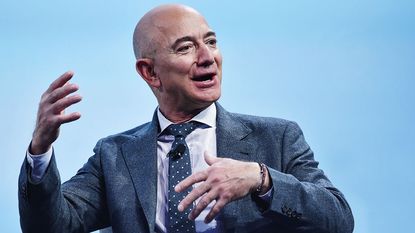 (Image credit: AFP via Getty Images)
A year ago, Jeff Bezos said he wanted "to help build giant space colonies where up to a trillion humans could live". For now, his ambitions are more down to earth, says The Times. The world's richest man has put up $10bn of his personal wealth (about 7.7% of his $130bn fortune) to fight climate change and says he's confident we can "save the Earth".
Given the mix of fear, awe and shock that Bezos's creation, Amazon, has induced across the business world since its launch in 1994, if any individual can achieve that feat one suspects it might be him. Recognised by Fortune four years ago as becoming "a power beyond" his "hydra-headed" company, his life appears to have been in overdrive ever since. Amazon's all-consuming growth has seen its market value shoot from $260bn in 2016 to more than $1trn today, as the former book and music seller extends its tentacles into new markets ranging from entertainment and cloud services to high-fashion. Bezos, meanwhile, has chalked up the most expensive divorce in history (his ex-wife MacKenzie received shares worth $38.3bn) and fended off allegations of being "the evil face of capitalism" – all the while dicing with some of the most mercurial political leaders on the planet.
The long-running feud between America's richest person and its president – played out hitherto on Donald Trump's Twitter account and in the pages of the Bezos-owned Washington Post – hit the courts at the end of last year when Amazon sued the US government over the Pentagon's decision to award a $10bn military cloud-computing contract to Microsoft instead of Amazon. The company alleges that, motivated by his personal grudge against Bezos, Trump "interfered" with the process, says the Financial Times.
Subscribe to MoneyWeek
Subscribe to MoneyWeek today and get your first six magazine issues absolutely FREE
Get 6 issues free
Sign up to Money Morning
Don't miss the latest investment and personal finances news, market analysis, plus money-saving tips with our free twice-daily newsletter
Don't miss the latest investment and personal finances news, market analysis, plus money-saving tips with our free twice-daily newsletter
Things took a still more sinister turn when it emerged that Bezos's smartphone "was probably hacked" by the crown prince of Saudi Arabia, Mohammed bin Salman, who taunted Bezos about an extra-marital affair before it became public – in a message arriving shortly after the murder of Saudi dissident and Washington Post columnist, Jamal Khashoggi. The threat, says The Times, was clear.
Many leaps of faith
Bezos attributes a good deal of his "boundless optimism" to his upbringing. He was born in 1964 in Albuquerque, New Mexico – the son of a single teen mother who put herself through night-school, says CNBC. Young Jeff loved sci-fi and working at his grandfather's Texas ranch – and ended up at Princeton reading computer science before heading to Wall Street in 1986. "The wake-up call", he later said, was finding a startling statistic that web usage in the spring of 1994 was growing at 2,300% per year. After making a list of the top 20 products he might sell, he decided upon books because they were cheap and in universal demand.
When the Amazon founder first came to public attention, he was considered a "super geek", noted Fast Company in 2004. Having survived both the dotcom bust and predictions from old-school booksellers that his company was destined to become "Amazon.toast", Bezos, by then, had already trumped many naysayers. Many saw him as "the ultimate quant jock" – and it is true that he "talks in numbered lists… He likes to enumerate the criteria, in order of importance, for every decision he has made." But what has always distinguished Bezos is his "leaps of faith". Clearly, he's still jumping.
Jane writes profiles for MoneyWeek and is city editor of The Week. A former British Society of Magazine Editors editor of the year, she cut her teeth in journalism editing The Daily Telegraph's Letters page and writing gossip for the London Evening Standard – while contributing to a kaleidoscopic range of business magazines including Personnel Today, Edge, Microscope, Computing, PC Business World, and Business & Finance.
She has edited corporate publications for accountants BDO, business psychologists YSC Consulting, and the law firm Stephenson Harwood – also enjoying a stint as a researcher for the due diligence department of a global risk advisory firm.
Her sole book to date, Stay or Go? (2016), rehearsed the arguments on both sides of the EU referendum.
She lives in north London, has a degree in modern history from Trinity College, Oxford, and is currently learning to play the drums.