Rishi Sunak: the maharaja of the Yorkshire Dales
Rishi Sunak is taking the reins of the world's fifth-largest economy at a crucial juncture. The unflashy but likeable youngster may be just the man for the job.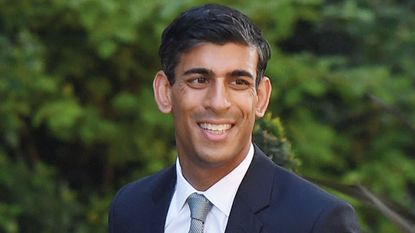 (Image credit: 2019 Getty Images)
The appointment of Britain's new chancellor made the headlines in India last week, says The Times. With good reason. Before his meteoric rise, Rishi Sunak was arguably better known in the sub-continent than in Britain. His father-in-law, Narayana Murthy – co-founder of the IT consultancy Infosys – is a household name there, known together with his wife as the "Bill and Melinda Gates of India". When Rishi married their daughter, Akshata, in a two-day wedding in Bangalore in 2009, it was attended by "computer tycoons and cricketing royalty".
Nicknamed "the maharajah of the Yorkshire Dales", in tribute to his Richmond constituency, Sunak, 39, is the first UK chancellor "to have married into a billionaire family". Appointed in dramatic fashion when his former boss Sajid Javid unexpectedly quit, his elevation is "a big gamble", says the Financial Times. Five years ago, Sunak wasn't even an MP, "he has never run a spending department" and has only weeks to pull together his first Budget, scheduled for 11 March. The second-youngest chancellor in history is taking over the world's fifth-largest economy at a critical juncture.
A front-row seat for the financial crisis
The eldest of three siblings, Sunak was born in Southampton into a family originally hailing from Punjab in India, who migrated first to east Africa and then to Britain in the 1960s. His father was a GP, his mother a pharmacist – young Rishi cut his financial teeth helping keep the books for the independent chemist she ran. He later said his parents "sacrificed a good deal" to finance his education at the intellectually rigorous Winchester College. He gained a first in philosophy, politics and economics, before heading to Stanford for an MBA, where he met his wife-to-be.
Subscribe to MoneyWeek
Subscribe to MoneyWeek today and get your first six magazine issues absolutely FREE
Get 6 issues free
Sign up to Money Morning
Don't miss the latest investment and personal finances news, market analysis, plus money-saving tips with our free twice-daily newsletter
Don't miss the latest investment and personal finances news, market analysis, plus money-saving tips with our free twice-daily newsletter
Although Sunak has the classic "politician's degree", he struck out for a career in the City first, says The Daily Telegraph – beginning his working life as an analyst at Goldman Sachs, before moving in 2006 to the Children's Investment Fund (TCI), the hedge fund run by Sir Chris Hohn. "The new chancellor had a front row seat for the financial crisis," says The Times: TCI was active in campaigning for the sale of Dutch bank ABN Amro, which ultimately sank Royal Bank of Scotland. "TCI's partners made a fortune as the state was left to pick up the pieces."
Despite his wealth, friends describe Sunak as "modest and humble". He has a £7m London house and a large country house in Yorkshire, but "he's certainly not flashy and never talks about money", according to one acquaintance. Indeed, Sunak is routinely described as "a nice guy". He's "well-respected across the party, which is quite an achievement", the former home secretary, Amber Rudd, told the FT. He has also built up a steady reputation within the Treasury, since joining the department last summer.
The apprentice takes control
"Rishi is very smart," says one former colleague. Another describes him as "steely". It's widely thought he may not be the pushover some suggest. He certainly has some leverage if he wants to avoid being Boris Johnson's stooge. As former chancellor Ken Clarke used to say, no PM can afford to sack two chancellors. Sunak may have hinted at his ambition to grab control of No 11 in December, when he attended a Star Wars premier with Sajid Javid, says The Times. "Great night out with the boss – Jedi Master @sajidjavid #TheRiseOfSkywalker," he tweeted. A theme in the films is an apprentice emerging from the shadow of a master.
Jane writes profiles for MoneyWeek and is city editor of The Week. A former British Society of Magazine Editors editor of the year, she cut her teeth in journalism editing The Daily Telegraph's Letters page and writing gossip for the London Evening Standard – while contributing to a kaleidoscopic range of business magazines including Personnel Today, Edge, Microscope, Computing, PC Business World, and Business & Finance.
She has edited corporate publications for accountants BDO, business psychologists YSC Consulting, and the law firm Stephenson Harwood – also enjoying a stint as a researcher for the due diligence department of a global risk advisory firm.
Her sole book to date, Stay or Go? (2016), rehearsed the arguments on both sides of the EU referendum.
She lives in north London, has a degree in modern history from Trinity College, Oxford, and is currently learning to play the drums.