Les Wexner: the Merlin of the Mall loses his magic
Les Wexner built a retail empire from scratch and made a fortune in the process. He ended up placing his trust and many powers in the hands of disgraced tycoon Jeffrey Epstein. What went wrong?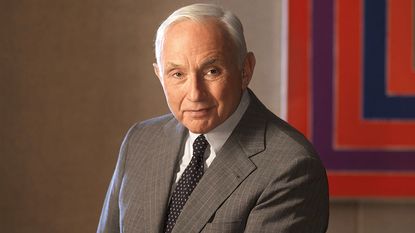 When Jeffrey Epstein pitched up in Les Wexner's life in the 1980s, some of those close to him were mystified as to why "a renowned businessman in the prime of his career would place such trust in an outsider", says The New York Times. Wexner had shrewdly built a retail empire worth billions from scratch and was hailed as "one of the country's most influential corporate titans". Epstein, by contrast, had "a thin resumé and scant financial experience". And yet within a few years he had "developed an unusually strong hold" over Wexner – assuming "sweeping powers over his finances, philanthropy and private life" while driving a wedge between the Victoria's Secret tycoon and longtime friends and associates.
A grandmaster makes his move
Wexner, now 82, praised Epstein as "a most loyal friend" with "excellent judgement and unusually high standards". He has come to change his tune. When his former confidant was charged last year with sex-trafficking girls as young as 14, Wexner immediately "came under intense pressure" – despite emphasising that he had no knowledge of the alleged activities and had terminated his professional relationship with Epstein in 2008. News of the relationship, however, "spurred chaos" within his already struggling L Brands empire, culminating in rumours that Wexner is now "in discussions" to step down as chief executive and that parts of his conglomerate might be flogged off.
It's hardly the swan-song Wexner must have dreamed of. After all, as recently as 2015 he was being extolled by Fortune as the "longest-serving Fortune 500 CEO" whose 50-year plus tenure at L Brands had been "a lesson in superlatives". If you'd invested $1,000 in the company when it went public in 1969, it would be worth $62.4m today, the magazine observed. Wexner, then personally worth $7.3bn, had achieved the feat "by surveying the retail industry as a grandmaster would a chessboard, timing the acquisition and sale of brands with impeccable precision". What a remarkable feat for an Ohio "bra salesman".
Subscribe to MoneyWeek
Subscribe to MoneyWeek today and get your first six magazine issues absolutely FREE
Get 6 issues free
Sign up to Money Morning
Don't miss the latest investment and personal finances news, market analysis, plus money-saving tips with our free twice-daily newsletter
Don't miss the latest investment and personal finances news, market analysis, plus money-saving tips with our free twice-daily newsletter
Wexner grew up in the rag trade, setting up on his own in 1963. By 1974, he'd built a national chain with 48 stores. But the most important acquisition of his career took place in 1982 when he bought an obscure chain of six lingerie shops named Victoria's Secret. "He built it into a global behemoth that for decades would define many Americans' perceptions of female sexiness" – helping to reshape the US shopping mall in the process, notes The New York Times. By the end of the decade, Wexner was known as the "Merlin of the Mall".
In Epstein's hands
Wexner's "lascivious empire", as the FT calls it, offered a potential treasure trove of young female contacts for his former personal adviser. Yet by the time Jeffrey Epstein was done with Wexner, he'd acquired a good deal more besides, says The New York Times. After grabbing full "power of attorney" in 1991, property that ended up in Epstein's hands included parts of an upscale real-estate development in New Albany, Little Saint James Island in the Virgin Islands and a huge New York City mansion. A business controlled by Epstein later obtained the (eventually notorious) Boeing 727 originally owned by The Limited. Under Epstein's influence, the Wexner Foundation even ended up suing Wexner's mother, Bella. "If my client needs protecting – sometimes even from his own family – then it's often better that people hate me, not the client," Epstein told Vanity Fair in 2003. Prophetic words.
Jane writes profiles for MoneyWeek and is city editor of The Week. A former British Society of Magazine Editors editor of the year, she cut her teeth in journalism editing The Daily Telegraph's Letters page and writing gossip for the London Evening Standard – while contributing to a kaleidoscopic range of business magazines including Personnel Today, Edge, Microscope, Computing, PC Business World, and Business & Finance.
She has edited corporate publications for accountants BDO, business psychologists YSC Consulting, and the law firm Stephenson Harwood – also enjoying a stint as a researcher for the due diligence department of a global risk advisory firm.
Her sole book to date, Stay or Go? (2016), rehearsed the arguments on both sides of the EU referendum.
She lives in north London, has a degree in modern history from Trinity College, Oxford, and is currently learning to play the drums.