How the vaccine wars will harm us all
Grabbing and hoarding vaccine supplies, or even manufacturing one's own, might seem to make sense for a state in an emergency. But the damage done to trust and prosperity will be huge.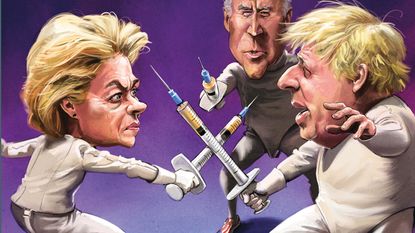 (Image credit: MoneyWeek vaccine wars illustration)
What's happened?
The threat of an all-out vaccine war between Britain and the EU appeared to recede this week, with both Boris Johnson and German leader Angela Merkel trying to calm tensions and remember "international interdependencies". But the spectre of "vaccine nationalism" is still haunting Europe, following Ursula von der Leyen's threat last week of emergency EU controls on vaccine production and distribution to meet the "crisis of the century". The European Commission president suggested halting exports to countries that did not reciprocate in allowing jabs to flow to the EU, and even activating Article 122 of the EU's treaty, which authorises emergency measures (in times of war or civil emergency) to control the distribution of essential goods. The British foreign secretary, Dominic Raab, hit back, condemning the "brinkmanship". But the story is far from over, and this week the EU said "all options remain on the table".
Is this just about Europe?
No, it's a global issue. In America, vaccine makers must honour their US official contracts first before exporting. Until last week there was an absolute US ban on all Covid-19 vaccine exports, and on the equipment and ingredients needed to produce the jabs. "Only grudgingly has it agreed to start exporting batches to Canada, which had pre-ordered more jabs per head than anywhere in the world but has struggled to get delivery," says Jeremy Warner in The Daily Telegraph. India is also cutting back on its contracted exports to the UK in the face of a resurgence in Covid-19 cases there. The pandemic is a "shared global catastrophe", says Warner – and the vaccines that offer solutions are "the product of deeply integrated and extensive global supply chains". How ironic, then – and yet how dispiritingly predictable – that the challenge is "driving nations further apart in an every-man-for-himself scramble".
How international are the supply chains?
Britain relies on Covid-19 vaccine exports from the EU; ten million doses between 30 January and 16 March alone. But within the EU alone, more than 30 plants from Sweden to Spain are involved in producing the vaccines. AstraZeneca alone has manufacturing capacity in 25 sites across 15 countries. The US firm Moderna produces vaccine ingredients in Switzerland, fills and finishes the doses in Spain, and ships from there to all buyers outside the US. Pfizer, too, has all non-US production situated inside the EU. But one of the vital ingredients of the Pfizer vaccine arrives from a Croda International plant in South Yorkshire. All this explains the growing fears over a slide towards protectionism, and a rejection of comparative advantage as the governing idea of international trade. It's often said there are no winners in a trade war, says Ross Clark in The Spectator. "But in this case there would be a very clear winner": the virus that causes Covid-19.
Subscribe to MoneyWeek
Subscribe to MoneyWeek today and get your first six magazine issues absolutely FREE
Get 6 issues free
Sign up to Money Morning
Don't miss the latest investment and personal finances news, market analysis, plus money-saving tips with our free twice-daily newsletter
Don't miss the latest investment and personal finances news, market analysis, plus money-saving tips with our free twice-daily newsletter
What is comparative advantage?
It's the ability of a country (or a firm, or other economic actor) to produce a particular good or service at a lower opportunity cost than its trading partners. Two centuries ago, economist David Ricardo posited comparative advantage to show how all countries benefit if each one focuses on what they are "comparatively" good at, provided they are free to trade with each other. But although comparative advantage is one of the building blocks of modern economics, it is counter-intuitive and not easy to grasp. In the context of Covid-19, building up global vaccine capacity makes obvious sense, so one might assume all countries should try to get good at it to protect their national interests. But economic theory tells us that would be inefficient and counter-productive, and deliver worse results.
But states want to go it alone anyway?
Very possibly. The lesson the British government is taking from this crisis is the importance of domestic production, says James Forsyth in The Times. If, in a crisis, you "can't be certain that even fellow free-market democracies will honour contracts", then you "have to make sure that essential medical supplies are manufactured here". The havoc wrought by coronavirus has concentrated minds on "unexpected shocks and the national vulnerabilities created by complex global supply chains", says Philip Stephens in the Financial Times. Where once governments prized "agility" – and just-in-time delivery across borders promised ever greater prosperity – today all the talk is of "resilience" and "sovereignty". As such, the virus has accelerated an existing trend, in play since at least the 2008 financial crisis. That's understandable: the virus may be global, but all politics is local, and "rising populism has left governments in a defensive crouch". But it's also dangerous if it drives the world towards protectionism, and nations towards the economic cul-de-sac of "self-sufficiency". There are no local fixes for this virus, and nations first over the vaccine finish line will not escape the economic consequences of failing to vaccinate developing nations.
What consequences?
Various economists have attempted guesstimates. One startling recent study commissioned by the International Chamber of Commerce projected that "the global economy stands to lose as much as $9.2trn [global GDP in 2019 was $88trn]if governments fail to ensure developing economy access to Covid-19 vaccines" – and that as much as half of that hit would fall on advanced economies. Reports by Rand Europe and the Eurasia Group offered similar conclusions. Such figures are necessarily speculative, but suggest the scale of the issue. The most grave damage done by this crisis will be to the "global ecosystem" based on co-operation and trust that is essential for prosperity and progress, says William Hague in The Daily Telegraph. If we can't rise above the temptations of vaccine nationalism, we will be paying a "very high" price for decades to come.
Simon Wilson's first career was in book publishing, as an economics editor at Routledge, and as a publisher of non-fiction at Random House, specialising in popular business and management books. While there, he published Customers.com, a bestselling classic of the early days of e-commerce, and The Money or Your Life: Reuniting Work and Joy, an inspirational book that helped inspire its publisher towards a post-corporate, portfolio life.
Since 2001, he has been a writer for MoneyWeek, a financial copywriter, and a long-time contributing editor at The Week. Simon also works as an actor and corporate trainer; current and past clients include investment banks, the Bank of England, the UK government, several Magic Circle law firms and all of the Big Four accountancy firms. He has a degree in languages (German and Spanish) and social and political sciences from the University of Cambridge.