AstraZeneca's Pascal Soriot: in the crossfire of the vaccine wars
AstraZeneca's boss Pascal Soriot was winning plaudits for his stewardship when the Covid-19 pandemic struck. Since then, he's been having a hard time of it.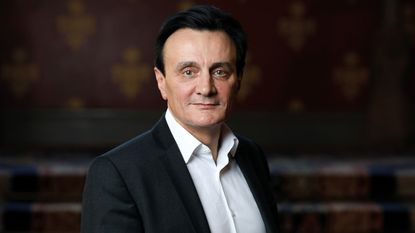 (Image credit: © Simon Dawson/Bloomberg via Getty Images)
Back in 2016, shortly after Pascal Soriot had seen off a $100bn hostile takeover bid from US pharmaceuticals giant Pfizer, it was revealed that the urbane AstraZeneca boss had a surprising history of street-fighting. "I haven't had a fight in the last 40 years," he told the Financial Times. But growing up in the gritty suburbs north of Paris in the 1970s, they'd been a common occurrence. "The first 14, 16 years? I had one probably every week."
Doing the decent thing
If fending off Pfizer required the pugnacity of "a bare-knuckle fighter", Soriot has needed some rather different skills to navigate the current vaccine wars. His situation is unenviable. Having done the decent thing by rolling out the Oxford jab on a non-profit basis during the pandemic, AstraZeneca has become piggy-in-the-middle of an increasingly bitter supply row between Britain and the EU. Despite a spate of scare stories on the continent about the vaccine's safety and efficacy, Brussels is furious that the Anglo-Swedish pharma has fallen so far short on its contracted delivery schedule. On the latest count, AstraZeneca will fall roughly ten million short of its target to deliver 40 million doses by the end of March – a goal already well below the original supply schedule of at least 100 million. Rubbing salt in the wound, officials claim the company has shipped vaccines produced in the EU to the UK, but has so far sent nothing in the opposite direction.
Soriot, 61, left France decades ago to lay down roots in Australia. But, with feelings running so high, if he hasn't already been dubbed a "traître", he might expect to be soon. Even leaving aside questions of national politics, his leadership is under scrutiny because of contract management and logistics cock-ups relating to the vaccine. "Charity is a good way to gain kudos," says Breakingviews. But "future damaged relations with Europe", a key customer for AstraZeneca's drugs and treatments, have made investors anxious. Soriot has done a brilliant job saving AstraZeneca from the corporate scrapheap and taking it "from strength to strength" as an innovator, noted The Daily Telegraph last year, when, after "a storming few years", the reinvigorated pharma became the most valuable company on the FTSE 100. But, despite its formidable portfolio of blockbuster drugs, its shares have been in broad decline this year.
Subscribe to MoneyWeek
Subscribe to MoneyWeek today and get your first six magazine issues absolutely FREE
Get 6 issues free
Sign up to Money Morning
Don't miss the latest investment and personal finances news, market analysis, plus money-saving tips with our free twice-daily newsletter
Don't miss the latest investment and personal finances news, market analysis, plus money-saving tips with our free twice-daily newsletter
Born in 1959, the son of a tax collector, Soriot studied medicine at France's National Veterinary School. "I didn't have a clue about business," he later told the Financial Times, but when he "tired of equestrian stables" he decided going to business school would open new horizons. After graduating, he joined Roussel Uclaf, then a big French drugmaker, and took a post in Australia, later joining the Franco-German drugmaker Aventis, in the midst of its messy merger with Sanofi. When Soriot jumped ship again to Roche, he was sent to California to integrate its acquisition of Genentech. The experience was formative. Soriot particularly admired the Californian biotech's culture of "casual intensity" – informality combined with hard work – an ethos he later built upon at AstraZeneca.
A difficult year for the hero and Daisy
Soriot has won plaudits for transforming AstraZeneca into a pioneering force and putting global health above profit in the war against Covid-19. But his halo is beginning to slip. Some commentators have sniped at the "vaccine hero's" generous pay packet. Others are suspicious of his attempts to empire-build, most recently with the £39bn acquisition of the US rare-disease biotech Alexion. Still, having spent much of last year separated from his family, working in Switzerland, the UK or America, "often with just his cat, Daisy, for company", Soriot has had a tough pandemic personally, notes The Times. "I can't remember in my entire career working as hard as 2020," he says. He can expect little respite this year.
Jane writes profiles for MoneyWeek and is city editor of The Week. A former British Society of Magazine Editors editor of the year, she cut her teeth in journalism editing The Daily Telegraph's Letters page and writing gossip for the London Evening Standard – while contributing to a kaleidoscopic range of business magazines including Personnel Today, Edge, Microscope, Computing, PC Business World, and Business & Finance.
She has edited corporate publications for accountants BDO, business psychologists YSC Consulting, and the law firm Stephenson Harwood – also enjoying a stint as a researcher for the due diligence department of a global risk advisory firm.
Her sole book to date, Stay or Go? (2016), rehearsed the arguments on both sides of the EU referendum.
She lives in north London, has a degree in modern history from Trinity College, Oxford, and is currently learning to play the drums.