Will the China-US trade war continue?
The White House still seems to be talking tough on China, but few people know how Joe Biden will handle the world's second-biggest economy.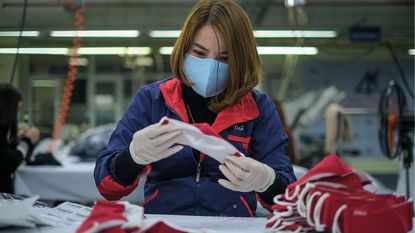 (Image credit: © Linh Pham/Getty Images)
"Strategic competition with China is a defining feature of the 21st century." White House press secretary Jen Psaki is talking tough on China, says Edward Alden for Foreign Policy. Yet there are still "frustratingly few details" about how President Biden will handle trade with the world's second-biggest economy. He has even dodged the question of whether he plans to scrap Donald Trump's tariffs of up to 25% on most Chinese imports.
Investors are quite happy for trade with China to remain low down the to-do list, says Craig Mellow in Barron's. The iShares MSCI China ETF has gained 10% already this year on hopes that Biden will provide less storm and stress than his predecessor. But "conflict delayed is not conflict resolved". Investors have "priced in Biden being less aggressive, but we're confident it will go sour at some point", says Matthew Gertken at BCA Research.
A futile conflict
The first flashpoint could be last year's "phase-one" trade deal. Psaki says that that agreement, which cooled the trade war between Washington and Beijing, is "under review". Washington is unhappy that China has so far bought just 58% of the agricultural products and other US goods that it promised to under the deal, says the Peterson Institute for International Economics. In any case, the phase-one agreement was at best a ceasefire: average US tariffs on China are still 19.3%, up from 3.1% in early 2018. China's average tariffs on US goods are more than 20%. The trade war was an economic "debacle", says Dion Rabouin for Axios. A US-China Business Council report claims that higher import duties cost 245,000 US jobs – tariffs are ultimately paid through higher business costs and consumer prices in the importing country. Many economists criticised Trump for aiming to reduce the bilateral trade deficit, but even on these terms the policy failed. The US current-account deficit hit a twelve-year high last year.
Subscribe to MoneyWeek
Subscribe to MoneyWeek today and get your first six magazine issues absolutely FREE
Get 6 issues free
Sign up to Money Morning
Don't miss the latest investment and personal finances news, market analysis, plus money-saving tips with our free twice-daily newsletter
Don't miss the latest investment and personal finances news, market analysis, plus money-saving tips with our free twice-daily newsletter
Decoupling is hard to do
A Gartner Research survey of 260 global supply chain leaders in early 2020 found that 33% had moved or were planning to shift some manufacturing supply chains out of China. The most commonly cited reason was tariffs. The pandemic has also focused renewed attention on the idea of "re-shoring" some elements of supply chains in order to make them more resilient.
Many firms see "a degree of decoupling" as a way to hedge against political turbulence, says Nathaniel Taplin in The Wall Street Journal. Firms also fear being cut off from US markets and technology. Yet the allure of the growing Chinese consumer market has only deepened during the pandemic, boosting profits at the likes of Nike and Tesla. Alternatives such as Vietnam and India struggle to match China's sophisticated manufacturing infrastructure and high labour productivity. Bank of America analysts estimate that fully rebuilding supply chains outside China would cost multinationals $1trn over five years. For the bosses of blue-chips, decoupling is nice to have, but is it really "worth $1trn"?